Magnetic Fields Announces Lineup For 2022 Edition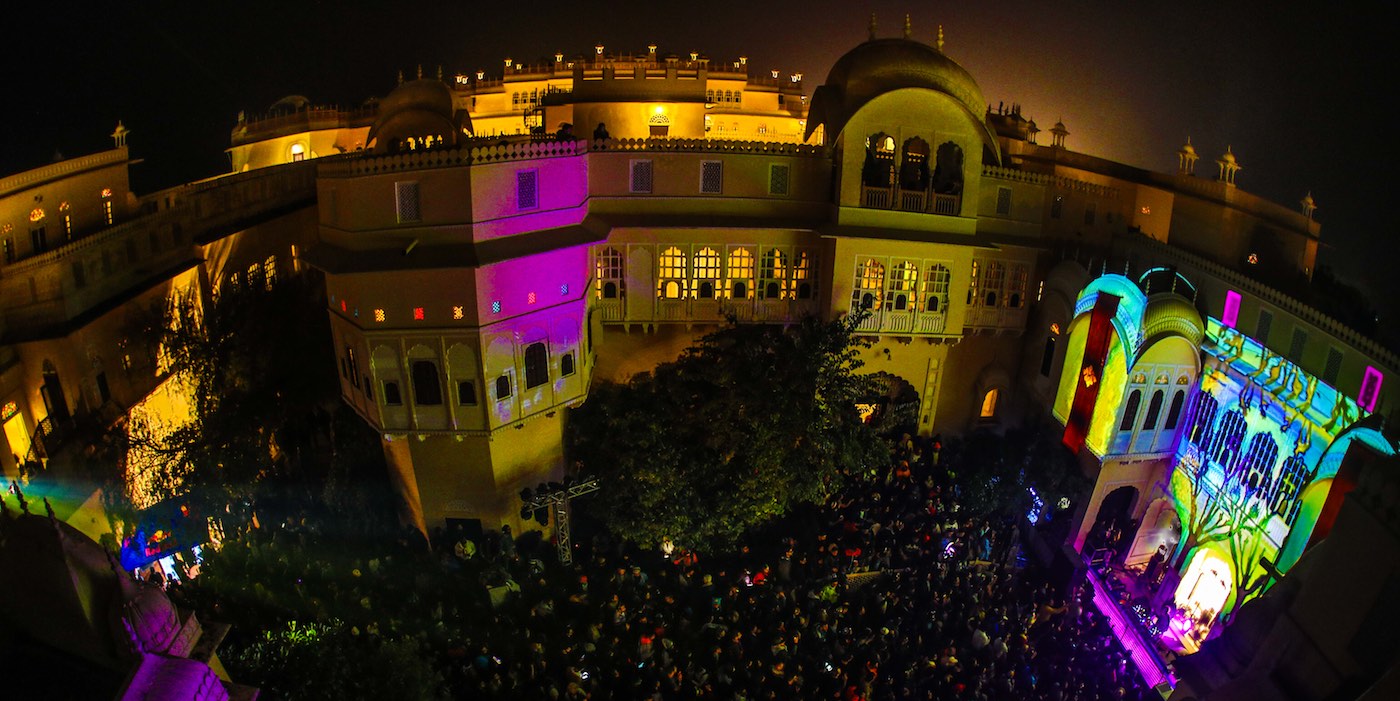 21 September 2022
Magnetic Fields, one of India's leading contemporary arts and music festivals, has just announced the first set of names for its 2022 edition.
Returning to its flagship grounds of Alsisar Mahal between December 9-11 after a 2-year pandemic-induced hiatus, the 3-day event is primed for an emotional return as it puts 'reconnection' as the central theme for its 8th edition.
Following its mandate of bringing a diverse and the most future-facing curation to introduce its attendees to celebrated as well as new concepts and experiences, Magnetic Fields 2022 comes rich with debuts, fresh ideas and exclusive live performances. The festival's south stage in the palace gardens, this year called Jameson South Stage, will feature the live debut of up-and-coming New Delhi act Sijya, the full live band debut of Mumbai's NATE08, and the special audio-visual collaboration of Tarun Balani aka Seasonal Affected Beats and Mumbai's lens-based artist Parizad D with '2°'. Sought-after bassist Hashbass will also perform with a live band alongside the exciting group T.ill Apes and electro-rock outfit SAPTA. Among international acts, fan-favourite Viennese duo HVOB returns to the festival after their last performance in 2015 for a live set, joining the extraordinary musicianship of German duo Grandbrothers on the lineup. A special presentation at Jameson South Stage and a Magnetic Fields exclusive will be Elsewhere in India ft Murthovic and Thiruda, a live transmedia performance that combines game engine technology with incredible art alongside a genre-bending palate of Carnatic-electronic music.
Meanwhile, the Ray-Ban Studio Desert Oasis in the desert will strike high notches of energy from the get-go at the festival, and continually provide a space for those who can't get enough of sweating out to four-to-the-floors. The stage will kick things off with 'GIRLS NIGHT OUT & Friends', a showcase by Delhi-based selector GIRLS NIGHT OUT, who will bring along Bast and DJ Pants, followed by Amsterdam DJ-producer Young Marco. Meanwhile, Bangalore-based DJ and Boiler Room-alum Alina, and fellow city dweller, selector and producer AAGUU will add to the stage's varied take on uptempo dance music.
The palace courtyards will continue to play host to budding legends of DJing with the BUDx North Stage. Dance music's leading collective and label Hessle Audio will celebrate its 15 years with sets by its co-founders Ben UFO, Pearson Sound and Pangaea, while electronica frontrunner Kieran Hebden aka Four Tet will bring along New York's Anthony Naples and London's Chloé Robinson (formerly known as Barely Legal) for a special showcase entitled 'Four Tet Presents' which will be opened by India's own Windhorse Records label-head Hamza Rahimtula. The North Stage will close with seasoned radio host and selector-par-excellence Saoirse.
At the festival's fan-favourite sunset stage, the Sundowner, French hip-hop artist Onra will bring an exclusive performance based on his Asia and India-inspired album '1.0.8', while Sanil Sudan aka FILM will make his live debut as Tyrell Dub Corp with 'Futurythmachine'. The two will be joined by experimental producer Shantam, Bangalore's meteorically rising singer-songwriter Rudy Mukta, a live set by chillwave producer chrms, and another by popular act Anushka Manchanda's alter-ego Kiss Nuka.
Over at BUDxYard in the palace gardens, British acts Batu and Sherelle will offer late-night sets alongside up-and-coming Indian DJs Dreamstates, Anushka, Prismer and Stain. At Resident Advisor's Saturday night throwdown, which has attained a special status among attendees over the years, British dance music breakout star Jossy Mitsu will join the billing alongside a special B2B set between the tag team of India's Kohra and Thai act Sunju Hargun.
Also at the desert side of the festival, alongside vendors, installations and the Bumble Hive helping attendees get their festival look, the festival's widely-recognised cabaret-styled velvet-draped stage of The Peacock Club will play host to a label showcase from the fresh and formidable Export Quality Records, who will bring along Dohnraj & The Peculiars, Sunflower Tape Machine, Tribemama Marykali, Dappest x adL, Ranj + Clifr with their full band, and the live band debut of Curtain Blue.
Magnetic Fields Festival 2022, which sold out within days of its tickets going live, will continue to add names to its lineup in the weeks to come, supplementing the various aspects of its multi-dimensional experiential outing. To stay up to date with announcements, follow the festival or sign-up for its newsletter through its website or download its mobile application here.
.
.
Image by RC Photography
Tags
Join Our Mailing List