2019 In Review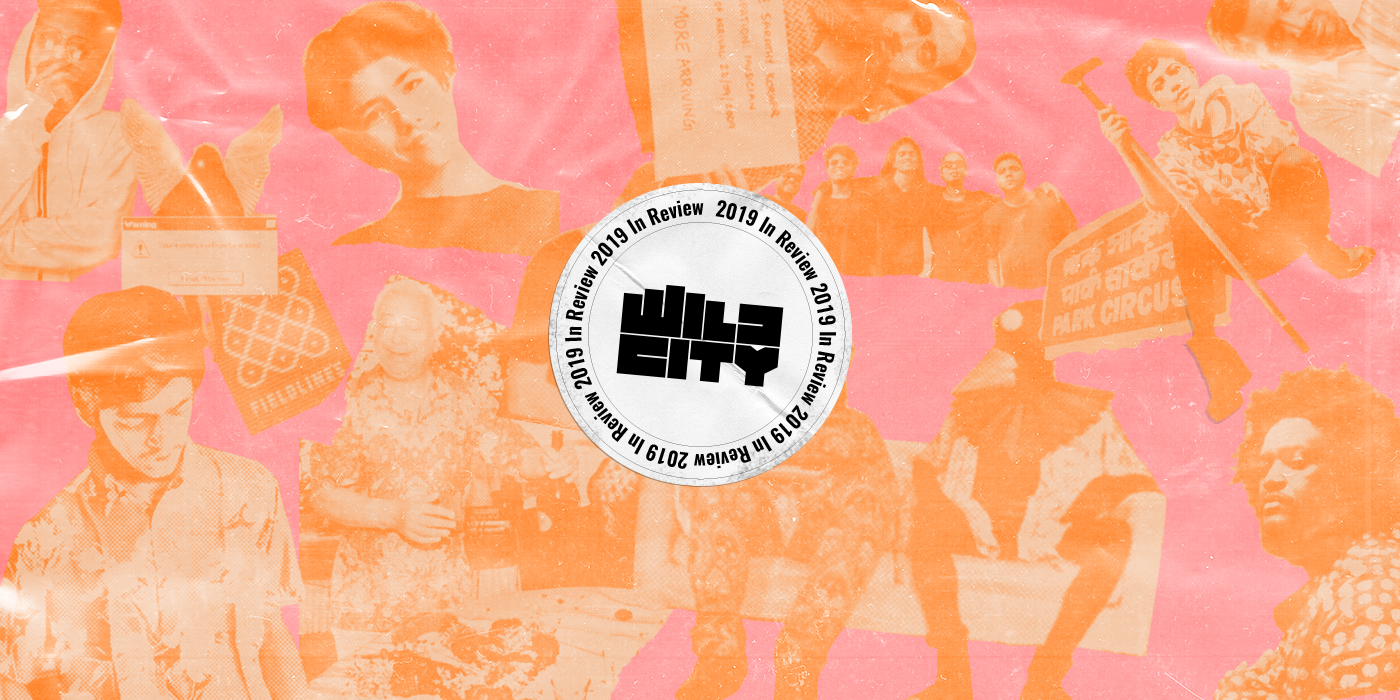 14 January 2020
2019... the year Donald Trump was (almost) impeached, the year Greta Thunberg woke the world to the climate crisis, the year citizens of India came together to fight for the secularity of the country, for humanity, and the Constitution; yet another year the UK couldn't make up its mind about Brexit; the year Saudi Arabia (finally) allowed its women a few basic fundamental rights; the year the European Union banned single-use plastic; the year India almost made it to the moon; the year people around the world united to fight against right-wing unions around the globe.
2019, in other words, was a year of massive uprisings. It was a particularly transformative year, not just on the global or national scale, but also for the Indian alternative music scene.
Apart from a growth in vital releases, there was an exponential increase in the number of new and upcoming artists, an expansion of the music community in general, in terms of music festivals, gigs, tours, and a remarkable growth of the independent music community across non-tier 1 cities. While it won't be possible for us to address and touch upon everything of significance that took place last year, here are some of the artists, labels, collectives, and moments that shaped the sphere in India in 2019...
Peter Cat Recording Co.
Everything was in motion for the New Delhi-based band last year, from their tour across Europe, to the release of their critically acclaimed album 'Bismillah' and sold out shows across India. As Prarthana Mitra wrote in a review on A Humming Heart, "...it is safe to assume that 2019 has indeed been the year of the cat".
There were innumerable mornings last year, when we entered the Wild City office to the sound of Peter Cat Recording Co.'s 'Bismillah' playing on record. We might also go far enough to say that this, perhaps, may be the "Album Of The Year" if such a title existed. The album also featured at the debut edition of Wild City's Listening Sessions.
'Bismillah' incidentally also marked the end of an era for them - they claim to be reinventing themselves now. We can only wonder what 2020 has in store.
"I rinsed the album over this summer. I haven't heard any album from start to finish and over again as much as 'Bismillah'." - Ruhi Batra, Wild City
Sarathy Korwar
Sarathy Korwar's 'More Arriving' was a revelatory album, more so for international audiences as it dissected the South Asian diaspora and shattered stereotypes about South Asians and Indian music by fusing the sound of traditional Indian instruments, Indian classical and Carnatic, with jazz and hip-hop, and by using the voice of multiple rappers/vocalists to deliver a "modern brown record". Sarathy also used the opportunity to dish out some scathing commentary on the racism and discrimination brought on by right-wing unions across the world, on colonialism, on immigration policies, on the condition of South Asian migrants in different parts of the world, by using the voices of the likes of acclaimed writer Deepak Unnikrishnan, spoken-word poet Zia Ahmed, rappers MC Mawali, Delhi Sultanate, Prabh Deep, TRAP POJU, and classical artists Aditya Prakash and Mirande.
Sarathy Korwar. Image: Rishabh Sood
Hedrun
Back when it was released, we'd predicted that Palash Kothari's debut EP 'Drift' as Hedrun would turn out to be one of the strongest releases of the year. We weren't wrong. Hedrun managed to achieve with his EP what few have achieved before – the ability to blend cultures and influences (in this case Rajasthani folk courtesy the likes of Barmer Boys and Jumme Khan, with electronic music) with precision, care and sensitivity, and without appropriating the culture, the sound or the artists.
"Hedrun is my label/collective mate Palash Kothari. He carefully stitches ambient soundscapes with Rajasthani folk music in a creative way so that it doesn't sound cheesy at all. I think the sound is very close to his heart and he has documented it really well. It's amazing to see him transition from Sparkle & Fade to Hedrun and I'm looking forward to see what he has in store for us in 2020." - Rohan Sinha, Wild City
Lifafa
With the release of 'Bismillah' and 'Jaago', it seems Suryakant Sawhney emerged as one of the strongest songwriters in 2019. His solo project Lifafa kicked off the year with one of its most memorable releases, 'Jaago', which married the soulful aesthetic of vintage Bollywood music with modern electronica, all in Hindi.
Our staff writer Amaan Khan pins the popularity of the release to an independent artist who "found the right spot to be a critic darling while being appreciated by the masses", showing that "you can be cool and popular at the same time."
"After Magnetic Fields 2018, where Lifafa performed for a crowd on the palace rooftop at dusk, Suryakant Sawhney's solo project has quickly captured the imagination of listeners. His album launch in early January in Auro remains one of my favourite gigs of 2019. As an artist Lifafa does what very many Indian indie artists fail to do, he has a sonic quality unique to him, and isn't afraid to sing in Hindi." - Ruhi Batra, Wild City
Iconic cover art for Lifafa's 'Jaago' By Vivitsa Kohli
Ahmer
2019 having been the year it was, there should be no doubt that the Kashmiri rapper and Azadi Records-signee was an integral and much-required presence in the rapidly evolving hip-hop space, emerging as the voice of truth, anger and rebellion against political oppression and suppression.
While we wanted to focus on the bright side of the year, 2019 was also a year of pain, turmoil, and oppression – particularly for Kashmir, where Article 370 was abrogated in August. With or without that particular context in mind, Ahmer and Sez On The Beat's album 'Little Kid, Big Dreams', with all of its ferocity and poignance, was a force to be reckoned with, and firmly established Ahmer's voice as the sound of resistance from the valley.
"In the year where hip-hop completed its ascent, it's nice to see some of it get daringly political, challenging notions of not just local but national interests. What's the point of belonging to the 'independent' industry if not to express things the non 'independent' don't discuss. Even if you remove the political angle and lyrical messages, this release packs some infectious energy." - Amaan Khan, Wild City.
We'd also like to take a moment here to mention Ali Saffudin, a Kashmiri folk artist, who has also been singing songs of protest in the valley and is working on an album which we hear will feature Ahmer.
Pulpy Shilpy
Gowri Jayakumar's solo electronic project Pulpy Shilpy really bloomed into its own last year, marked by the release of her debut EP 'Slough', which elevated her status as a singer-songwriter to an enviable producer with the sounds of nu-disco, breakbeat, glitch and synthwave. Coupled with Gowri's getting selected for the Border Movement residency in Berlin, and her gripping show at Magnetic Fields, we'll say 2019 is the year that really cemented Pulpy Shilpy's presence.
Gowri also launched Orbs Cure Labs in March, a collective/label with a commitment to empowering left-field, gender-positive, genre-bending projects, artists and cultural spaces in the South Asian urban sonic realm, which will be pushing fearless experimentation, exploration and expression. Orbs Cure Labs has already released a slurry of fierce mixes, and hosted its debut event in Mumbai. Definitely a collective we'll be keeping an eye on in 2020.
Pulpy Shilpy
Lo! Peninsula
Few bands or artists have had to struggle like this trio from Manipur. Lo! Peninsula had to battle frequent power outages, public curfews, lack of equipment and infrastructure and existential crises to release their debut EP 'AKA Lo Peninsula', but it's been well worth their effort. With their distinct cocktail of shoegaze, dream pop and psych rock, this Imphal band have not only ushered the spotlight on music from the North East, but have also managed to epitomise shoegaze's presence in India.
AsymetriK
Arjun Vagale has been around for so long, he's ingrained into the very fabric of the Indian music scene. However, that doesn't mean he's taking his status for granted, or that he's getting stagnant. Last year, he launched his new experimental moniker AsymetriK diving into explorations of the dark, unexplored underbelly of techno. We, of course, didn't expect any less.
Disco Puppet
In some books (when they're written), 2019 will probably go down as the year Disco Puppet ran around venues chasing a man dressed as a bird, with a bow and arrow. It, and the entire theatrical performance, was a definitive moment for the Consolidate member – not just because of its shock (and humour) value, but for defying the status quo and redefining the idea of performance for a bedroom producer. It helps that his album 'Aranyer Dinratri' was honest, stirring, and a cinematic journey worth remembering.
A theatrical performance of Disco Puppet's 'Aranyer Dinratri'. Image: Ali Bharmal / Red Bull Content Pool
Gauley Bhai
With band members from Kalimpong and Kozhikhode, vocals in Nepali, base in Bangalore, and intersections of geographies and musical roots at their essence, Gauley Bhai is exemplary of the mish-mash of cultures that defines India.
"I feel like not enough Indian artists bring the country's rich folk sounds or localised languages into the contemporary sphere, at least not without making it into a kitschy fusion attempt. Gauley Bhai manage to help fill that gap on their debut 'Joro' by simply synthesising their city-life sensibilities and earthly roots with unadulterated sincerity. One of the few Indian indie records that I have gone back to again and again and will continue to do so." - Amaan.
Yung.Raj
There are few artists whose growth has been quite as rapid and exponential as Yung.Raj's over 2019. You'd forget that he only appeared on the scene around July 2018 – probably because since then, he's already released multiple albums, EPs and beat tapes, performed at most of the big music festivals in the country, and also managed to evolve as an artist ever step of the way.
Yung.Raj
jitwam.
Based in Brooklyn, jitwam. may be relatively lesser known to audiences in India. He is, however, Assamese by origin, a fact that definitely elevated our appreciation of his album 'HONEYCOMB', which ended up being one of the most-played records in our office last year. Hitting the sweet spot between hip-hop, 90s house, psychedelic indie rock, jazz-funk and soul, and with collaboration from the incredible Natureboy Flako, the easygoing nature of this album offers something for everyone, and just cemented jitwam.'s standing as a producer worth his salt.
Prateek Kuhad
Nobody from the Indian music scene toured quite as much as Prateek Kuhad did in 2019. Prateek started the year by announcing a 15-city tour of North America over the summer, and ended the year with 30 shows across three continents, spanning the US, Canada, UK, France, Germany, Belgium, Netherlands, Spain, and of course, India, including performances at The Great Escape Festival in Brighton, and SXSW 2019.
December 30th, however, brought an even sweeter end to the year for Prateek, as he received a stamp of approval from none other than former American president Barack Obama, who included his track 'cold/mess' on his list of favourite music from 2019 (alongside the likes of Beyonce, Maggie Rogers, Frank Ocean, The Black Keys and whatnot).
JBABE
The F16s have had a pretty good run of it for the past few years, and with their latest EP 'WKND FRNDS' released in 2019, we can only see things going uphill for the Chennai band. The same goes for band member Josh Fernandez who launched his solo project JBABE last year, accompanied by the release of his debut album (also the winner of the 'longest album title' is such an award existed), 'Play The Piano Drunk Like A Percussion Instrument Until The Fingers Begin To Bleed A Bit'.
Channeling the flamboyant energy of Prince's ghost on both the visual and sonic aesthetic, and replete with "passionate disillusionment, cynicism, tenderness and an open heart", JBABE's nuanced lo-fi album painted over R&B, soul and funk with a distinct contemporary pop glaze, positioning himself both as an upcoming crowd favourite and critic choice.
Album cover for JBABE's debut album. Album Cover: Sashank Manohar; Art Direction + Photography: Ashwin Mohan // Nishin Dinesh
Swadesi
There are many things that are remarkable about Swadesi – the fact that the hip-hop collective comprises of several MCs, producers, DJs and graffiti artists, the fact that they use multiple Indian languages and local dialects, that they're socially conscious, and that their art and music is geared towards making positive social impact and change. Swadesi made their mark this year with the release of 'The Warli Revolt', a charged, impactful single they released in collaboration with activist and Warli tribal chieftain Prakash Bhoir that became a clarion call of resistance against the cutting down of trees in Mumbai's Aarey forest and emblematic of the protests, setting a new standard for protest music in the country.
Seedhe Maut
Ahmer wasn't the only Azadi Records artist making waves in the country last year. Seedhe Maut, the energetic, fiery rapper duo from Delhi, had a big year as well, rising through the ranks to compete with the 'Gully Boy'-fuelled gully-rap furor. Aided by their "everyman" narrative, and their ferocious, subversive rap about the everyday problems of being a young person in contemporary India, 2019 saw them explode on the scene – especially off the back of their massive 'Shaktimaan' tour – and being dubbed "Delhi's icons-in-waiting". What's more, they played so many sold out shows across the country, it was a wonder they still found time to produce and release music, and collaborate with artists like Tienas, Delhi Sultanate, Ritviz, Bawari Basanti and even, we hear, Foreign Beggars. 2020 had better brace itself.
Ditty
Ditty's beautiful bird-like voice has been one of the many blessings bestowed upon us in 2019. Watching her set at Oddbird Theatre in Delhi was a surreal experience, especially the moment she made everyone in the audience emulate the sound of rain. It's not only the influences of her day-job as an urban ecologist that made her debut album 'Poetry Ceylon' stand out for its earthiness, but the organic, raw, effortless grace with which she sings about all that is beautiful and heart-wrenching, and her fluid spoken word.
Ditty. Image: Ronit Sarkar / Styled By Saloni Soni
Noni-mouse
Mumbai-based producer and singer Radha Priya only came onto the scene for good in 2019, with the release of her debut EP 'noni-pop'. Since then, she's been on our radar, with the release of a few singles, a couple of oddball music videos and a stint in Berlin as part of the Goethe Talents Scholarship 2019. We'd go as far as to say she's become a noteworthy presence in the scene, and that her blend of sample-laden, ambient yet dance-ready electro-pop has been a breath of fresh air.
Parimal Shais
Kochi-based DJ and producer Parimal Shais' debut album 'Kumari Kandam Traps, Vol I' might be one of the most underrated releases last year. The 15-track album fuses South Indian traditional instruments with experimental hip-hop, trap and bass, and featured 9 collaborations with South Indian hi-hop artists to deliver a fierce album that's nothing short of a magnum opus. The album not only offered an insightful glimpse into the burgeoning South Indian hip-hop scene, but – especially by breaking away from the use of English or Hindi in the lyrics – also served as a reminder of India's increasingly diverse music community.
Kumail
The fact that we hosted a Listening Session for Kumail's latest release 'Yasmin' at our office HQ should be sufficient proof of how much we admire him and his work. Ever since he started producing, his music has possessed an irresistible quality that is smooth and chocolatey and chill without ever being boring or superfluous. 'Yasmin', released this year on Bastard Jazz, just cemented his reputation as a daring, consistent producer and his ability to get any room moving.
Artwork for Kumail's 'Yasmin' by Parizad D
Park Circus
If you ever gave in to cultural stereotypes and thought Kolkata was only about its art cinema and poetry, here's one reason to take notice. There's been an underground hip-hop culture brewing in the city, with multi-lingual hip-hop collective Park Circus at the helm. Though you might initially perceive their tracks to be mostly rambling, sarcastic, nonsensical diatribes, that's usually a facade disguising the occasional socio-politically-charged messaging, the first clue for which should have been the name of their collective label – Azad Music Factory. Park Circus has also been actively attempting to break down barriers between clubs and the streets, by hosting events in reclaimed public spaces, like their infamous cypher-jams, one of which was called by Scroll.in "a coming-of-age party" for the underground hip-hop world of Kolkata.
Eashwar Subramanian
If we had to pick a favourite breakout artist in 2019, somebody who's crispy fresh on to the scene, Eashwar Subramanian would probably take the cake. There's a reason he featured on nearly every single edition of Singled Out last year – because he's developed the unique ability to consistently, time after time, release absolutely wonderful ambient soundscapes that never get old. He's also perhaps the most prolific producer at the moment, releasing singles faster than we can keep track. His sophomore album 'Polar Drift' was a surreal, introspective gem, and at this point, we're just waiting for him to take his music to the stage.
International Artists
Indian promoters outdid themselves last year, with tours and performances in the country by the likes of: Kamasi Washington, Iglooghost, Jacob Collier, Jojo Mayer, Seth Troxler, Jayda G, Moodymann, Perera Elsewhere, U2, Garden City Movement, IAMDDB, Maribou State, Sinjin Hawke, Roman Flügel, George FitzGerald, Dengue Dengue Dengue, Yosi Horikawa, DJ Champion, Loefah, Cinnaman, Richard Spaven x Sandunes, rRoxymore, DJ PayPal, Detroit Swindle... honestly, we could go on forever.
As part of the ecosystem, we know how difficult it can be to pull off tours of international artists. So if there's anyone who deserves a round of applause, it's the members of teams like Third Culture, WAVLNGTH, Milkman, Gently Altered, Regenerate, KRUNK, Mixtape, sLick!, boxout.fm, SkillBox and more who worked hard round the clock to make these tours happen.
A great sign for things to come.
Kamasi Washington live at Royal Opera House, Mumbai. Image: Rishabh Chadha
Collectives / Labels
When compared with the European scene, in terms of infrastructure, the Indian music scene still has a long way to go. But a handful of labels in the country have taken it upon themselves to further distribute homegrown talent, to push the boundaries of the current music landscape and to introduce the world to cutting-edge music being released in the country. We won't be able to touch upon every label that actively worked last year, however there were some who really stood out.
Delhi's socially and politically conscious hip-hop label Azadi Records had more sold out shows, more energy, and more reach than ever before this year. While the country was obsessing and fretting over 'Gully Boy' and Mumbai's gully rap, Azadi Records was spewing a hip-hop revolution that resounds with the current, contemporary generation of youth in the country, all the while pushing forth the scope of their rappers Seedhe Maut, Prabh Deep, Ahmer, Tienas, Swadesi, and more.
Delhi-based Pagal Haina also had quite the year, and not just thanks to PCRC. From Ditty and Bowls to Morning Mourning, Rounak Maiti and Shashwat Bulusu, this was a great year for Pagal Haina, replete with some memorable releases, pan-India tours, a showcase at Magnetic Fields, and lots of special moments that helped define the label as a force to reckon with.
Kranti Art Theory, meanwhile, will be remembered for more than just their enviable boat parties this year. Yung.Raj's rapid rise certainly helped the label stand out, but it was their visual artists – Sajid Wajid Shaikh, Santanu Hazarika, deadtheduck, Sachin Bhatt, Yash Pradhan – who stole the thunder.
We'd also like to give special mention to Qilla, Circuit Record Label and nrtya for consistently, unwaveringly pushing forth releases by independent artists in the country, and to the newly-launched FOL Records (by Far Out Left festival).
Boxout.fm
The not-so-little little community radio station from New Delhi continued to grow in 2019. Ever since it was founded, boxout.fm has become a mouthpiece for the Indian underground, a hotbed for experimentation and exploration, and an integral part of the music community. The importance of their existence and their shows, which offer a platform to scores of producers, DJs and selectors from the region, is not lost on us, and we hope it isn't on you, either.
Compilations
2019 was the first year in two years that (bedroom-producer) collective jwala didn't release a single compilation. While we missed their presence on the circuit, their absence was made up for by a few noteworthy compilations released this year. Our favourite of the lot was Mixtape's 'Around The World: India' compilation, released on Nowadays Records. A very balanced, solid round-up of the country's underground with some of the choicest selections, and a record we've often found ourselves going back to listen.
Other compilations of note were 'India Gets Physical Vol. 1', released on Berlin's Get Physical, which highlighted alternative dance music from the country; the surreal ambient compilation 'Peninsula Volume I' wonderfully curated by Yidam aka Varun Desai'; and shesaid.so India x Azadi Records' women's day compilation EP 'SSSO INDIA x AZR EP1'.
'Fieldlines'
Two German electronic producers, an Indian multimedia sound artist, and a few Rajasthani folk musicians walk into a palace. It's not a joke, but Magnetic Fields' specially commissioned project 'Fieldlines', which was an immersive residency that took place at Alsisar Mahal the week running up to the festival. 'Fieldlines' brought together Andi and Hannes Teichmann aka Gebrüder Teichmann, with Kolkata-based multimedia artist Bidisha Das, and several Rajasthani folk musicians, including Ustad Hakim Khan, Sumitra Devi and Firoz Khan, to present a unique social, cultural and sonic interaction of cultures and traditions.
It might seem near-impossible for the project to work out when the people involved don't even speak the same language – however 'Fieldlines' ended up being one of the most special moments at MF, and a cultural overhaul in its entirety.
The 'Fieldlines' Studio Installation at Alsisar Mahal's picturesque Badal Mahal, during Magnetic Fields Festival 2019. Image: Ron Bezbaruah
Editor and co-founder Sarah Chawla tell us: "Watching the Fieldlines project come together at Magnetic Fields was a really special moment – it started as a conversation between myself and Andi [Teichmann] at a festival in Berlin 2 summers ago and has been a long time dream of the festival to start hosting residencies. Through a grant from the Goethe-Institut Coproduction fund we managed to make this happen and created a whole new magical family that all bonded so incredibly well – in fact after the festival, Andi, his father and family, and Bidisha, changed all their plans and went to stay with Kutle Ji and Hakim Ji [folk musicians who participated in Fieldlines] in Rajasthan's Barmer district, in their village.
Amaan, who stayed at Alsisar Mahal for the entire duration of the residency, recalls his favourite moment this year as: "People gathering around, sitting on the floor, huddling together in curiosity as Fieldlines musicians light incense around Bidisha Das' DIY electric two-string instrument as an in-joke ritual, and then that improvised music! I felt like a proud parent."
Satvika: "'Fieldlines' might have been my favourite moment not just at MF but also the entire year. I don't know what it was about the performance – maybe it's because I watched it right after dealing with something really stressful and emotionally demanding – but I was crying almost throughout. It was partly because the music was emotionally stirring, partly because (cheesy as it sounds) watching musicians from such disparate backgrounds coming together like that, to create something so beautiful, just reminded me again of the power of music, and partly because at that moment – and I've personally had a remarkably difficult yet transformative year this year – everything just seemed to fall into its right place."
x
x
All in all, 2019 seems to have been the year of transformations. India's music community has been growing exponentially every year, but this year the music scene focused on sensitising and pushing itself to not just grow, but to grow forward. And with the way things have shaped out to be in India at the beginning of the new year, we can only hope that the growth and transformation continues, making for a safer, more inclusive, more encouraging and forward-thinking music community.
Tags
Join Our Mailing List