Championing New Music With An Uncompromising Vision: Boxout.fm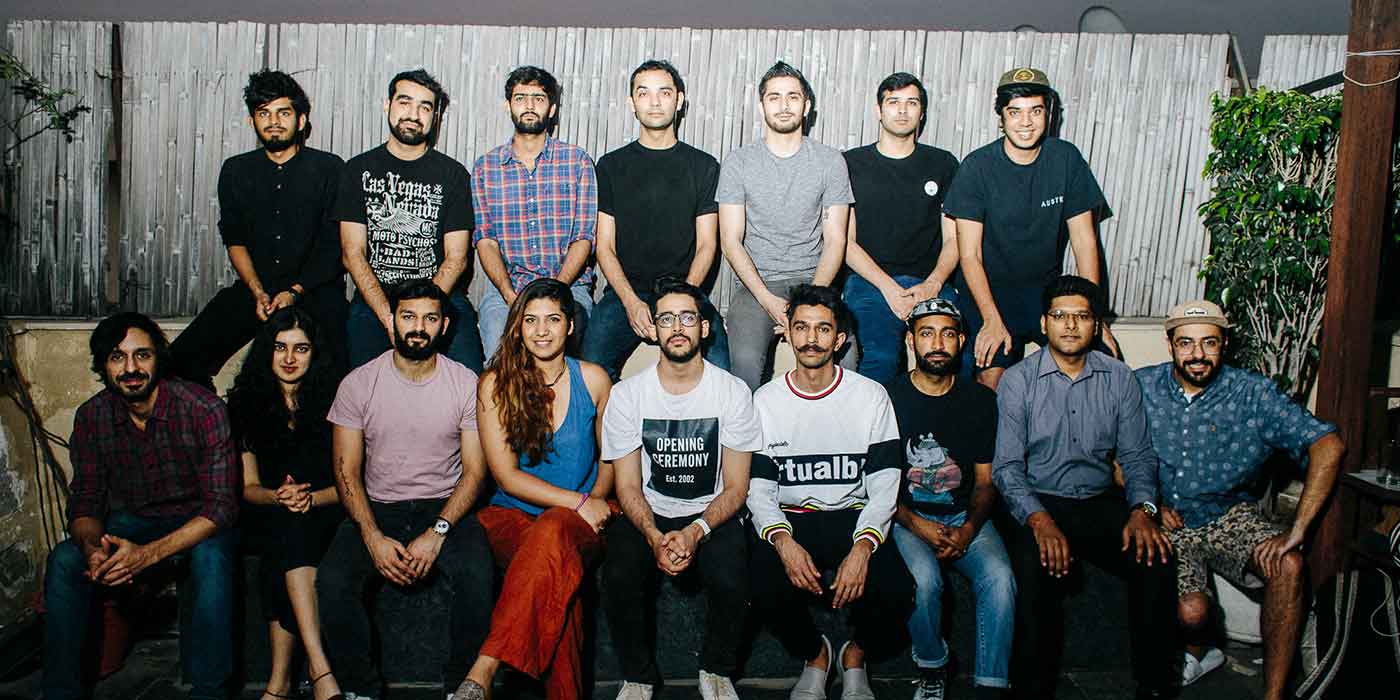 6 April 2018
This weekend Boxout.fm will celebrate one year of functioning as an online radio station - marking the occasion with a 3 day weekender that will feature a number of diverse selectors who have been associated with the radio since its inception.
"We never anticipated a totally smooth ride - that would really be a real stretch for what we're doing here. Running this ship is a full-time gig for 17 people at present, so it's basically all hard work with zero compromise."
Early last year, armed with an uncompromising vision, co-founders Mohammed Abood and Sahej Bakshi with the help of a few key individuals sowed the seed for an online platform that would become a go-to for listeners across India. Now a brand synonymous with India's rapidly growing contemporary musical landscape, Boxout.fm is an online radio which does not assign itself to any particular genre of music, rather a community.
"Outside of India, radio has been relevant for decades in the space of non-commercial music, so I guess it was only time before someone would take up the responsibility here" Abhi Meer - one of the key members and chief content officer tells us.
What emerged from an urgency to fill a void is now home to 60+ shows a year and 24/7 broadcasts. The radio stations' policy to not be limited by genre also ensures accessibility and that there's something for everyone.
It's not all about radio. Hosting pop-ups in various cities around India as well as transmissions from Colombo and Karachi, Boxout.fm is slowly bringing together a community of music listeners who do not have to rely on commercial music spaces, rather shows from their favorite presenters dotted all around the world. A more democratic platform for both Indian listeners and musicians with a programming tone that is undeniably homegrown.
"I'm always moving around Bombay wearing my (now-faded) Boxout.fm shirt, so I meet a lot of random people who tell me they've been tuning in. I met somebody on a highway food stop a couple of months ago who said Boxout.fm soundtracked most of his Bombay - Pune rides for the better part of the year."
The Boxout HQ itself has grown beyond its studio walls with a 17 member crew dedicated to the radio. From designing zines, hosting Boxout Wednesdays (their weekly showcase in New Delhi), running a DJ crew (Boxout Soundsystem made up of DJ MoCity, MadStarBase, Abhi Meer, Rohan Kale and Dualist Inquiry) or reaching out to its widely dispersed audience; every aspect of the radio is the result of a dedicated team effort:
"We've got people dedicated to specific roles at the station, and we're completely hands-on with music, marketing, events, communications, and outreach. And that includes having a specific set of people overseeing our music programming. Most traditional FM stations don't even have that these days because their indebtedness to ad money and fidelity to big record labels leaves them in a place where they have no choice but to program music algorithmically with little human intervention. We have a human. His name is Rohan."

Boxout.fm has an even more active future planned with a fourth release lined up under its avatar as a label. Plans of a Boxout.fm magazine, we're told are also on the horizon. The Boxout team are also developing ways to expand and explore more intimate relationships between audiences and their favourite presenters on the station:
"This year, we're shifting focus largely to our radio hosts and helping them figure out ways to establish these connections with their audiences. For most folks, music is this intensely personal thing."
We also asked Abhi about his favorite shows; "currently, 'Dirty Love' by Jamblu, 'Campfire Radio' by Uncon Sci, 'Experimental Hour', and 'Third Block' by brnsctr."
For a generation which might be alienated from radio's older format, Boxout.fm represents a revived, fresh and relevant lens for contemporary music culture. Like any online radio, Boxout.fm is the result of a community-led endeavor as it grows into its second year...
"We have an audience that is starting to depend on us, and people who are keen to present music to the outside world as hosts. That - the community - is the foundation on which any great community radio station has been built. As long as we have our community's support, we'll only get stronger."
Here's an updated list of shows from the radio:

Show: A Worldwide Thing
Presenter: Amrisha
Description: The latest in global underground music.
Show: bandcamp hour
Presenter: boxout.fm
Description: A curated hour of music strictly from bandcamp.
Show: Beyond the Abyss
Presenter: Abhi Meer
Description: Plumbing the depths of techno, IDM and electronica.
Show: Booty Bangers
Presenter: 264 Cru
Description: UK house/bass mixes.
Show: boxoutsocial
Presenter: boxout.fm
Description: Each set from boxout's takeover of Social Offline.
Show: boxoutwednesdays
Presenter: boxout.fm
Description: From the weekly residency at Summer House Cafe, each set archived online.
Show: Chai and Chill
Presenter: boxout.fm
Description: Perfect mixes to relax and unwind to.
Show: The Comedown
Presenter: 264 Cru
Description: For those fragile weekend mornings.
Show: Control Sessions
Presenter: The Big Fat Minimalist
Description: Dub, dubstep, grime and reggae.
Show: Cosmic Claps
Presenter: dreamstates
Description: House, techno, always varied and surprising.
Show: Dub Rituals
Presenter: Dakta Dub
Description: Music, dance, musical vibrations and meditation.
Show: Dubplates and 45s
Presenter: Delhi Sultanate
Description: Vinyl-only tribute to dub and reggae.
Show: Dynamite Disco Club
Presenter: Stalvart John
Description: The roots of soul, funk, disco and more.
Show: Guest Mix
Presenter: boxout.fm
Description: Mixes by those passing through the studio.
Show: Juggernaut
Presenter: Tarqeeb
Description: Showcasing the best of Indian electronica.
Show: Light Drinker
Presenter: Abhi Meer
Description: An hour of ambient and drone for those coming down.
Show: Magic Tea
Presenter: Luna Toke
Description: South American and African grooves.
Show: Minority Report
Presenter: Uday Kapur
Description: Spotlighting emerging scenes in Global South countries.
Show: Motellacast
Presenter: DJ MoCity
Description: An ode to the sounds that shape MoCity's world.
Show: Pressure Drop
Presenter: Reggae Rajahs
Description: All things reggae.
Show: Skip-A-Beat
Presenter: Spryk
Description: Electronica from India and around the globe.
Show: Third Block
Presenter: brnsctr
Description: A swirl of soul, rhymthm and synths.
Show: Through The Smog
Presenter: Suchi Ahuja
Description: Recorded in London, bringing you underground sounds from the UK.
Show: Wild City Presents Various Artists
Presenter: boxout.fm
Description: Each set from Wild City's Various Artists series recorded and broadcasted.
Show: Waxout
Presenter: boxout.fm
Description: Straight vinyl, every show.
Show: WAVLNGTH
Presenter: Aneesha Kotwani
Description: Exploring underground scenes while dissecting them.
Show: World Ocean
Presenter: Agent
Description: Illuminating global bass music.
Show: The Heatcheck
Presenter: MC Snoopy
Description: A fortnightly dose of hip-hop music
Show: The Home And The World
Presenter: Nishant Mittal
Description: Music from home (India) and from around the world
Show: Tropickle
Presenter: Varun Desai
Description: An ethnographic dive into various sounds from around the world.
Show: Unequal
Host: Sanjith
Description: Tailor made house and techno music selections.
Show: The ATYP
Host: Daisho
Description: Atypical music curated from around the world.
Show: Curate.love
Host: Emote
Description: Intimate soundscapes reflecting the presenters own moods; almost confessional.
Show: Campfire Radio
Host: Uncon Sci
Description: Uncon Sci's journeys around the world spelling recorded histories.
Show: Endangered Species
Host: Sarathy Korwar
Desc: Celebrating musicians from across the globe through jazz-influenced sounds.
Show: Equal Measure
Host: Aeon Waves
Description: A concoction of drum n bass, jungle and ambient music.
Show: Experimental Hour
Host: boxout.fm
Desc: Bi-weekly excursion of experiments with sound.
Show: Fresh Out Of The Box
Host: boxout.fm
Desc: Drop-ins to the studio by visiting artists to share conversations and music.
Show: Fresh Select
Host: Kev Fresh
Desc: Fresh batch of music every week from across the spectrum.
Show: Groove Nuggets
Host: Sanjith
Description: Often overlooked music represented, from all corners of the world.
Show: Hoodvibes
Host: thegreybox
Desc: Jazz, soul, funk , hip-hop and trap music representing the hood essence.
Show: Jambucast
Host: Jambutek Recordings
Desc: Monthly studio mixes curated by DJ's from Jambutek Recordings, Sri Lanka
Show: Jazz For The Jet Set
Host: SoulFood Project
Desc: Shades of jazz and soul music all on wax.
Show: Krunk Presents
Host: KRUNK
Description: Electronic music from the Indian sub-continent and abroad.
Show: Label Hour
Host: boxout.fm
Description: Underground music from independent labels around the world.
Show: Lady Ruffelins Escape
Host: Rufy Ghazi
Description: Rufy Ghazi presenting her embodied music festival experience through selections.
Show: Medium Rare Cut
Host: FILM
Description: Techno, house and bass music
Show: Mixcloud Presets Audio Culture
Host: Xanthe Fuller (Mixcloud)
Description: A monthly podcast hosted by Mixcloud featuring artists and podcasters from around the globe.
Show: MSB World
Host: MadStarBase
Description: MSB members take you on a journey through hip-hop and dancehall.
Show: Rush Hour
Host: TRAFFICC
Description: A mix of techno, jungle, electro, hip-hop, afro beat and dancehall.
Show: Sub-z Sessions
Host: Arjun Sodhi
Description: UK based bass-music including everything between grime and garage.
Show: Syrphe
Host: C-drik
Desc: A show dedicated to sound art, noise and electroacoustic music from around the world.
Boxout Weekender takes place this weekend from 6-8 April at New Delhi's Auro Kitchen & Bar. A 3-day celebration that will exclusively feature hosts at Boxout.fm and the diverse styles of music that the online radio airs. 24/7. Tickets can be found here. To keep up to date with Boxout.fm you can head over to their website or follow them on Facebook and Mixcloud.
For more information on Boxout.fm you can read our 'comprehensive guide' from last year here.
Words: Purnima Singh
Tags
Join Our Mailing List