Wild City Singled Out: June + July 2020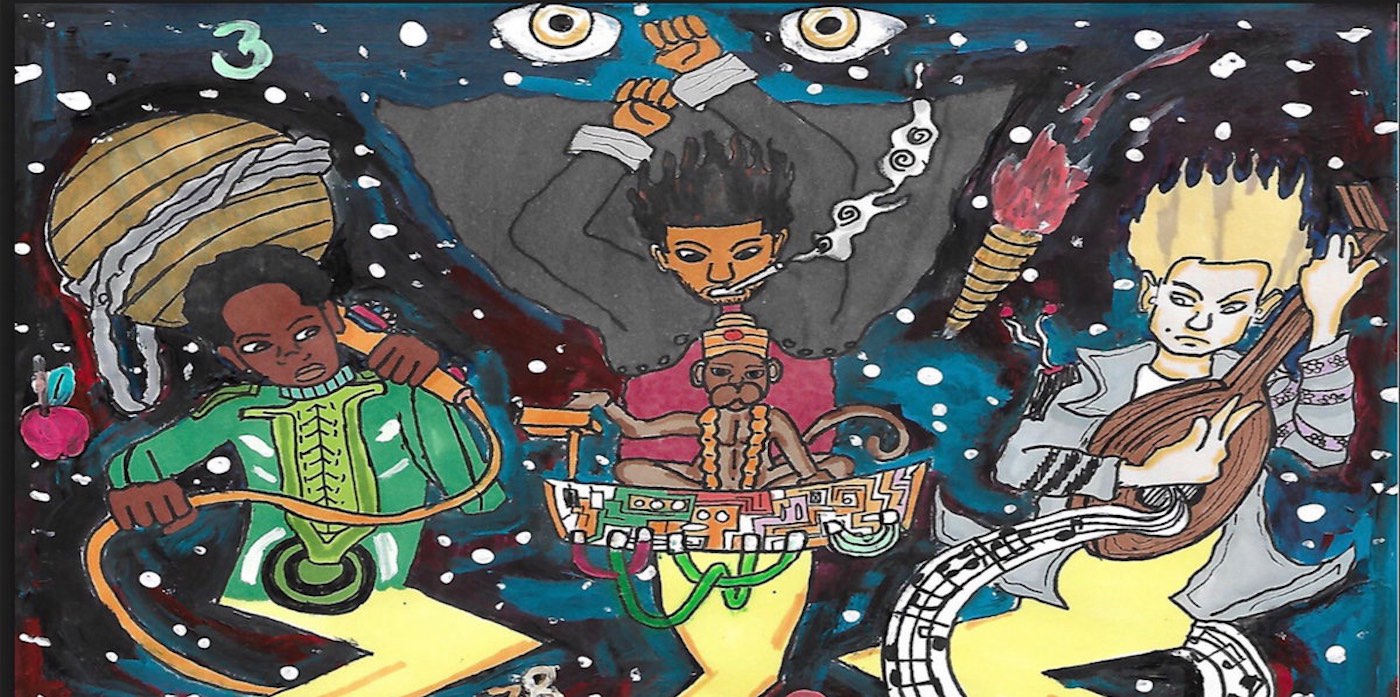 24 August 2020
Wild City handpicks the most interesting tracks released by artists of South Asian diaspora in our monthly feature - Singled Out. If you'd like us to listen to your music, send the relevant info to music@thewildcity.com.
'Slow Machine' By Skulk
Katyayini Gargi aka Skulk's debut album 'Slow Machine' is not something to sleep on. The 9-track record traverses from being quirky to becoming downright unhinged lo-fi electropop. On the title track with its playful hooks and raw delivery, and its ode to failing electronics as a metaphor for life, it's at its most accessible. It only gets more adventurous as you edge away into the extremes of the album.
'Sta Sta' By Catman MU
There is a lot of dream-pop out there in South Asia but not enough anthems in the genre. Enter Karachi-based Mudassir Sheikh aka Catman MU who triumphantly drives the clouds away with 'Sta Sta' to bring in the sunshine for the rest of the feel-good ride that is his album 'Stray Legs'.
'Breakfast In Bed' By Joshua Singh, k o k u m, Sahir
The R&B, hip-hop and electropop musicality of Mumbai-based singer-songwriter k o k u m, Mumbai's Finest member Sahir and ex-Spud In The Box member Joshua Singh comes together to create something more than the sum of its parts. In conjunction with the endearing music video, the track's complementary voices reflect the message of coming together to celebrate love, intimacy and its various mental conundrums.
'Straying In Lanes' By Junk Angel
See the lyrics of 'Straying In Lanes' and you wouldn't expect the accompanying music to be what it is. Listen to the playful music with a soft focus and you wouldn't expect the Tom Waits-akin noir-like lyrics to have the bleakness that it does. Put the two together, as the pop duo of Amoolya Narayan and Soumya Shanker have, and you strike a balance that has the charm of a dark romance with a rawly-produced performance over a bossa nova clave.
'Waltzin'withmisslazy' By Angad Berar
To bear the mental tumult that these months of social distancing and business shutdown can bring, Angad Berar took respite in a relaxing musical ocean. Sharing that aqueous musicality as three singles from his album 'A Broadcast, Underwater', Berar offers a sonic bed to float in – best presented with the carefree guitar noodling of 'Waltzin'withmisslazy'.
'ROAD TO RICHES' By Mutations
'ROAD TO RICHES', the opener from 'MUTATIONS 01', the eponymous debut by Mutations, the trio of India's Rishon Bondal, California's Nico Holloman and Nigerian Ahdeesa, has a gritty swagger that validates its self-ascribed description of "block party music" even with its robust beat. The three different musical backgrounds shine through with their unique individuality, coming together for a triply rich combination.
'Pressure (feat. Rider Shafique)' By flux vortex
Few artworks and titles capture the sonics of a release as directly as that of flux vortex's EP 'Tapestry'. It is indeed a rich collage or tapestry with a restrained pallet, taking its roots in dub but going beyond to offer one of the finest electronic EPs from India in the past month. 'Pressure' which features UK-based Rider Shafique, is the musical amuse-bouche (albeit appearing in the middle) of the consistently appreciable 6-track release, offering hints of all its dub, glitch, breakbeat and political flavours.
'Ballad of Rathalog' By Danalogue x Sarathy Korwar
Sarathy Korwar and Danalogue of The Comet Is Coming have contributed to each other's work time and again. On the EP 'Equinox' the two come together to collaboratively channel the influences of their heroes. The result is a 4-track release oozing in mood and attains a tribal spiritualistic mood with Korwar's melodic drumming – demonstrated in its most tastefully restrained form on 'Ballad of Rathalog'.
'Sweet Mechanics' By muteverb
Shiven Grover aka muteverb's 'Abstract Spiritual Music' on his EP 'Verbylicious' follows the same patient philosophy that's behind the deliberately morphing arpeggios of artists like Caterina Barbieri. The New Delhi-based artist utilises the characteristic constant flow of electronic signals and sound of modular systems for a seamless immersive experience best enjoyed by reciprocating similar patient and uninterrupted attention.
'dreams 1.1' By ramsha
ramsha might have mastered the art of creating immersive soundscapes. By burying nostalgic melodies within them, she just took the genre to a new territory. You wouldn't expect to hear 'Mujhe Tum Nazar Se', the popular ghazal associated with Mehdi Hassan, as an ambient rework – but when ramsha presents it, you're left thinking: why not? She uses the ghazal's sweet melody as just another building block to almost an entirely new composition, presenting a perfect demonstration of what separates reworks from covers.
We'd also recommend checking out the track 'dream 1.0' that was dropped as part of the 2-track release.
'Blue River' By Alisha Batth
The latest single by Alisha Batth sounds more beguiling with every listen. The open simplicity of guitar and voice only works when paired with an emotional vulnerability which Alisha brings with an aching outlook within herself and the world around.
'Two Feet' By bowls
"I've got two friends and they don't seem to like me / I'd say, but I think that they'd find me funny." Dhruv Bhola aka bowls delivers words of such pain and loneliness with a placating child-like simplicity, almost capturing a state of mind that's too tired to engage in sorrow. It is a complex sentiment to reflect and bowls does it with a musicality you find in indie film soundtracks.
'Katyuchuk My Love' By Pragnya Wakhlu
Pragnya Wakhlu highlights the rich cultural heritage of Kashmir by singing about the 16th-century love story of poetess Habakhatoon and King Yousuf Shah Chak of the Chak Dynasty. Oscillating between Kashmiri and English, the songstress uses the linguistic shifts to create separate voices for the two characters that are echoing the same message, but one with melodic longing and the other with a rhythmic exuberance.
'No Escape' By AshwinnIyerr Feat. nøbodyinhere
'No Escape' talks about songwriters helping others deal with their problems but no one else returning the same needful favour. The 2-track bedroom pop tackles introspective mess with a feel-good comfort. This is the one to listen on a mixed mood so it pushes you toward the positive but with empathy.
'Waste Away' By Nothing Anonymous
With 'Waste Away', Nothing Anonymous fill in the adventurous boldness that felt slightly lacking in their previous output. Reflecting upon the treacherous spiral of a destructive lifestyle, the electropop duo has a written a truly dynamic song with its tightly-constructed rise and falls carrying the interest from the intro till the last frenzied drum hit, delivering it with equally capable performances and production.
'Kahaani 2020' By Sez On The Beat Ft. Zaeden, Enkore, Yungsta, Lit Happu, Shayan
Could Sez On The Beat's brief departure from the hard-hitting looming beats into the lighter moods of 'Kahaani 2020' be his best offering till date? Answering that might be arbitrary for musical quality is a subjective topic. Yet, the producer's excursion into more uplifting realms, helped by the feel-good melodic chorus by Zaeden and supplemented by an impressive collective of rappers, is undoubtedly a very notable and welcome new flavour to the discography of one of the country's most notable hip-hop producers.
'Risky Business' By Abhi The Nomad
"Year of the Nomad" – that's the proclamation that kicks off Abhi The Nomad's single 'Risky Business', and feels accurate in light of the strong and regular releases dropped by the Austin-based Indian artist this year. 'Risky Business' offers funk and R&B influences with such a mass appeal, that for listeners like me, who are the dwellers of the underground and salivate at descriptors like "edgy" and "forward-thinking", this counts as a guilty pleasure – but a pleasure without a doubt.
'Take' By Anushka
Goa-based DJ, producer and singer Anushka has offered one of the most delectable mid-section (that also serves as the outro) in any recent release with her dance music-inspired alternative pop number 'Take'. The minimal yet impactful track about responding to criticism and trolling with kindness and confident exhibits in its sonics the very qualities its message wants to reinforce: confidence and undeterred boldness.
'Aatmnirbhar Majdoor?' By Madara x Spectra (Feat. Ujjwal, Seven & Seven)
It is understandable to overlook Seven & Seven's singularly impactful beat which hoists Madara and Spectra's onerous verses as they collectively capture a wide picture of a grim point in India's condition and the faultlines that brought us to it. This is socio-political documentation with the abstract emotional charge perhaps only music can deliver.
'BHAAG' By NDS x Bawari Basanti
Bawari Basanti often sets herself apart by tackling social issues from a personal Indian (or by extension, South Asian) perspective, this time shedding light on the social structures that have limited the freedom of women through history and even today in different guises. The New Delhi artist's flow is, for better or worse, unique. 'Bhaag', produced by NDS, demonstrates the reason behind it beautifully when she seamlessly shifts into Hindustani vocals-influenced melodic flights.
'CHITTA' By Prabh Deep
A lot of people first fell in love with Prabh Deep through his debut album 'Class-Sikh', in which he tackled the themes of substance abuse and class struggle that were rampant around his home in New Delhi's Tilak Nagar. The seminal rapper returns to those topics on 'Chitta', which comes accompanied by one of the best music videos of Indian hip-hop, but with a newfound perspective and the vantage point of someone who successfully defied expectations and rose above.
'Lower Your Troubles' By Pillmen
'Lower Your Troubles' is the first single from Pillmen's upcoming album called 'Synthesizing Gita', a title which explains the concept behind the album. The track delivers Krishna's guidance to a self-doubting Arjun with an exotic patois and a power-charged hip-hop panache and somehow makes it work.
'Hold the Line' By Plan17
Advaita co-founder and guitarist Abishek Mathur revives the synth tones of the 80s and the decade's infectious chorus-writing on 'Hold the Line' his debut single as Plan 17, taking the help of Amartya Ghosh for some lyrical relatability.
'Back To Me' By Vontell, LT.STRANGE & PR
The vocal performance and melodic delivery by the young Hyderabad-based singer-songwriter Prateiksha aka PR on 'Back To Me' is well-deserving of earning her titles like "one to watch for". But the merit of indie-pop doesn't rest on the vocals as standalone, but how well it comes together with the foundation provided by Vontell and LT.STRANGE's production.
'All the Time' By Digee
It was hard to choose this over 'Say Hey' from Jaipur-based artist Digee's exceptionally likeably EP 'Tales for Your Broken Heart', which undoubtedly impresses you quicker – but 'All The Time' is where Digee's production prowess and vocal aptness is at its perfect balance. The whole 6-track release has an unmissable pop charm packaged within an emotively impactful electro-R&B musicality.
'July' By Mero
Taking exciting melodic hooks you'd usually find on energetic dance tracks, Mero puts them instead on a relaxing bed of sweeping pads and tranquil guitar plucks, creating a summer soundtrack that's easy on the ears and gently nudges your energy levels up.
'Prophet' By World Wild Web & Tritha
Classically-trained singer Tritha Sinha and the genre-traversing producer Manuel Jesus aka World Wild Web find an equilibrium where they not only complement each other but play off of each other. It's best testified by their collaborative EP's opening track 'The Prophet', where Tritha's melodic flights get taken over by the runs of basslines which lets way to rhythmic vocal chants before allowing the percussions to respond to the stimulus. The track is a constant dance of musical elements ready to hypnotize the listener who will let it.
'EK - SATH Pt.1' By J.Vibes. Ft. Nate08
The unmistakable bassline by Nathan Thomas aka NATE08 just complements perfectly the simply luscious rhythmic interplay J.Vibes. creates each time he flips a Bollywood classic on his album 'No Boundaries'. Finally, the senses-engulfing pads just seal the deal of highlighting 'EK - SATH Pt. 1' as the apex of the release.
'Exitstrat' By Himay & Planet Meta
Chopped breakbeats, acid riffs, four-on-the-floor house drumbeat, rhythmic vocalizing. There is a lot to catch your interest in 'Exitstrat' if you share the key intention with the song, which is, to have some no-nonsense dancefloor fun.
'Daro Na' By Shweta Shetty & Addy S
Shweta Shetty was an Indian pop star in the 90s and we can take comfort in some nostalgia amidst the chaos of today. But, 'Daro Na' isn't just all about the past. Produced by Addy S, it takes some of the glittery oomph from house and disco and delivers it with a modern sheen to offer an oasis of fun during some onerous times.
'Late Night' By Zokhuma
There is no shortage of gems on the singular compilation series that is '22-2', but Zokhuma's fun-focused dance track 'Late Night' gives us another thing to look forward to at the end of this pandemic and its lockdowns: seeing this four-on-the-flour parade of samples played on the dancefloor.
'Exodus' By Shaun Moses
The atmospheric hard techno track 'Exodus' from Shaun Moses' latest EP 'The End of the Tunnel', as his new moniker Moses, is geared for high-octane listening. The visceral kicks of the track give you something to hold on to as Moses guides you through dark and cinematic soundscapes.
'Pran Kho' By Toymob
'Pran Kho' is where ex-Teddy Boy Kill member Toymob's latest EP 'Khor' is at its grisliest best, unflinchingly assuming the 5-track release's definitive dark qualities. The sinister bellows, grainy textures and the minimal arrangement of morphed timbres do not bother with any other intention but creating a dreadful atmosphere.
'A Death In Communication: Part I' By Haved Jabib
At some level, it's wrong to highlight a single track from a concept album which makes sense only as a whole. However, there is no better place to start you with than the starting point. The disintegration of audio clears out as Haved Jabib's album 'A Death In Communication' progresses, but somehow the predictably dissonant opener feels easier on the senses than the more legible chaos.
'Intact' By Lotus
What Lotus' EP 'Emergence' lacks in audio production finesse (we'd argue the drums take away from the humanity of the release), it makes up with the moodiness of its compositions – best exemplified on the closing track 'Intact', the gentlest offering on the sensory prog-rock release.
'Simrayo' By Gauley Bhai
It's no secret that we love Gauley Bhai and we wouldn't want it to be. The Bangalore-based band has outdone themselves at each step and have now breathed a new life into the jubilant track 'Simrayo' from their seminal debut album 'Joro' with a captivating music video. Contextualising a song which is named after a wild shrub to the daring nature of lovers, the band offers an increasingly frantic composition delivered like a folk tale of two eternal characters.
x
x
Words: Amaan Khan
Image: Artwork by Gus Brooks-Simpson for 'MUTATIONs 01' by Mutations
Tags
Join Our Mailing List