From Chamar Pop & Indie Hip-Hop To Ragamalika & Bhakti Poetry: The Protest Music In India Reflects Its Many Cultures & Many Problems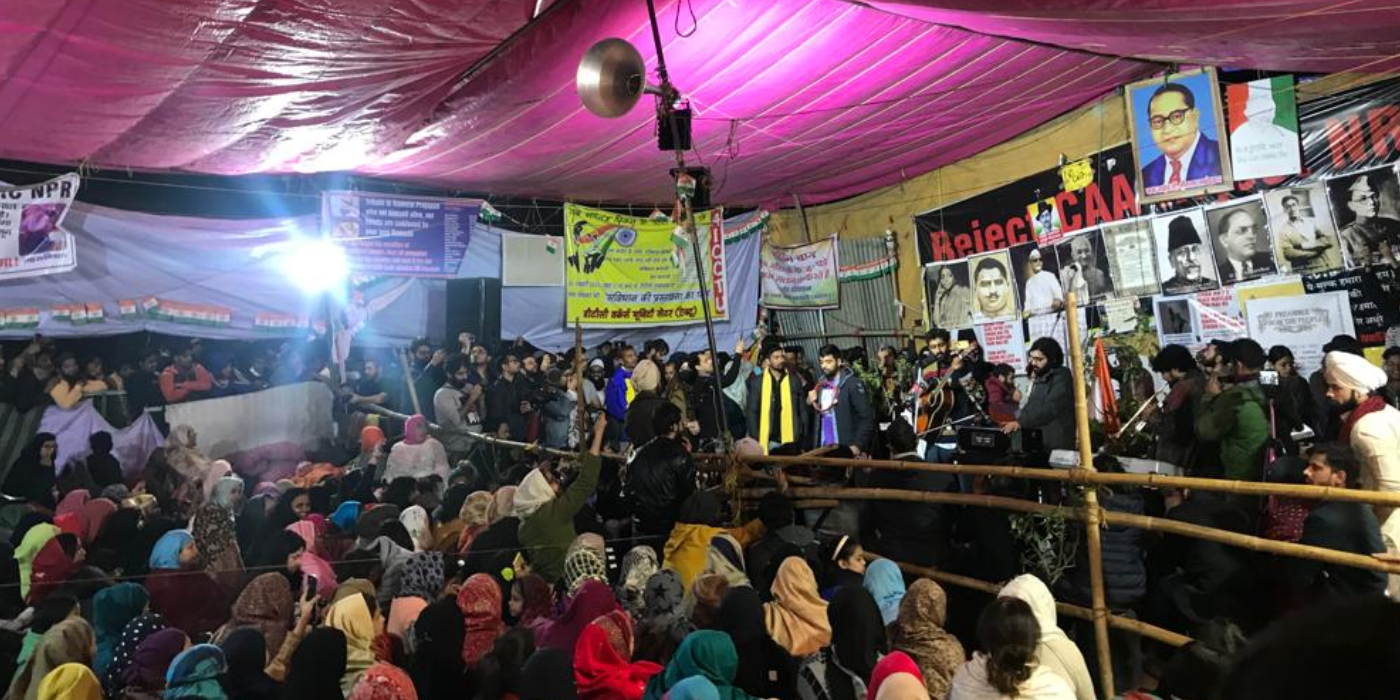 30 November 2021
"Assi hath judva ke chaddange
Hath hor sadde ton jurhde ni
Tu tagda horr ke var badla
Rud jaange wapas mudde ni"
This is one of the many songs of resistance at farmer protest sites capturing the spirit of farmers' iron will that emerged victorious with the recent rollback of India's farm laws. In fact, the last two years represent a watershed moment in India's rich tradition of protest music, which itself dates back to the independence movement.
From the anti-CAA movement and protests against police brutality on students to the migrant crisis and farmer protests, music once again became one of the collective mediums of dissent. But even before the landmark wave of demonstrations against CAA-NRC brought forth a creative renaissance in the genre and captured sentiments across the nation, pockets of distinct protest musical traditions were developing across India in the last decade.
The Resurgence of Protest Music
Among them was Kashmir, where a new generation of young creatives led by Roushan Illahi aka MC Kash began to tell the stories of decades of political upheaval and trauma through rap. Following the release of the groundbreaking 'I Protest' on the 2010 uprising, Illahi's studio was raided by authorities. Since then, he has paved the way for newer artists like Ahmer (now signed to Azadi Records, one of India's most promising socio-political labels) EssXaar, Shayan Nabi, and Qafilah.
When demonetization hit in November 2016, it left devastation in its wake, pushing millions of India's poor to the furthest margins. The collective trauma and anguish of notebandi found voice in a rather unexpected genre--parody and satire. Biting critiques were being pushed out all over--from Tamilian film music like 2020's 'Thatroom Thokroom', to poetry by Hindi author-activists like Nilotpal Mrinal. And at the grassroot level, members of active people's movements like Bihari poet Nirmohi were travelling across the country and sharing their work.
Fast forward a few years to late 2019, the inescapable resurgence of landmark protest anthems like 'Hum Dekhenge' and 'Bella Ciao' created ripple effects around the country which inspired India's independent musicians to also take stock. On a level previously unseen from this group, it combined with the youth's animated sentiments of angst, anguish and empathy to produce a conscious outpouring of material, spanning from uplifting messages of hope and togetherness, to scathing jabs exposing the powers that be. Fresh verses by poet-songwriters like Aamir Aziz and Varun Grover resounded across anti-CAA protest sites, joining revolutionary ghazals, calls of "Azadi" and India's canon of music against majoritarianism – a theme that has long been covered by the likes of Moushumi Laghu and Ammar Rashid.

Activist Musicians vs. Musical Activists
Protest music's growing association with a certain kind of anti-establishment song produced by and for an urban, English-speaking audience, however, has felt like a recent one. "I think it's a very different operation when people who are primarily musicians do protest music as part of their repertoire [versus] activists who actually do music as part of their activism", says Mukesh Kulriya, an activist-researcher who is currently working with Goethe-Institut's programme M.A.P // A.M.P to curate weekly playlists of contemporary protest music.
The crowd-sourced library, which along with a pirate radio, podcast series and live performances allows M.A.P // A.M.P to bridge this binary in the intersection of art and activism in South Asia. Across these initiatives, songs by music duo Loknaad's Vinod and Charul may initially stand in contrast with the likes of Delhi Sultanate and Ravana – all of whom have been the subject of M.A.P // A.M.P's pirate radio – but their work co-exists under a shared ethos.

"There has to be a larger understanding of protest songs, that takes into account the people singing and the political, social and cultural context in which they are singing in", Kulriya tells me. In an attempt to fill that void, his colleague at M.A.P // A.M.P, RJ Sarthak has been hosting near-weekly episodes at the pirate radio to understand musicians and their efforts to combine the artform with socio-political outcry. As part of that initiative, RJ Sarthak has focused a similar lens on modern-day indie acts and performers like Ahmer, Delhi Sultanate, Plastic Parvati, as he does on artists like Shubha Mudgal, Jumme Khan and Rehmat-e-Nuzrat, who are reviving classical traditions for the contemporary socio-political climate.
Thinking about India's decades-long tradition of protest music, one would imagine a whole universe of undiscovered gems to be accessible. "But actually, if you go sit down on Google, it will be difficult to find 15 songs [on something like demonetization]", adds Kulriya. In a much more real-worse sense though, this disparity is exemplified by the relative anonymity of artists like the Sheetal Sathe Troupe, who remain little known to those outside protest circles. It is always people creating music in non-English languages whose work won't be documented on platforms like YouTube. "Had I not been an activist, I wouldn't know these people", he muses.
Finding The Right Expression
Being a JNU alumnus and an active member of Delhi's protest circuit, Kulriya noticed that the progressive songs sung at marches and demonstrations were often derived from folk music. These regional and more hyperlocal expressions are more emblematic of India's diverse tradition of protest music.
The Sheetal Sathe Troupe itself has created its own niche within the protest music universe infused with the secular politics of Sant Kabir and local folk idioms. An offshoot of Pune's Kabir Kala Manch, a group of working-class and Dalit performers from Pune who rose to prominence after their members were incarcerated after being wrongfully declared as 'Naxalites', their song 'Rohith Gaya' is one of their many offerings that locate modern experiences of caste discrimination within our country's centuries-old politics of exclusion. This powerful rendition was performed while Sheetal's jailed husband Sachin and troupe members were still awaiting trial.
Meanwhile in Punjab, the birthplace of 'Chamar Pop', a new age musical grammar by which Dalits were asserting their identity and lived experiences was reaching new frontiers. Interestingly, it was 17-year old Ginni Mahi whose 'Danger Chamar' would become the face of this movement, which incorporates imagery and structures from popular Punjabi rap and pop. A young female voice inspired by Bhakti saints dominating a primarily male musical tradition only reiterated the intersectional possibilities of what protest music was turning into, even as the singer herself reiterated her music was not political.
Elsewhere, Odisha's Sumeet Samos--now one of the country's most prominent DBA voices--was putting his native Koraput on the map. Through songs like 'Desia Pila', he brought out the violent material effects of caste politics in the tiny city rocked by Maoist insurgency and vested corporate interests.
There has also been a growing movement of protest songs with an eco-conscious ethos. You've probably heard 2015's 'Kodaikanal Won't', a parody rap song raising awareness about Unilever polluting Kodaikanal's forests and water bodies. 'Ma Rewa', a hymn that became a mainstay of the Narmada Bachao Andolan was popularized after Indian Ocean's own rendition of it.
Similarly, TM Krishna's ragamalika 'Chennai Poromboke Padal' broke new ground for a Carnatic track, being applauded for its political message about industrial encroachment on public natural resources. In more recent years, though the concerns remain universal, the expressions have grown more local, as with Himachal Pradesh rapper Punky Pax's 'Ro Rhe Pahaad' on the state's growing waste management problem.
Kulriya leaves us with a final reminder to challenge the conventional understanding of protest music outside the tunes themselves. "For example, just the presence of a female body at a protest site in a conservative society or nation-state. The song itself might be very simple, but their presence, bodies, and the voices they bring in is a mode of protest in itself."
.
.
As a part of Goethe Institut's M.A.P // A.M.P project, Mukesh publishes a new playlist on different thematics ranging from anti-majoritarian and anti-caste voices, demonetization and farmer protests. Aiming to bridge the divide between folk and popular music, it will present themes spanning class, gender, race, languages, region, religion, and more, creating a repository of South Asian activist music. Follow M.A.P // A.M.P for further updates and head here to check the full library.
.
.
Words by Nishtha Jaiswal
Image by Satvika Kundu
Tags
Join Our Mailing List