A Matter Of Identity: How Indie Musicians Are Upholding Indigenous Cultures By Singing In Native Tongues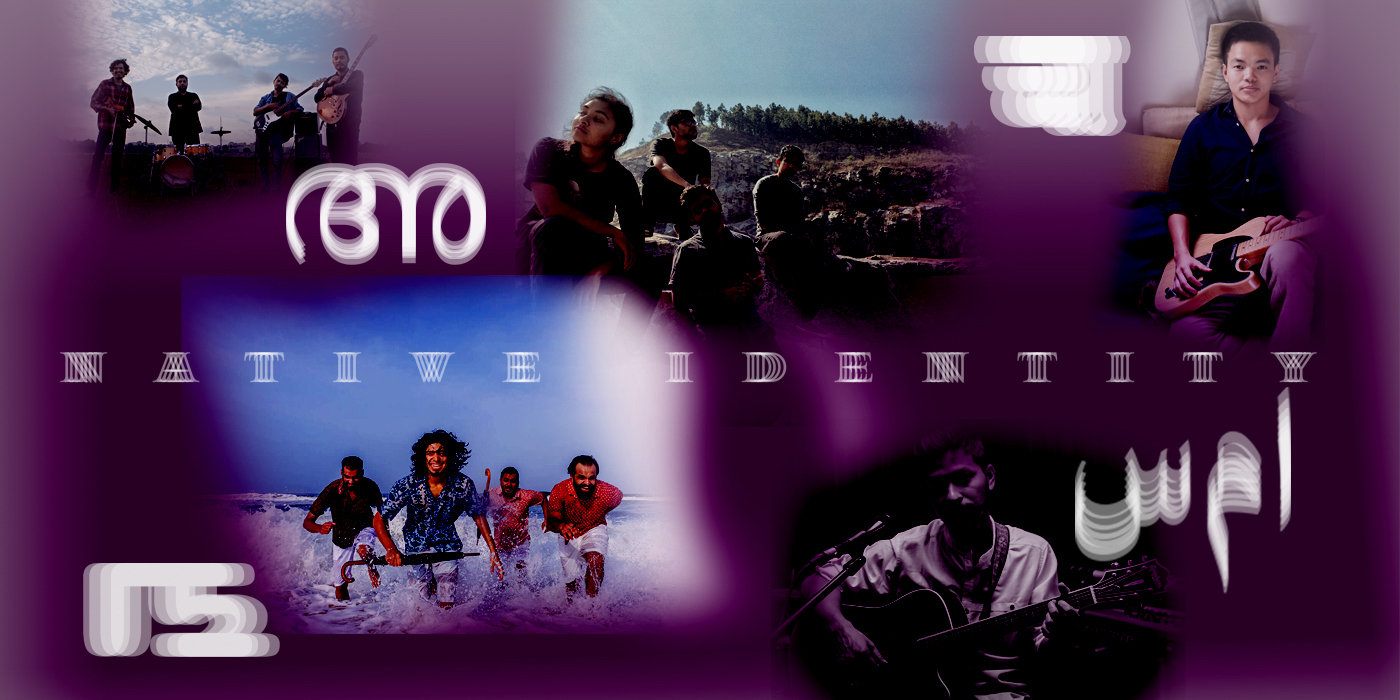 17 August 2021
India's cultural diversity is most prominent in the sheer number of languages spoken in different parts of the country – 121 to be exact, while dialects number over 19,500. Naturally, this is bound to find resonance in the music, as reflected by various folk forms. And now, that is crossing over into the indie music sphere too.
Artists choose to sing in their native tongues for reasons ranging from asserting identity to accessing a wider audience, as language plays a big role in connecting with crowds. "Language was conceived for communication. So is music. We love utilizing one with the other and perform in many languages as a tool to connect better with listeners," says guitarist Ashok Betty Nelson of Thaikkudam Bridge. The 15-member multilingual ensemble boasts nine vocalists who sing in Tamil, Malayalam, Arabic and Marathi to name a few.
For Kochi-based alternative folk outfit When Chai Met Toast, the bulk of their songs are in English, but singing in Hindi and Tamil helped them reach a wider audience who don't usually listen to English music. "Sometimes, it's about what works best for the song. Certain melodies sound better in certain languages. Often, adding a line in the native language helps us convey the message of the song more effectively," says vocalist Ashwin Gopakumar.

When Chai Met Toast || Image courtesy of the artist
The Musical Merit
As singing depends on the language's phrasing, syllables and phonetics, certain compositions can only work with a particular language, thereby creating distinct melodies. When Chai Met Toast's guitarist Achyut Jaigopal affirms this: "The songwriting is dependent on language since the meter and how words flow into each other changes from one language to another."
This subtle touch of nativity allows artists to have a distinct cultural identity. That is how Alobo Naga, an award-winning musician from Nagaland, has made his music stand out from the usual crop. Though he primarily sings in English to target an international audience, he flavours it with indigenous folk elements from his state to deliver a unique style.
"I bring a Naga tune or melody and put that in Western contemporary music. My song 'Wolo Wolo' is in English, but the hook line is in Nagamese – that makes it stand out! That's my identity – no one else can do that except me," he says, adding that sometimes he uses the one-stringed folk instrument tati to spice up his compositions.
The agency allowed by singing in one's native language comes with the trade-off that it is not understood by people outside that particular community, hence limiting the potential audience. Artists have to bank on translating the songs during shows or on YouTube bios and album sleeves. Even then, the true essence often gets lost in translation.
Kalimpong-born singer-songwriter Bipul Chettri, who recently released an EP 'Samaya', wishes that his audience did not miss out on the nuances of the Nepali language in his songs. "Nepali is such an expressive language - it contains so many onomatopoeias (words derived from associated sounds), that the need to use actual words to describe something isn't really necessary. An emotion can be described with just a simple sound," he explains.
However, English was his preferred vehicle earlier but that changed after he experienced an epiphany of sorts. "A decade ago, on a trip to the US, I found myself standing in front of the Atlantic Ocean. While admiring its vastness, the only words that came to me to describe that feeling were in Nepali," he says. This experience made him realize that he emotes naturally in his native tongue, leading him to write and compose in that language.
Where The Audience Comes In
Such an organic process also resulted in the much-liked rock music of Parvaaz, who perform in Urdu, Kashmiri and Hindi. "There was no specific intention behind doing native language music. It happened quite naturally. Kashmiri is the first language I learnt, so communicating and expressing myself in it is easier," says Khalid Ahmed, vocalist of the Bangalore-based band.
Besides their arresting music, singing in a practically unknown language like Kashmiri in Bangalore, which no one had done before, acted as a novelty factor. "It was a fresh idea for anybody to come from this space, sing in this language and fuse it with Western instruments. The language itself adds a different taste," he says.
He further points out that when they started out back in 2010, there were only a few acts like Raghu Dixit, Indian Ocean and Avial performing in native languages. "Bands were mostly singing in English while venues wanted cover artists. But in a few years, the scene completely changed with people demanding original music in different languages."
Though the national music scene has become more open towards native languages in the past two decades, the trend has been prevalent in Bengal as early as the '60s, thanks to pioneers like singer-songwriter Arunendu Das and later Moheener Ghoraguli, India's first vernacular band.
"The Bengali music industry was very strong and independent. It is pretty abundant and complete on its own, parallel to the national scene," says vocalist Chandrani Banerjee of folk-rock band Krosswindz. The three-decade-old band has albums in both Bengali and English, and is the only Indian act to have won two Grassroots Grammy Awards in 2020.
For them, composing songs in Bengali has only been good, and they remain unperturbed if they exclude a bigger listenership on account of that. "While composing, one really doesn't think about who is going to listen, unless it's for a film. For independent musicians like us, it is more of a creative expression. National listenership, if any, is a bonus. We never worried too much about that," she adds.
But this luxury cannot be afforded by other Kolkata-based acts like Whale in the Pond which are outside the purview of the Bengali music industry. While their critically acclaimed debut EP 'Marbles' was an English-only venture, they gradually began composing songs in Sylheti, a dialect of Bengali.

Whale In The Pond || Image courtesy of the artist
"Unfortunately, Sylheti songs are still considered novel as it's not very common. And outside the Kolkata crowd, the most responses come for our English songs," says songwriter Sourjyo Sinha, who hails from Silchar, a Sylheti-speaking town in Assam's Cachar district.
He believes this is due to a lack of interest on the part of national listeners who, however, lap up Hindi and English songs quite readily. "Hindi is promoted like hell, even politically. We know how to speak Hindi because of Bollywood, which has built that listenership already. So, it's easier to latch onto something familiar," he says, adding that the popularity of English is because of the urban listener base with a colonial hangover.
Geography Matters
Sourjyo also gives geography equal importance, if not more, for exposure. "Cinema, music and art from a lot of regions, including Bengal, are overlooked. If you're living in Mumbai, Bangalore, Delhi, it's easier to get the word out when compared to places like Kolkata, Darjeeling or the North-East," he continues.
This problem is further exacerbated in Nagaland, which is a dry state. As a result, there are no pub gigs. Since most big festivals like NH7 Weekender are sponsored by alcohol brands, they miss out on that too. "Mostly, the big shows happen outside the North-East. The organisers don't invite us much because of logistics and cost involved. So, there are less opportunities for artists here," informs Alobo Naga.
Contrarily, Bangalore based bands like Parvaaz and Gauley Bhai boast of a big fan following outside their native regions. In fact, at least half of Gauley Bhai's brilliant debut album 'Joro' was crowdfunded by non-Nepali speakers.
Three of their members hail from the Himalayan district of Kalimpong in West Bengal, quite close to Darjeeling. The region's dominant Gorkha population led a century-long movement for recognition as equal Indian citizens – a huge part of which was recognition of Nepali as a national language. While this was successful, the demands for an autonomous state of Gorkhaland still remains elusive.

Gauley Bhai at Magnetic Fields Nomads || Image by Shrey Gupta
For Gauley Bhai, the need to sing in their native tongue goes much higher than simply connecting with a wider crowd. It arises from a deeply rooted identity politics. "A language embodies the history of a community as well as the emotional residue that the past has left behind. So, singing in Nepali for a pan-Indian audience gives us a way to represent such marginalized communities," says violinist Veecheet Dhakal, adding that they also voice the truth of diaspora that emigrate to metro cities from respective hometowns.
Back in 2019, in the initial days of the band's inception, Gauley Bhai had to cut their set short at the Nizam Club in Hyderabad when the audience exhibited unreadiness towards listening to music in Nepali, as it isn't a recognisable Indian language. In fact, the band was accosted with angry glares by the middle-aged crowd who wanted to listen to Hindi songs, and a cover band had to be called in to pacify them.
This points to the bigger problem where the language and culture of the eastern Himalayas – the Nepali-speaking regions and the seven north-eastern states – have never featured prominently on the national consciousness. Worse, people from this region have been facing racial discrimination for ages. The recent uproar after a Punjabi YouTuber Paras Singh used racial slurs against Ninong Ering, a Congress MLA from Arunachal Pradesh, and called native people 'Chinese', exemplifies this toxic attitude.
More Than Just Words
Composing in languages from these places becomes a sensitizing act as much as a tool to preserve and propagate indigenous cultures, believes Itanagar-based singer-songwriter Takar Nabam. Though he started out by composing English songs, he was pulled by the beauty of his ethnic tribal dialect – Nyishi.
"It's a way for me to learn more about our fading culture and the dialect, owing to the lack of a script. Modernization has also led to a lot of people not associating with our own tribal culture. I'd like to do whatever I can in my capacity as an artist to preserve that," he says.

Takar Nabam || Image courtesy of the artist
Now, transport this sentiment 3,000 km westwards to the land of apple orchards, breathtaking views, military oppression and abused human rights: Kashmir, where the mere expression in the native tongue becomes a political statement!
"When a region is being colonized or occupied, its identity is at stake and the language becomes the first hazard. To instil pride about one's language, there should be some contemporariness attached to it to get across to the youth. At the same time, it should not be erased from its roots. I believe my music attaches a sense of pride to the Kashmiri identity," reflects singer-songwriter Ali Saffudin over the phone from Srinagar.
He is among the small number of artists who are illustrating the struggles of the Kashmiri people. His songs bear the pain of an oppressed population whose basic livelihood has been ruptured, and death and disappearances have become an unsavoury truth. While he chooses to be direct, rock outfit Ramooz does not talk about the problem, but the essence of it.
"It's really important to focus on indigenous languages as it's a question of representing an identity you belong to – to give it more audience, more space," says vocalist-guitarist Zeeshan Nabi. "I want listeners to question and introspect about what is happening. In that context, I want the audience to start the search where the song ends."
Words by Shaswata Kundu Chaudhuri
Lead image by Sijya Gupta
Tags
Join Our Mailing List