Wild City Singled Out: November + December 2019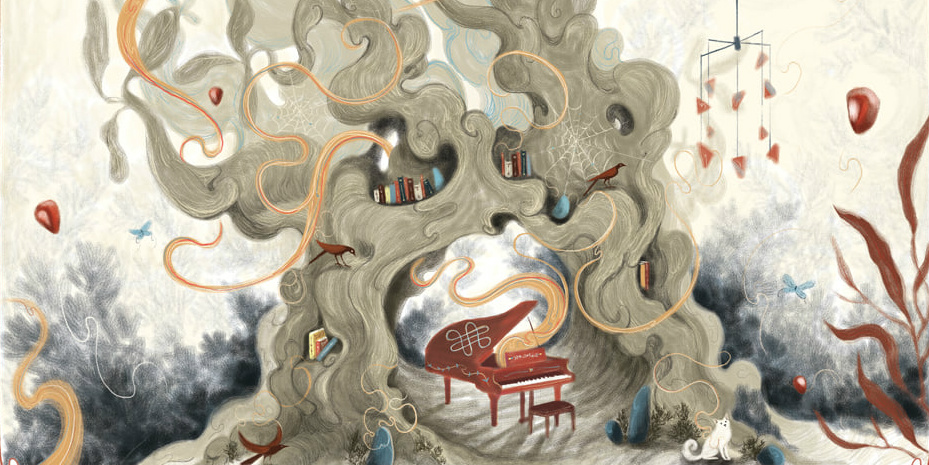 11 February 2020
Wild City handpicks the most interesting one-off singles released by artists in South Asia in our monthly feature - Singled Out. If you'd like us to listen to your music, send the relevant info to music@thewildcity.com or contact us privately on SoundCloud.
'Extended Priorities' By Jamblu
If there were three words to describe this particular track from Jamblu's latest EP 'Gone Swimming', it'd be: enchanting, fuzzy and intriguing. Owing to the clockwork or machine-like sounds in the track, the track conjures images of wound-up toys or a vintage merry-go-round at a carnival, giving this track a somewhat innocent, magical and playful quality that makes it incredibly warm and human – which is why this is our first pick for this edition of Singled Out.
'Mind of No Mind' By Drum ani Bass Feat. Yung.Raj & Vasundhara Vee
We might be projecting when we say that the first half of the track reminds us of the likes of The Cinematic Orchestra, however the elements of free-form jazz combined with innovative drum 'n' bass, skittering electronic melodies, glitchy beats and footwork showcase the creative expanse of Drum ani Bass (a brainchild of Nathan Thomas and Dhir Mody), and we can't wait to see what more they have in store.
'Living On A Prayer And Dieting Plans For Two Whole People' By Terza Rimah
Get your headphones on for this one. Terza Rimah claims his work lives on the intersectionality of sound art and internet culture. His project 'TMI', released via collective/label Coping Strategies, weaves together experimental, phantasmagorical soundscapes comprising of snippets of: environmental sounds, cassette rips, misanthropic pronouncements on being, shortwave radio broadcasts, popular music, and more to deliver a collage of experiences that are immersive yet detached, anxious yet calming, pretty, yet distorted. For full effect, we'd recommend you listen to the entire album.
'enchanté' By jitwam
The music from jitwam's new EP summons the late night city lights of Brooklyn – you can almost hear the music floating up from a dark, intimate, crowded venue in a basement, with dizzying lights and a diverse, eclectic crowd just swaying and jimmying on the dance floor to this track's jazz-funk and psychedelia-laden four-to-the-floor sound, making for some warm, classic house music.
'Sitaphalmandi' By Aman Mahajan
There are few occasions where you can accurately judge a book by its cover – Aman Mahajan's 'Refuge' is one of them. The stunning artwork aptly betrays a delightful album that weaves a densely captivating and insightful, yet fleeting and liberating, narrative with its intricate piano pieces. Named after a custard-apple market in Hyderabad, 'Sitaphalmandi' is a playful ode to the locality where he found his dog Charlie, and an exuberant meeting point for Thappankuthu folk rhythms with jazz waltz.
'Hum Kal Mein' By Janoobi Khargosh Feat. Umer Khan
Released just at the end of the year, Janoobi Khargosh's 'Survivors' may be one of the strongest and most memorable albums released in the Pakistani underground music sphere in 2019. Laden with heavy doses of nostalgia, the psychedelic, retrowave-fuelled synth-pop on the album is executed brilliantly by frontman Waleed Ahmed – and this single, featuring Poor Rich Boy's Umer Khan, is a fitting sampler.
'Drum Machine' By Parekh & Singh
It's immensely difficult to dislike a track by Parekh & Singh. Their quirky, saccharine melodies, their honed indie-pop sensibilities and their Wes Anderson-like visual aesthetic have always been an irresistible combination, and 'Drum Machine' is no exception.
'Wildshit' By Hanumankind (Prod. By Kalmi)
Hanumankind's debut EP 'Kalari' made for one of the more memorable rap releases of 2019, owing to his fiery, versatile flow, to the refreshing and (literally) banging production by 47K, Kalmi and Parimal Shais, and for showcasing the versatility of the South Indian rap scene. We only chose 'Wildshit' because it's the opening track, and we hope it will encourage you to listen to the rest of the EP.
'Sinking Ships' By Krameri
Krameri's mellifluous, saccharine vocals have a haunting, melancholic quality about them that immediately captures your attention. There's something ethereal and other-worldly about her voice on this track, and the production, that makes us think of folklore tales of mermaids luring sailors into the water with their charm, before brutally killing them (which would make 'Sinking Ships' an even more fitting title for the track).
'Luv Important' By Your Chin
We didn't realise how much we missed the absurdist quirkiness of Your Chin, until he returned last year with two singles and a music video. Set in an alternate (or is it, really?) reality where love follows a 10-step guide, 'Luv Important' is an exploration of the themes of co-dependency and assumed superiority in a relationship, and a wonderful reminder of Your Chin's adeptness for artsy pop.
'Kerala To Munich' By Eashwar Subramanian & V3K Feat. Moeha
Eashwar Subramanian has now become a permanent fixture on Singled Out. On 'Kerala To Munich', the producer elevates his typical ambient soundscapes with traditional Kerala instruments and Malayalam vocals by V3K and Moeha, the lush sounds of boat races, and nadaswaram (a double reed wind instrument from Kerala), aptly encapsulating the essence of Kerala with all its raw, organic beauty.
'Halaat' By GHZI PUR
We can see why the person behind the mysterious GHZI PUR account may want to stay anonymous – ever since November 2019, they've been posting decidedly "anti-national" singles, with track titles such as 'Deshdrohi' (with a picture of Amit Shah as album artwork), and a description that states: "making trash music for a trash society led by a trash government". But it isn't just the shroud of mystery that makes GHZI PUR stand out – it's also the alluring, hard-hitting production glazed over with distortion and noise.
'Smoke Alarm' By Yung.Raj x Daulat
Yung.Raj and Daulat turned out to be the collaboration we never knew we needed. Both producers bring their best to the game – Yung.Raj's skittish beats and highly dance-able footwork inclinations, and Daulat's introspective melodies and deft keys – to deliver a track that's as groovy as it is playful.
'Obota' By Kumail Feat. Azamaan Hoyvoy
'Yasmin' marked the birth of a new, evolved sound for Kumail, as he expanded upon his signature textural lo-fi, ambient electronica with flavours from R&B, jazz, hip-hop, soul and beat music. 'Obota', featuring vocals by Azamaan Hoyvoy, consequently makes for one of the lushest, most organic pieces from the album, effusing enough warmth and soul to fill up a room.
'Wayament' By Lacuna
Lacuna, over the years, has acquired a mastery over subs and 808s. On 'Wayament', he tempers the bass with fractured beats, ruminative melodies and a shimmering ambience, crafting an intriguing journey the whole way through.
'Eklai Huda Ta Jhan' By Phosphenes
This single, by Kathmandu-based band Phosphenes, has all the makings of a great soul-churning, alternative, indie-pop ("sadboi") track. Our first clue was all the comments on YouTube comparing the band to Cigarettes After Sex; the second was the band's admitted influences by the likes of Damien Rice. And even though we don't fully understand the lyrics (incidentally, this is the band's first track in Nepali) it's not hard to imagine what the track is about – loneliness, love and heartbreak.
'Scalp Dem' By Seedhe Maut x Delhi Sultanate
There's only one thing we like more than good music – good music with a cause. Delhi Sultanate and Seedhe Maut use 'Scalp Dem' to highlight the hate-mongering propagated by the government, their oppressive, totalitarian rule, and to condemn the "politics of distraction" taking place in the country. They released the track in hopes that it would inspire people to partake in more small acts of resistance and to create a network of solidarity, and we only hope it worked.
'Hawkes Bay Holiday' By Placeholder Keel
Relatively unknown Pakistani producer Placeholder Keel has been prolifically releasing music for just over a year now, and we honestly wish more people took notice. Though his sound typically caters to the more subdued, bleaker spectrum of electronic music, he surprised us with this cheerful number that summons the atmosphere of a summery vacation on the beach.
'FLY' By Prabh Deep
Prabh Deep continues to showcase his mellower, laidback side on 'FLY', which furthers his new-found tryst with lo-fi, R&B influenced production, making for a track that perfectly complements his smooth rap delivery.
'In My Senses' By Black Letters
The lead single from Black Letters' latest album 'Still As You', this track is a fitting glimpse of the immersive walls of sound, the distorted basslines, the left-field electronica and the rich ambience that inform the album. The intriguing video, that seems to channel Mughal-e-Azam, is a definite bonus.
'Chalti Ka Naam Gaadi' By Owlist
Sampling old Bollywood samples from the 50s to the 80s is all the rage these days. Owlist hops on the bandwagon with a twangy hip-hop and bass edit, which kicks off the rest of his Bollywood-sampling 'Gaane Suhane' EP.
'Blue Cheese Police' By Blame Adam
We've honestly never thought of a "blue cheese police" before, but if they did exist, and if one were to imagine them, this squelchy track by Adam Jai Malvi aka Blame Adam that oscillates between moods both dark and light, would certainly offer a fitting soundtrack to their entrance.
'ANDOLAN' By naqaab47 x Shoals
Another protest track, naqaab47's fierce rap over Shoals' electronic Bollywood-sampling collage sets out not just to condemn the actions of the current regime, but calls to action and encourages the people protesting and standing up to protect India's constitutional values.
'Emnina' By After Art
Released on Dhaka-based label Akaliko Records, After Art's album 'Psychogeography - Impressions' examines urban environments and explores the interplay between an individual's emotions and behaviour, and their physical environment. The producer admittedly sought to overcome the "banalising process in which our everyday experience becomes one of drab monotony", and judging by his unique, experimental approach to the music, we think he succeeded.
'Rukus' By Stain
With a self-explanatory title like that, there isn't much we need to delve into here. 'Rukus' is what you get, so brace yourselves and your speakers. We did have a hard time picking which track to feature from the series of tracks Stain has been releasing under 'Flush', so make sure to check them all out.
'Sampadan 18' By Todh Teri
Todh Teri translates Bappi Lahiri's 'I Am A Street Dancer' through the lens of house music into a modern, club-friendly track that would appeal just as much to millennials as it would to boomers.
'Aala Azad' By MC Azad (Prod. By BamBoy)
BamBoy's uncompromising production on the title track from MC Azad's debut album is a felicitous companion to his relentless, effervescent rap. Their symbiotic relationship, and the fact that the album is entirely in Marathi, helps them stand out from the increasing noise being emitted from the hip-hop scene in the country.
'Tukde Tukde Gang?' By Madara x Seven & Seven
Recently, somebody filed an RTI application seeking to know exactly the "tukde tukde gang" (an umbrella term used often by the ruling government to refer to anybody who seems to oppose them) is. Seven & Seven's catchy bass-heavy production here serves as the platform for hip-hop artist Madara to offer a subversive explanation – watch the video to find out for yourself.
'VOID' By Kaali Duniya
Laden with layers of textures, this track by Swadesi member Tushar Adhav aka Kaali Duniya (who also goes by BamBoy) is a menacingly dark, immersive journey into the 'VOID'. Hold on, or it may knock you off your feet.
'Breaking Through' By Oceantied
Absolutely storming with energy, Oceantied's high-BPM footwork single leaves little space to breathe or rest – but who needs that anyway.
'Hooked' By Brandon X Echologue
A slow-burning hip-hop track by Mumbai producer Echologue, featuring fellow Bandra rapper Brandon, 'Hooked' swirls you into a psychedelic, drug-induced haze, that only clears to make space for some horrific yet surreal Quentin Tarantino meets Aahat visuals. Fresh, is the word.
'Real' By Meba Ofilia
This velvety single by Shillong-based vocalist and rapper Meba Ofilia missed our radar in October. However, we thought it was too chocolatey smooth with all its R&B and soul goodness for us to skip. Listen and see for yourself.
x
x
Now, you can also listen to Singled Out as a playlist on SoundCloud (though some of the tracks may unfortunately be missing), here:
Words: Satvika Kundu
Image: Artwork for Aman Mahajan's 'Refuge' By Sonali Zohra (aka Danger.cat)
Tags
Join Our Mailing List