A Comprehensive Guide To Levi's Music Week 2019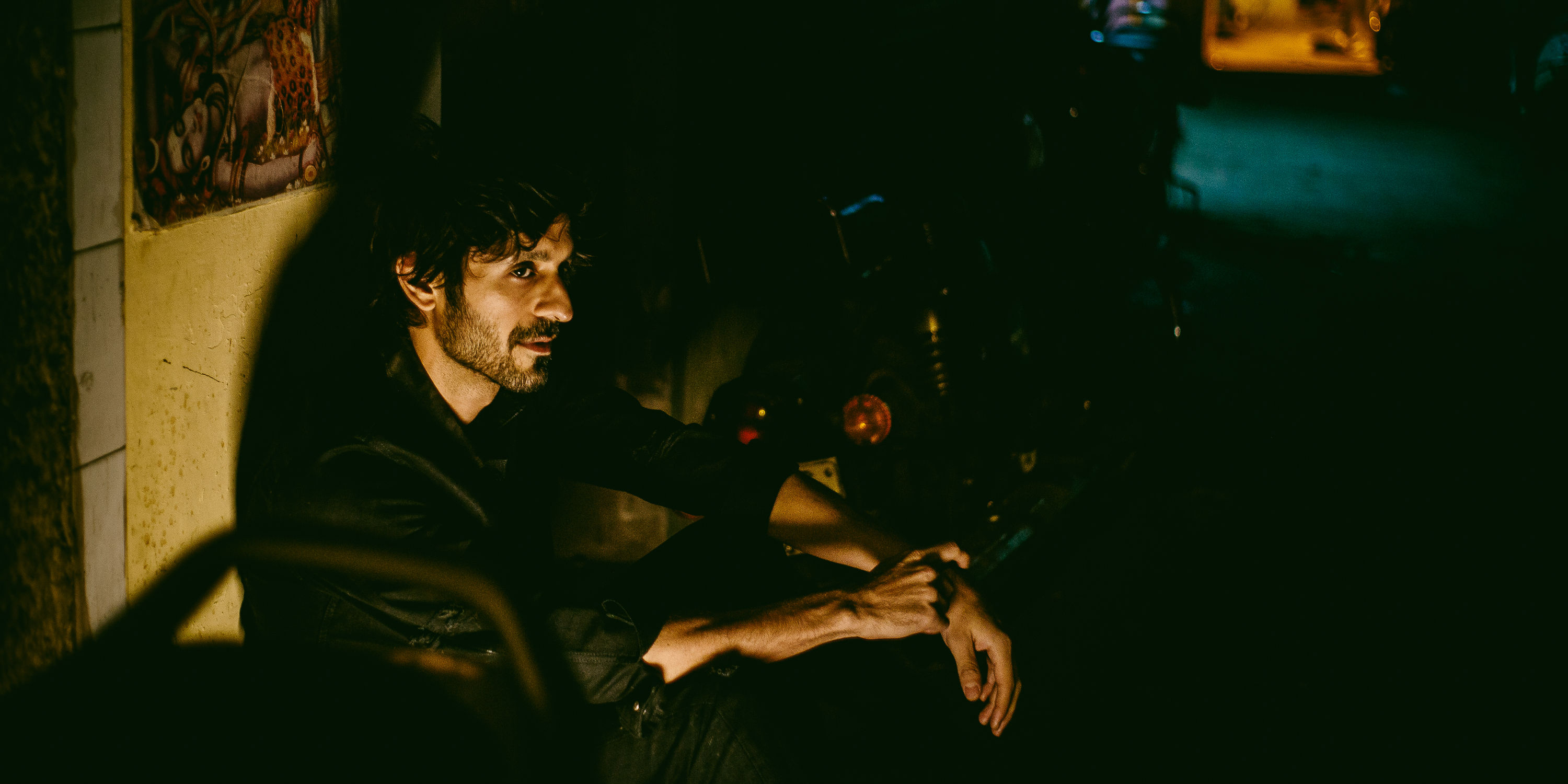 11 October 2019
Levi's Music Week 2019 is looking to be quite the insightful week. Taking place from October 11-18 at Levi's Lounge in Mumbai, the multi-faceted event is bringing with it a slurry of activities, ranging from masterclasses, performances, workshops to panel discussions and an art exhibition.
There's a lot in the programming that is especially relevant to artists and the music community so we've compiled this handy guide to Levi's Music Week that will take you step by step through each day and what it holds in store.
October 11, Friday: Gig Night
Documentary Screening: SKEPTA x LEVI'S (9 PM)
Day 1 of Levi's Music Week kicks off with the screening of a short documentary put together by Levi's in collaboration with Skepta. Levi's partnered with the influential British grime artist to establish a community youth music space in the heart of Skepta's hometown – Tottenham – which they hope will provide easy access to music and inspire the next generation of artists.
The documentary maps the story of the journey, starting with the first series of classes which saw Skepta and a team of industry experts mentor a group of 12 young musicians in all elements of being an artist in the modern digital age, including recording, lighting design, sound production and more. Interestingly, the classes were inspired by an exhibition at The Victoria and Albert Museum titled 'You Say You Want A Revolution? Records and Rebels 1966-1970', and culminated with a performance at the museum's Raphael Gallery.
Performance: Dualist Inquiry & Komorebi (9:15-11 PM)
The first night will be brought to a close with performances by homegrown electronica artists Dualist Inquiry and Komorebi.
Often considered the leader of "mellowtronica" and new wave electro-pop in the country, we've seen Sahej Bakshi aka Dualist Inquiry go from being a nerdy music producer to a headlining, forward-thinking music entrepreneur in less than a decade. Not only does he have a trail of releases behind him – including three EPs and a pair of albums – but he's also the co-founder of online community radio station boxout.fm.
Komorebi, meanwhile, is New Delhi-based Tarana Marwah's alternative-electronic act. Inspired by scores from Japanese anime and chip tune music she heard as a kid, the composer, singer-producer and instrumentalist channels those influences to create music that is whimsical, orchestral and celestial. She caught our attention with her first self-titled EP in 2015, and has since evolved into one of the more mature, intriguing electronica acts in the country.
October 12, Saturday: Music Production
Sez 101: Producing Culture, Not Beats (12-1:15 PM)
Day 2 at Levi's Music Week kicks off with a masterclass with prolific hip-hop producer Sez On The Beat, who will delve into the foundations of his craft, dish out what it takes to deliver the final product, and share some invaluable insights into the emerging hip-hop scene of the country. Attendees will get to watch him explore the process of making beats (from visualisation to execution), learn what goes into the art – such as selection of softwares, use of plugins, the art of balancing kicks and 808s – and pick up some tricks of the trade. The masterclass culminates with a round of Q&A.
From Demo to Master: An Overview of the Music Production Process (1:45-4 PM)
Music production isn't a simple one-step process, especially if you want to be a professional. In other words, simply crafting the music isn't enough. Jehangir Jehangir, Ashyar Balsara and Viraj Saxena from Salvage Audio Collective and Island City Studios will be conducting a workshop on the process of music production in a professional environment. During the workshop, they will take attendees through the entire process of production – from producing on DAWs and live recordings to ideating and delivering the final master.
Image: Sez On The Beat By Samrat Nagar, Homegrown
October 13, Sunday: Optimising Social Media & Distribution
Spotify Artist Masterclass (12-1:15 PM)
Padmanabhan NS, the Head of Artist and Label Marketing at Spotify India, will be starting the day with a workshop where he will introduce artists to ways they can personalise Spotify according to their needs and certain tools they can use to amplify their reach. Attendees will also gain a broad understanding of how Spotify works and useful tips for independent musicians about working with labels, aggregators, radio and so on.
How to Make Money and Grow Your Fanbase on Bandcamp (1:45-2:45 PM)
It's near impossible to be part of the independent music community without using Bandcamp. The online record store's UK label representative and independent label boss Aly Gillani will be talking about how artists and labels can optimise their use of Bandcamp and implement strategies that help them stand out on the site and bring in the most income.
Instatorial (3-4 PM)
Social media has been a blessing for independent artists, who can use the various platforms to market and promote themselves. Facebook India's Roxanne Chinoy will be delivering an 'Instatorial' to instruct attendees on ways to stand out on social media – particularly Instagram – with best practices, tips, and new updates.
October 15, Tuesday: Identity & Community
Strength in Numbers (6:30-7:15 PM)
An integral part of any music scene is to establish and nourish a strong sense of community. Nikhil Udupa, co-founder of Control ALT Delete, DJ and producer Zokhuma, nrtya founder Parth Taco, KRUNK head-honcho Sohail Arora, and NH7 Weekender's Supreet Kaur will sit in a panel discussion about helping the music community flourish by "strength in numbers". The panel will be moderated by Kunal Lodhia, co-founder of Magnetic Fields Festival.
The Cultural Exports in association with Rolling Stone India (7:30-8:15 PM)
Some of the most recognisable figures in the Indian rock, post-rock and heavy metal community: Gutslit's Gurdip Singh Narang, Keshav Dhar from Skyharbor, Sahil Makhija aka Demonstealer, and aswekeepsearching's Uddipan Sarmah, will gather to discuss how artists and labels in India can book and pull off international tours. Held in association with Rolling Stone India, this panel will be moderated by Scribe frontman Vishwesh Krishnamoorthy.
Design In Music | Importance of Visual Identity (8:15-9 PM)
Design has proven itself time and again to be an integral part of music – from iconic album artworks to gig flyers to supporting visuals. They say don't judge a book by it's cover, but sometimes the visual identity of a work of art can be just as impactful. And that's the subject of discussion at this panel, which will comprise of visual artists BigFat, Kidsquidy, Giggling Monkey and Shantanu Hazarika, who have worked closely with the music industry in India. The panel will be moderated by prolific visual artist Nikunj Patel aka Moebius.
Art Exhibition: Kranti Art Theory – Best 30 Artworks of the Indian Music Scene (full day)
The entire day on October 15, Levi's Music Week will be hosting an art exhibition. Curated by Kranti Art Theory, the exhibition will display the best 30 artworks that have come out of the Indian music landscape.
Performance: Zokova (9:30-11 PM)
Zokova is a New Delhi-based post rock band with a penchant for crafting fluid instrumental tracks. Comprising of Ritwik De, Suyash Gabriel and Amar Pandey, their music – which borrows from prog-rock, blues, and ambient – highlights and reflects on the various underlying, subdued emotions one faces on a daily basis.
Image: Aarifah Rebello, by Ronit Sarkar
October 16, Wednesday: #IShapeMyWorld – Women In Music
DJ Workshop with Kini Rao in association with Shesaid.so (6:30-8:30 PM)
Shesaid.so India has partnered with Levi's Music Week to offer a 2-hour CDJ workshop with Kini Rao, where she will demonstrate mixing, perform looping, cue tricks and more. Like every other event in Levi's Music Week, the workshop is free and open to all.
Shesaid.so is a global curated network of women with active roles in the music industry, whose objective is to break down gender stereotypes, raise awareness of the gender gap, ensure women that support is available, and to increase the number of, and profile of, women who have active roles in the music industry.
Based in Mumbai, Kini is a producer, mixed media artist and a seasoned DJ. Equipped with a zeal for pushing boundaries, she started her career at local venues like Zenzi Mills, eventually working her way up to sets at the likes of bar 25 Berlin, and with global music broadcaster Boiler Room. Her sets, which she calls "hard to define but essential to hear", typically fit into the zones of house and techno, and are informed by her relentless crate digging.
I Shape My World – Women In Music (9-9:45 PM)
In spite of being progressive, liberal cultural spaces, music communities around the world still struggle with gender biases and discrimination – India being no exception. Smashing the patriarchy is the need of the hour, and Day 5 at Levi's Music Week is all about dismantling gender stereotypes and biases, mending the gender gap, and working towards empowering women in music – in tandem with Levi's #IShapeMyWorld campaign, which celebrates fearless women who have broken barriers to live life on their own terms.
All this, and more, will be discussed during this panel, which will feature: Indian-American rapper, singer and songwriter Raja Kumari; Mumbai-based singer-songwriter Maalavika Manoj aka Mali; and established playback singer Shalmali Kholgade. The panel will be moderated by Emmanuelle de Decker, founder of music agency Gatecrash.
Performance: Aarifah & Ditty (10-11 PM)
The day culminates with performances by indie-folk artists Aarifah and Ditty.
A drummer, singer-songwriter and guitarist, Aarifah Rebello is a self-sufficient solo artist. She's built herself a reputation with her heartfelt songs, and a refreshingly earnest approach to live performances – which has bode her well at the host of venues and festivals she has performed at across India.
Ditty is a singer-songwriter and poet who, when she's not writing and singing songs about the earth and personal experiences, daylights as an urban ecologist. Her performances combine music with experimental spatial experiences. You might also recall her from her 'Streets for Us' busking tour of South Asia that explored how art can be used to transform and reclaim the streets.
Image: Renaat Vandepapeliere, provided by Constellate Talent
October 17, Thursday: Going International
35 Years of R&S Records – In Order To Dance (7:15-8:15 PM)
If there's only one session you can attend at Levi's Music Week 2019, we would definitely recommend this particular one. Renaat Vandepapeliere is indubitably one of the most central figures in the sphere of contemporary electronic music. As the founder of the iconic Belgian record label R&S Records – which has released music by the likes of Aphex Twin, Nicolas Jaar, Lone, CJ Bolland, Juan Atkins and more – you can bet there's a lot you can learn from a discussion on his life and times. =This conversation will be moderated by Raj Chaudhuri, also known as Raji Rags, who is a resident on NTS Radio, and A&R at R&S Records.
In Conversation With Noah Ball (8:15-9 PM)
Noah Ball, for the uninitiated, is the founder of Dimensions, Outlook and We Out Here festivals, among others. If you think you can't learn a thing or two from a conversation about a man behind some of the biggest festivals in the world, you may be wrong. As a bonus, Ball will apparently also be talking about the curation at these festivals, and how Indian artists can be booked to play them, again with Raj Chaudhuri.
Performance: Raji Rags & Renaat Vandepapeliere (9:30-11:30 PM)
You heard the men talk – now you can watch them perform.
Raj Chaudhuri aka Raji Rags is the current A&R for R&S Records, part of the Livin' proof and Bubble Chamber DJ collectives in London, a long-running resident on NTS Radio, and a Boiler Room and Bleed musical cornerstone. Through his work, he has been part of releases from the likes of Flying Lotus, Hudson Mohawke, Skream, Rustie, Karenn, Machinedrum, Oneohtrix Point Never, Lone and more. With his eclectic, seamless mixes, he has built a reputation as a go-to selector, and is notorious for rustling up gems from hip-hop, soul, beats, electro, house and techno.
There isn't much need to introduce Renaat Vandepapeliere. Over a career that has spanned almost four decades, he's supported the rise of some of the most prolific and forward-thinking artists of the electronic music scene. Apart for being an "uncompromising pioneer", Renaat is also a world-renowned selector who doesn't shy away from taking risks – which we can probably attribute to the fact that his entire life has largely been dedicated to music.
October 18, Friday
Music Production Masterclass With Slick Shoota (6.30-8.30 PM)
On the last day of Levi's Music Week 2019 attendees will (once again) get the opportunity to pick up production techniques and learn the nitty-gritty of the art of producing music in a special masterclass, conducted by Norwegian-born and now Montreal-based DJ and producer Slick Shoota, where he will break down his creative process.
Performance: Fixate, Slick Shoota and Rohan Kalé (#501Fridays at antiSOCIAL, 9 PM)
Levi's Music Week 2019 comes to a close with Levi's event series #501Fridays, which will take place at the recently reopened antiSOCIAL. The night will see performances by Slick Shoota, Fixate and Rohan Kalé.
Rohan Kalé is a versatile guitarist, producer, DJ and a regular host on boxout.fm. He has played extensively across the country and shared the stage with acts such as Om Unit, KUTMAH, The Whooligan & SoSuperSam. His sets can usually be counted on to deliver an endless slurry of drum 'n' bass.
A product of UK musical innovation, Declan Curran aka Fixate's sound pallet and productions traverse styles such as drum 'n' bass, jungle, dubstep and grime. Whipping up discombobulating rhythmical patterns and cleverly fusing multiple genres comes easy to him, a fact that immediately caught the attention of the electronic music world. He's already gained a reputation as one of the most exciting young talents in UK bass music today, but continues to hone his already impressive skills as a DJ.
Known for producing high energy club hybrids, Slick Shoota's productions take inspiration from Chicago footwork, UK jungle, and a host of other underground club scenes around the world. With releases on some of the top labels in bass music, as a member of Teklife, and founder of renowned label and club night Ball Em up, it's Slick Shoota's eclecticism and unpredictability that stands out.
xxxxxxxxx
All events at Levi's Music Week 2019 are free to attend.For further information about Levi's Music Week 2019, and to RSVP to the events: head here.
Words: Satvika Kundu
Tags
Join Our Mailing List