Wild City #86: DJ Vadim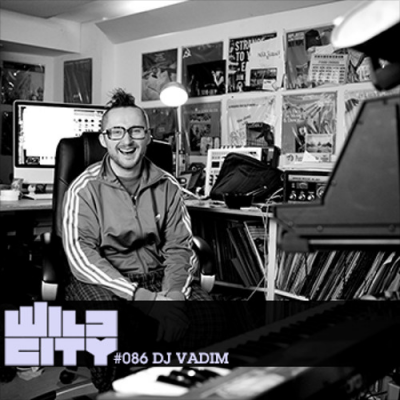 2 December 2014
To call DJ Vadim a prolific performer would be a gross understatement.
On an average, the selector performs 170 to 180 shows a year and has played in over 63 countries. 64 post December, of course, since he'll be performing for the first time in the subcontinent at Magnetic Fields Festival in Rajasthan.
The producer and DJ was born in Saint Petersburg - Russia (then Leningrad, USSR), raised in London and now splits his time between Berlin and New York. In 1994, Vadim founded his own independent record label 'Jazz Fuzz' but signed to Coldcut's legendary indie label Ninja Tune the following year and in 2007, moved to his current label BBE (Barely Breaking Even). His music, which combines, hip-hop, soul, reggae and electronica has led him to perform with massive names in the industry including DJ Krush, Stevie Wonder, The Roots, Prince, Public Enemy, Dilated Peoples, Kraftwerk, Fat Freddys Drop, Super Furry Animals, and Paul Weller.
Vadim's sound ranges from percussion heavy rhythms and classic hip-hop to organic, soulful composition but for his exclusive mix for Wild City, the producer stuck to the accessible sounds of reggae/dancehall combined with a heavy dose of low end infused bass and drums.
The mix clocks in at just over 50 minutes and melts one track to the next immaculately; it also really makes you wish you were on a sun drenched beach, beer in hand and feet in water. If you're planning a chilled out pre-gaming evening to get you in a the mood, this is the one.
"Ruba dub reggae to get you skankin out to." - DJ Vadim
Listen and download below:
Direct Download: Wild City #86 - DJ Vadim
Tracklisting:
Daddy Cookiz - Good Vibes
Shinehead - Billy jean
DJ Vadim - Fussin n' Figtin
DJ Vadim - Hope
DJ Vadim - Originate 15
Danny Red - Be Grateful - Daddy Vad Re Flex
Horace Andy - Bad Man
DJ Vadim - No No No ft. Katrina Blackstone / Governor Tiggy
Gregory Isaacs - Rumours
Lady G - Nuff Respect
Lady Saw - Champion
YT - Back to Reality
Spida - Lonesome
Junior Reid - Rasta Government
Tenor Saw - Jah Guide n Protect
DJ Vadim - Music(If Life Was A Thing)
Chromixxx- Here Comes Trouble
Alborosie - Police - Barisone remix
*Feel free to share and blog this mix, but please reference this page*
Tags
Join Our Mailing List