Wild City #084: Machli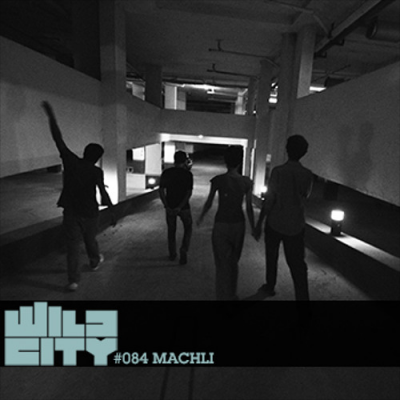 15 October 2014
Machli was formed in 2013 in a small colony called SFS in a satellite town outside of Bangalore by Aniruddh Menon, Musharraf Shaikh, Sandhya Visvanathan and Maitreya Mer, and we've been smitten by their sound since we stumbled upon them earlier this year.
Despite only releasing a handful of singles on their SoundCloud page, the oddball bunch of art and design students caught our attention with their curiously experimental brand of music, unquestionably producing some of the most interesting and complex sounds this year. Their style tends to be contemplative, sometime melancholy, but always hopeful and affably unpretentious. Each band member brings his or her inspiration and sensibility to Machli so it's of little wonder that the exclusive mix that they've created for us is so diverse. This is a heady amalgam of sounds that despite its outwardly chalk-and-cheese appearance, works surprisingly well.
Machli's mix fluctuates between a variety of music from the mellow, jazz grooves and beats of Trilok Gurtu, to the indie pop noises of Vampire Weekend. Throw in a pinch of heavy rock and a generous dose of RD Burman and Kishore Kumar and what you get is an unconventional, yet strangely appealing mishmash of sounds that despite the range of genre, turns out mellow, relaxed and introspective, without being gloomy.
We'd listen to Machli's mix on a long road trip out of town, windows lowered, ideally on a cool, grey autumn's day.
All 4 members of the band have contributed to a section of the mix and the track lists for each segment can be found below the embedded SoundCloud. Here's what they had to say.
"This mix is a compilation by the four of us and is a great example of what inspires and influences our music." - Machli
Listen and download below:
Direct Download: Wild City #084 - Machli
Tracklisting:
Sandhya
1 Cherry Town - Trilok Gurtu
2 Stormy Weather - Little Dragon
3 Smokey Taboo - CocoRosie
4 American Daydream - Electric Guest
5 Yokomo - Yamasuki Singers

Maitreya
1 White Sky - Vampire Weekend
2 Nothing in my way - Keane
3 Nayan Tarse - Amit Trivedi
4 Don't forget whose legs you're on - Arctic Monkeys
5 Rim Jhim Gire Saavan - Kishore Kumar

Aniruddh
1 Disfunctional Therapy - Worm's Cottage
2 Ice Age - How to Destroy Angels
3 523 - Earl Sweatshirt
4 Piya Tu Ab To Aaja - R.D. Burman
5 Aerosol Can feat Pharrell Williams - Major Lazer
6 Urn - Childish Gambino

Musharraf
1 Mnemonic[Feat.Aman Virdi & Sunnieth Revankar] - Refractor
2 Perfect World - Solstate
3 Mehbooba - Mukesh
4 Turn Your Face To The Forest Floor - Gravenhurst
*Feel free to share and blog this mix, but please reference this page*
Tags
Join Our Mailing List