Wild City #208: Maddeof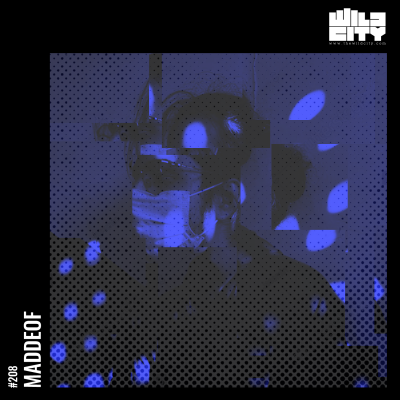 6 December 2021
Entering right behind the endless lo-fi hip-hop YouTube streams and as a deluge of uploads on SoundCloud, the speech sample-enriched grainy muddled beats and detuned synths of lo-fi house emerged as a response to the overpolished commercial house music to assert a new underground aesthetic. However, the genre receded into an oversaturated (the word assuming more than one meaning) heap of cliches and shallow releases as quickly as it has come to trend with acclaimed artists like DJ Seinfeld, Mall Grab and DJ Boring.
Yet, Mumbai-based Udai Sharma aka Maddeof managed to pick up the genre and dust its mess off to contextualize it perfectly for the COVID-19 lockdowns. Using the time when the dancefloors were shut to redefine his sound, he utilised the style to offer some of the most effective releases of the period which offered familiar rhythms but with more laidback moods befitting to the new and constrained listening habits. The producer, DJ and audio engineer however doesn't primarily stick to his now characteristic style for this Wild City Mix, jumping instead between different guises of house music.
After moving through some hard-hitting classic sounds from the more iconic numbers like Paco Osuna's remix of Phuture's 'Acid Track' and rarer cuts picked from the crevices of the web, Maddeof begins to slip into moodier selections post the flamboyant zaniness of Simon Mattson's 'Thug Life'. A tinge of the lo-fi appears with the atmospheric samples on 'Rowdy Boy' by Enzu Leep and Medu, but soon enough the mix shifts to the gospel-inspired disco house of Javi Alvadi & THC – never staying at one space for too long, flowing instead with a sole focus on the core energy of house music.
"Underground influences helped curate this bass-heavy, groovy house set, shying away from providing a particular emotion and focusing more on non-stop grooves." – Maddeof
Listen to the mix below:
Direct Download Wild City #208: Maddeof // Head here for Mixcloud
Tracklisting
An4log - No hay nada
Phuture - Acid track (Paco Osuna Remix)
Layton Giordani - Body Language
Simon Mattson - Thug Life
Rowdy boy - Enzo Leep & Medu
Monkey Coops - Human mood
Bodeler - Rhythmatic Rush
Martjin ten Velden & Simon Mattson - Cinco
Javi Alvado & THC - Addictive
Javi Alvado & THC & Pana - You know
Martjin ten Velden - Feeling is Sa Pen
PAWSA - Living Paradox
Hana Moeckli - Ethereal
Tags
Join Our Mailing List