Review: Hotel Kali Make A Stellar Case For Collaboration On Eponymous Debut Album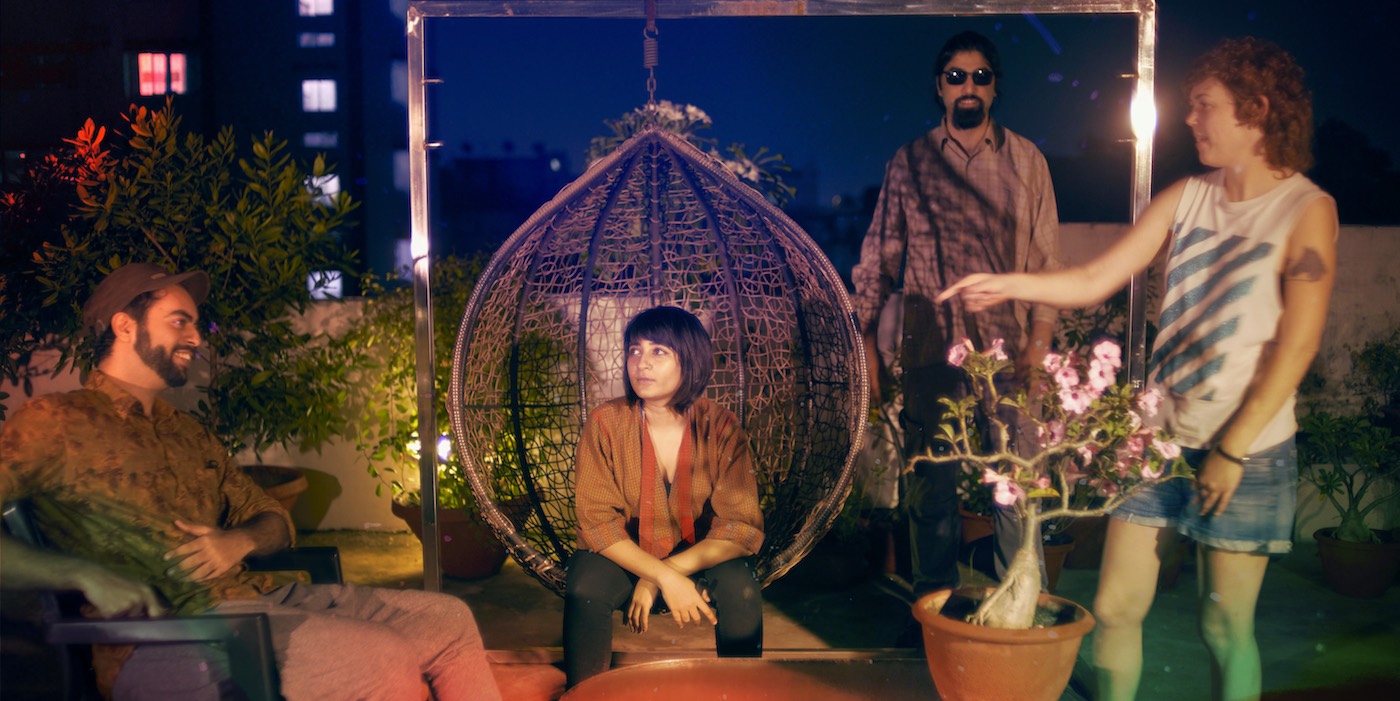 18 June 2021
"A lot of people from outside India come into India and they're more interested in Indian music and classical music. Theresa was very cool like that. She was curious about Indian music but not so much that she was only focused on that," points Kolkata-based musical polymath Varun Desai as the main reason that propelled him to partner up with Berlin-based Theresa Stroetges and form the band, Hotel Kali.
Stroetges, a multi-instrumentalist most prominently recognised as Golden Diskó Ship, proposed the idea of bringing together a group of local musicians to Desai as part of her two-month residency in Kolkata with Goethe-Institut, Musicboard Berlin and BorderMovement. Noting her openness to the wider palette of sounds being offered by the city's talent, Desai recommended double bass player Debjit Mahalanobis, a musical chameleon and respected session musician, and Suyasha Sengupta, an artist burgeoning under her moniker Plastic Parvati. Ultimately, the idea birthed an Indio-German supergroup of sorts of underground acts that included a leftfield singer-songwriter-producer (Stroetges), an ambient synth-enthusiast (Desai), a double bass player (Mahalanobis), and an indie-rocker (Sengupta).
The story of Hotel Kali's inception, or rather, the organic qualities associated with it translate purely to the music immortalised by the group's eponymous debut album and, ultimately, are what help deliver it as a fresh and scintillating 7-track musical adventure that marries a wide spectrum of styles.
Because of being conceptualised as a one-off assembly, members of Hotel Kali find themselves free from the burden of trying to establish a musical brand or identity, as they wear their influences on their sleeves. The casualness in their approach, combined with the limited time they had together which ruled out excessive deliberation, enables the quartet to draw from rock, post-rock, contemporary classical, ambient and even left-field electronica, without feeling the need to whittle down their style for the sake of singularity.
At times, it even allows for atypical reversal of cultural influences, as with 'Say When' where Stroetges brings a hazily-remembered Indian melody she heard on the way from the airport while Desai is the one laying straightforward upbeat drum parts reminiscent of Krautrock. Erstwhile, Mahalanobis draws from his orchestral background, contributing angular almost atonal lines over Stroetges' simpler viola ostinatos on the album's four-on-the-floor number 'Viola Rave'. Meanwhile, Sengupta consistently manages to take the compositions to unexpected directions with a garnish of angsty guitar or synth lines, harkening to her time as part of the rock act The Ganesh Talkies, or lay down a chant of sombre vocals to add a placating immersive layer.
The inputs from each member of Hotel Kali don't so much dissolve into a single shade as much as they retain their distinct individual presence and make it work with perfect colourful synchronicity – mostly approaching each other from disparate ends while other times finding common grounds like the universal love for disco on the lead single 'Disco Shobar' (which loosely translates from Bengali to "disco is for everyone") or admiration for Stroetges' back-catalogue on the cover of Golden Diskó Ship's 'Fake Horse'.
The album's winning quality rests with the dynamic journey it takes within a single track, as each number never stays in the musical ground it started from. The most straightforward example of it is the ten and a half minute-long closer 'calm-storm' which, as its name suggests, begins from consonant slow-moving layers of pads, vocals and bowed melodies before the textures erupt into an abstract deluge to give the album a grand ending.
However, the most dynamic listen of the 7-track release comes from opener 'Intro'. Like a perfect musical amuse-bouche, it foreshadows the elements the album will go on to elaborate upon. It kicks off with the moans of the bowed contrabass getting almost engulfed in the hiss of a synth, as if straight out of the score for a David Lynch work, before being taken over by a wall of jangling guitars and piano arpeggios that make one remember the arrangements of 'The Velvet Underground & Nico', till ultimately, the jangle simplifies into catchy riffs and melodies.
Hotel Kali's debut album creates a mix of familiar sounds but presents them in fresher ways, which lends the 7-track release an inadvertent freshness.
Behind the emotional layers of the compositions, the mood of the album is tied together with a joy and irreverence present among the musicians in their time together, who called the group 'Hotel Kali' as a reference to the Hindu Goddess Kali and to the in-joke around The Eagles' hit 'Hotel California', which Stroetges found out is the most popular number used during soundchecks in Kolkata.
Album artwork by Opashona Ghosh expands upon the band name's association with the Hindu Goddess
Sengupta sums up the mood of the band nicely while reminiscing about their early jams: "We were like kids in a candy store."
The decision to avoid heavily producing the record allows for it to capture that glee and curiosity among the musicians as they try to fit their musical parts with the other's ideas without judgement, lending a lighter disposition to the album even during its darker moments.
Because Hotel Kali is a side-project for its members or perhaps because of the sense of their label ANTIME, the group is able to free themselves from the compulsion by social media algorithms that favour regular single or EP releases. By debuting their music as a 46-minutes long cohesive listening experience, Hotel Kali fill a wanting musical appetite when prolific and ambitious releases have been few and far between (at least, in the Indian underground scene). Its organic energy makes a very successful case for the possibilities that emerge from mixing together diverse musicians in a jam room at a time in musical history when it is relatively easier to forget what that's like.
.
.
Words: Amaan Khan
Image: Arhan Sett
Tags
Join Our Mailing List