A Library, A Time Machine, A Contact Zone: Natasha Noorani's Peshkash Maps Postcolonial Pakistani Music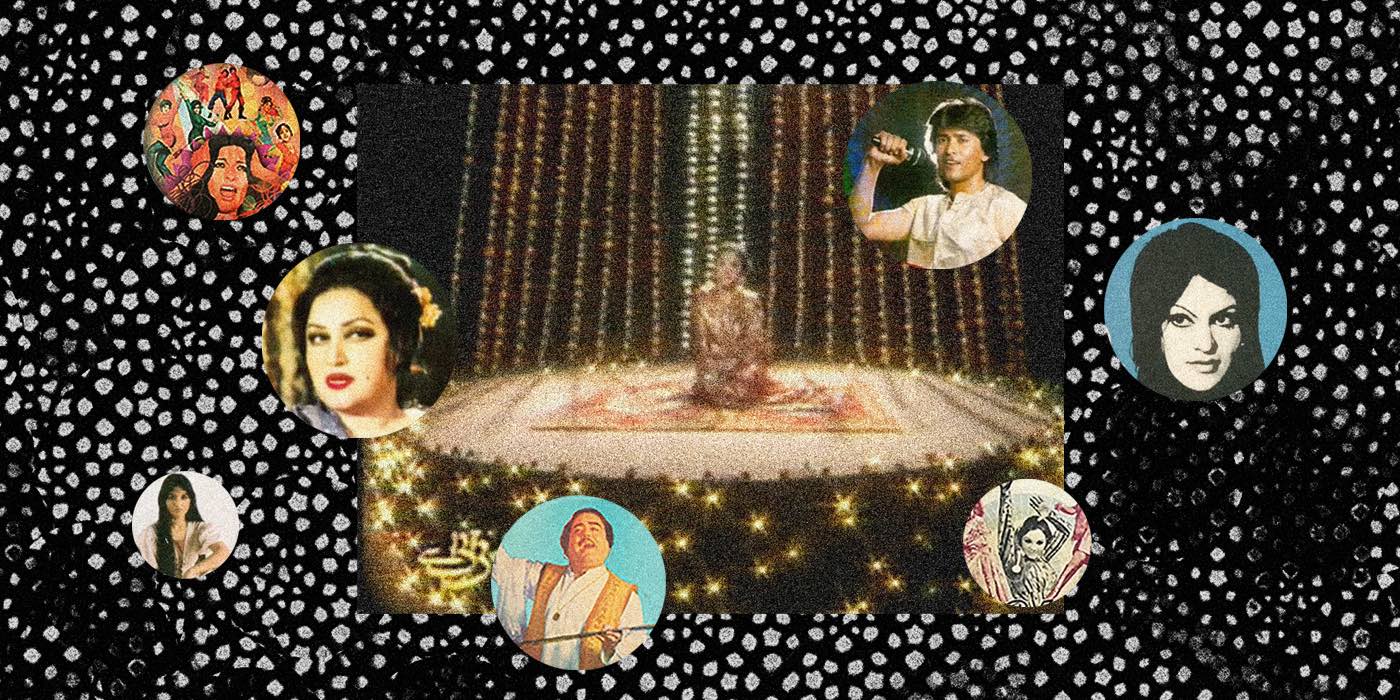 17 December 2020
Back in 2014, a bunch of rare Films Division-era films resurfaced online with Alexander Keefe's 'Sarkari Shorts', calling my attention to the absence of systematised archival efforts in South Asia and to a handful of passionate free agents who have taken it upon themselves to preserve these cultural artefacts.
Not far from Keefe's base in New Delhi, Lahore-based singer-songwriter Natasha Noorani, then an ethnomusicologist in the making, had just begun to curate 20th-century Pakistani music for what would eventually become Peshkash, a collective whose aim surpasses mere 'presentation'.
Those familiar with Pakistan's alternative music scene are well-acquainted with Natasha's work, as a producer, playback singer, voice artist, and also famously, the co-founder and festival director of Lahore Music Meet. Founded in 2015, this annual music symposium with an aim to amplify the land's existing and rising practitioners, set in motion an approach that would later come to define her independent curatorial project.
Designed to serve as a collaborative research hub, Peshkash today is a great resource for those interested in the larger infrastructure driving music production and distribution in independent-Pakistan, and more importantly perhaps, in the insights into erstwhile-popular youth culture. Why was an early Noori record later remastered to nurture a fandom? How did Irani 'dadra' beats and provocative English phrases find a place in Urdu Disco? And even how Michael Jackson-collaborator John King came to design the set for one of Zoheb Hassan's "video songs" – Peshkash both asks and answers these questions.
"The haphazard curation of Pakistani music in the last two decades is due to cultural bodies unable to keep up with archiving and distribution trends, and subsequently dropping the ball," Natasha tells me over email. "What has followed is an erasure of important cultural moments and with it, a serious dent in the practice of active listening."
Actively listening to a song can reveal volumes about the socio-political milieu it was written in, Natasha stresses, as well as about the musicians' approach and the larger ecosystem. Through Peshkash, she hopes to generate public interest in the evolution of Pakistani music, so that more people find themes to explore, help build sound libraries and further research on the subject.
"Curation should pique someone's interest enough for them to begin digging for more music." For Noorani, any conversation on Peshkash begins and ends here.
After all, most of the Peshkash catalogue is obtained from oral narratives of individuals who have worked in the music industry or were actively consuming music all along. "I learnt of the surf-rock Pakistani movement through a Radiodiffusion article that artist Tollcrane shared with me in 2011," Natasha explains, when I ask her about an entry on German record label Ovular's compilation featuring Pakistani bands from the 60s. "It blew my mind that they even existed and that it had taken me 19 years to discover them," she says. "That was probably my first deep-dive into our music history," Natasha adds.
In 2018, she began liaising with a consortium of oral historians – record shop owners, researchers, artists and independent vinyl collectors – "open-sourcing" their knowledge, research and memories on Instagram with snippets of Lollywood classics, dance tracks, in-flight muzak, Shahnama recitals, and pastoral ditties, accompanied by interesting historical details about them.
Until the turn of the century, most urban centres in Pakistan had a music hub, so it is unsurprising that many of Peshkash's entries are sourced from vinyl stores across Islamabad, Lahore and Karachi that made the critical transition from records to cassettes to CDs. Another major source would be the tape spools and VHS tapes Natasha inherited from her grandparents and parents, before turning to Youtube, Discogs and various Internet forums for release information.
Finally out of the (dusty) almaari pic.twitter.com/JYCeGFFihL

— peshkash (@peshkashmusic) June 20, 2020
In tandem with her idea of the curator as a storyteller, Peshkash foregrounds various strands of Pakistan's sonic history – a topography made rich and varied by savvy production, art direction, active local distribution, music from the margins, and challenges of military censorship.
There is, according to Natasha, an information blackout when it comes to recorded music and the music industry, due to systemic ignorance. So the idea was to make Pakistani music more accessible and contextualise these songs for all audiences, unlike most archival work whose artistic goal is solely to celebrate their existence and restrict them to intellectual/niche consumption. It is vital for Peshkash, Natasha explains, to serve as a means to engage larger audiences in the discourse – a contact zone for cultures, a space that allows us to communicate with the past.
In line with that philosophy, the project traces the evolution from vinyls to cassettes to VHS tapes and CDs, and with it, the evolution of Pakistani sound. In the transitional period of 1977 - 82, ownership and control of mass media became increasingly decentralised and diversified as movies began to fade and cassettes definitively replaced vinyl discs, thereby democratising the process of music-making. Experimental Lollywood music directors like Tafo Brothers and M Ashraf, whose works she memorialises on an NTS Mix with Discostan, made the fullest use of this zeitgeist. "Of them, Sohail Rana's work is prolific," Natasha writes, "guiding me through the 60s to the 80s with his enormous body of film and non-film work comprising national songs, children's songs and club music."
With the death of vinyl also came easier access to importing and exporting music. Expats living in Dubai would fly in and out with audio cassettes, Natasha recalls. Later, State Television PTV (in collaboration with EMI Records) also picked up on this demand for non-film music and produced much of the music in the 1970s-80s, still widely consumed in Pakistan.
Before the advent of other channels (STN, Indus Music, The Muzik) in the 2000s, PTV had a complete audio-visual monopoly over the culture as the only outlet for alternative music. One of my favourite Peshkash entries accompanies a VHS conversion of Sur Bahar, a selection of PTV programmes on Amir Khusro featuring the most popular Pakistani names like Nusrat Fateh Ali Khan and Nahid Akhtar. "What really brought this peshkash home for me was the art direction. Each set is a delight," Natasha writes in her margin notes, taking stock of the visual outworkings of music production – a creative consideration that would become indispensable in the new millennium.

Natasha Noorani || Image by Goethe Scholarship Programme
However, there is little to no data on Pakistani music from the late 40s till the early 60s, Natasha claims, turning her focus now to the missing sounds of a nation, then in its infancy. She outlines on Peshkash, tales of military subculture involving 'Fauji Qawwal' who went from performing at the army barracks to earning accolades from the Shah of Iran, a mixtape of patriotic songs wrought from collective radio-listening in times of war, and of the censorship of Hassan Jahangir's "intimate" lyrics during General Zia-ul Haq's regime. When I ask if the party-line has changed in present times, Natasha replies, "Censorship is far more blanket now. When apps like YouTube are banned for 4 years (like it was in 2010), it takes away infrastructure from people. Even algorithms today don't really allow a voice to carry far enough."
The all-encompassing nature of Peshkash also extends to addressing a continuum of social issues. Pulling ritualistic music from the Afro-Pakistani Sheedi community and folk music from Punjab, Noorani clarifies that in wanting to improve the outreach for this music, she does not mean to co-opt the voice of the marginalised nor deny that class and gender issues plague mainstream music in Pakistan. Highlighting the latter on Peshkash, she quotes archivist Lutfullah Khan's blurb behind an anthology of filmy wedding songs "inlaid with valuable advice for the bride to live up to the oriental standards of a devoted wife."
There is a preponderance of disco and club music on Peshkash, which Noorani uses to shed light on the postcolonial backlash young musicians face today, who like her are carrying forward the legacy of Zoheb, Jahangir and their ilk. "While a lot of Pakistani music post-60s had Western influences, I feel that it had a unique localised sound which has pushed many boundaries. The problem with the critique (of our Western approach to composition and production) is that it overlooks the long history of equipment, influences and localisation of that craft, all of which make for an interesting study," Noorani tells me.
She confesses, "As a researcher and musician, I'm always keen to find neglected sounds and voices. Recently, I find that I am looking towards my own past for inspiration." Revisiting it has introduced her to countless producers and musicians who have jumped between genres and projects and painted their sound over a scene. But for her, there is no feeling that comes close to the thrill of rediscovering "sounds of a Pakistani past", that have disappeared from public memory for the lack of mainstream representation.
Besides contextualising these bygone sounds on radio mixes, Noorani is presently digitising Peshkash and developing long-form content for the next year. Scaling it sustainably, she wants to be able to keep Peshkash as is – not-for-profit and open; a space for people with a shared interest to "develop their ideas, share notes and listen to more Pakistani music." For Noorani, all conversation on Peshkash begins and ends there.
Listen to her latest NTS mix "Beyond Ijaazat" featuring pioneering Pakistani women artists below.
Words by Prarthana Mitra
Artwork by Sijya Gupta
Tags
Join Our Mailing List