Wild City #200: Discostan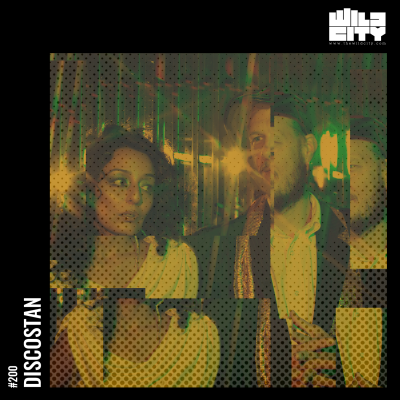 20 November 2020
As we reached the milestone of hosting our 200th mix, few artists felt as befitting as Discostan to help us celebrate it.
The outfit started as a personal endeavour of Hyderabad-born and Los Angeles-based Arshia Haq, who was inspired by her own decentralised idea of a "homeland" as a modern-day immigrant in a globalised world, to carve a unique space on the dancefloor for a consolidated decolonised musical identity of South Asian, West Asia and North Africa uniting it with all its shared sense of heritage, trauma, struggle and achievement. Transforming soon into a collective and later also into a label, with Jeremy Loudenback joining Haq at the helm, Discostan turned into a space for community-building among the brown diaspora and a go-to for radio shows and platforms to highlight and discover the canon of disco often overlooked by western lenses.
Imagining the "past, present, and future soundtracks from Beirut to Bangkok via Bombay" the collective and label offers a counter approach to the colonial-mindset curation that birthed blanket categories like "world music". Haq and Loudenback don't dig deep in vinyl crates but cultures, having a dialogue with local voices of the regions they find their records (and sometimes even field records) from, to evoke sounds from collective memory.
Curating with the same approach for Wild City's 200th mix, the pair embraces the past disco sounds from Asia and Africa, with works from the likes of Nermin Niazi and Sohail Rana, and highlight its musical bloodline as it flows through forward-thinking present-day artists like Ammar 808 and Deena Abdelwahed. Most importantly, Discostan doesn't focus on educating you but simply celebrating the music they resonate with personally and inviting you to join the celebration.
"From a city under quarantine, this mix weaves together a soundtrack for a suspended discotheque. Weaving together ecstatic sounds from the Maghreb, contemporary low-end experiments from Tunisia and the Iranian diaspora, family favourites and lost classics from Uzbekistan to Pakistan, these songs are a path through a season of Discostan." – Discostan
Listen to the mix below:
Direct Download Wild City #200: Discostan // Head here for Mixcloud
Words: Amaan Khan
Image: James Mountford
Tracklisting
Chellala Group – Tribal Gathering
Lala Yaba Lala – Ihsan Sadek
Happiness Band - Ageeba
Khaled – Mahali-Noume
Midnight Runners – Kuda Arabs
Nermin Niazi – Hum Tum
Hala Hadi - Marhaba
Simone - Rekka (Bonus Beats)
Anunaku - Nascent
Ammar 808 – Geeta Duniki
Deena Abdelwahed – Wein Al Malayeen
Yulduz Usmanova – Jeli-Jeli
Ghanbar Rastgoo – Mash Ahmad
Maral – Vortex in Love
Hama – Cal Bawaga
Ihsan al Munzer – Jamileh (BéTé edit)
Mona Sisters, Sohail Rana – Phool Chunain Hum
Admas – Astawesalehu
Tags
Join Our Mailing List