A Comprehensive Guide To The Music At Magnetic Fields 2018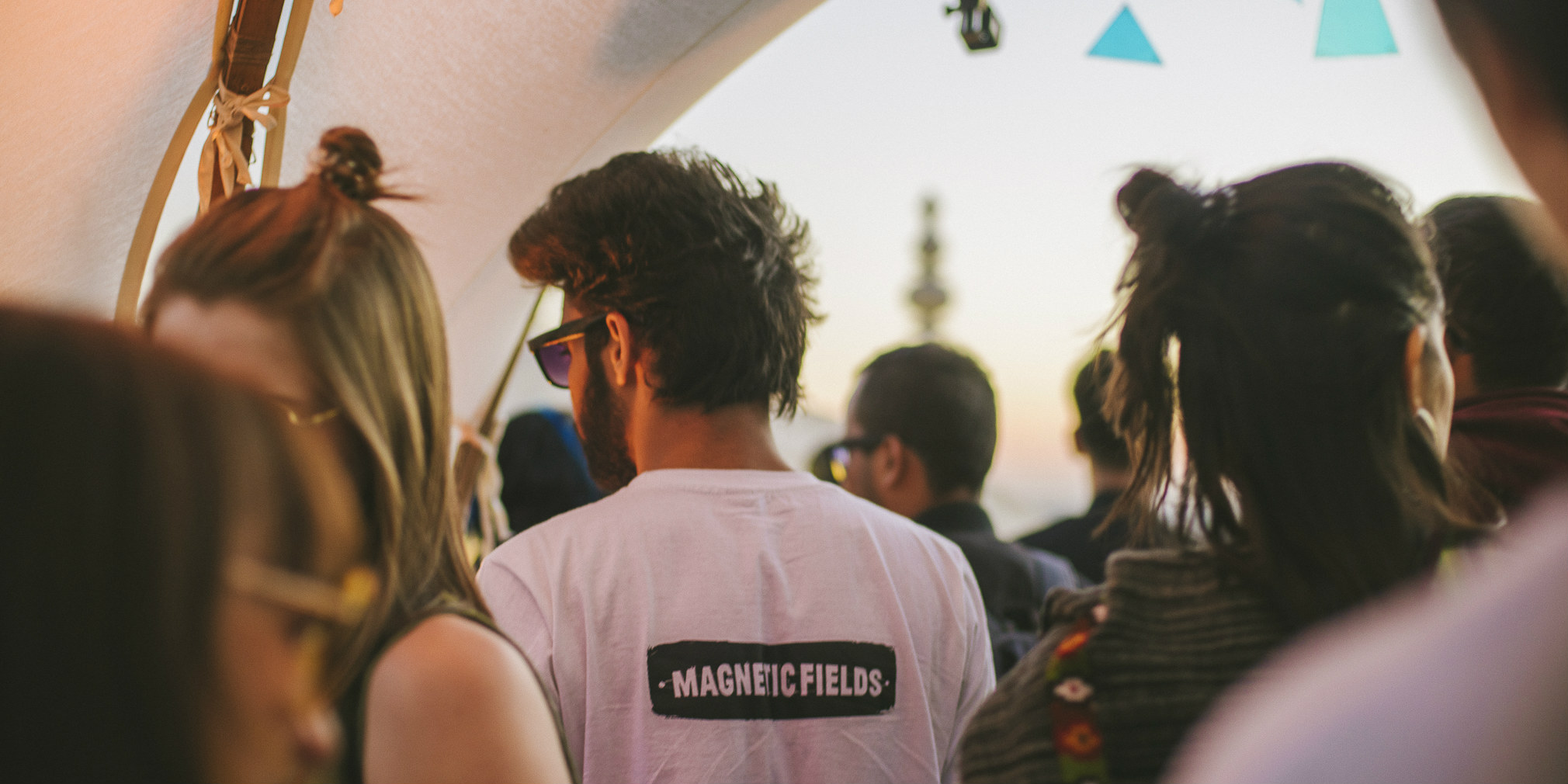 6 December 2018
Our favourite weekend of the year is closing in.
With just a week to go, Magnetic Fields is right around the corner, and it's going to be chock full of art, activities and, of course music.
There's so so many artists this year – it'd be a pity if you missed an act that's right down your alley. We've compiled this handy guide to each artist playing at Magnetic Fields this year, to help you navigate the lineup and plan your weekend better.
So plug in your headphones, keep scrolling, and don't forget to note down your favourites.
BUDx South Stage
Kamaal Williams
Henry Wu is always upto something. After his landmark success as Yussef Kamaal, he continues the tradition of fusing jazz with the sound of urban London on his latest project Kamaal Williams. If live shows with raw energy and jazz improvisations are your thing (and even if they aren't), you'd be silly to miss their performance.
Chrome Sparks
Jeremy Malvin aka the man behind Chrome Sparks is driven by an obsession with synthesisers. We guarantee that his melodic beat-centric tunes will have you dancing just like he is in the video below.
Nabihah Iqbal
Nabihah's previous moniker Throwing Shade should throw light on her fiery personality and her unshakeable demeanour. She is a successful British-Asian female musician, but it's her spunky music – for which she did all the live instrumentation herself – that deserves all the attention.
Natural Selection (Sahil Vasudeva & Gaurav Malaker)
This festival commission is without doubt one of the most exciting things to happen this weekend. Imagine this: BLOT!'s analogue bass line and melancholic synths, with classical piano motifs on a grand piano played by Sahil Vasudeva. Need we say more? In any case, take a look at both of the producers' original work to get an idea of what to expect.
Cora Novoa
Avant-garde techno and experimental electronic are labels often assigned to this Spanish producer, DJ and label owner's music. Prepare to be floored by her technical expertise, strong basslines and raging melodies.
NOON
Combine an oud with electric bass and drums, layer it with funk grooves, African and Indian percussive rhythms and prog-influenced jazz-rock, and you'll have the UAE trio NOON.
Flesh (A/V) By Aqua Dominatrix & Moebius
Metalhead turned synth-lord Akshay Rajpurohit struck the homeland with his electronic avatar Aqua Dominatrix, when he released his debut album 'Sadomist'. He evokes the myth of Surpanakha in his third album 'Flesh' which he brings to life with dark-techno and visuals by Moebius for the first time at Magnetic Fields.
I M U R
With a natural ability to produce easygoing electronic narratives that play with hip-hop, jazz and progressive pop, I M U R's swift success in just three years hasn't confounded anybody. Also, is there really a better way to enjoy a lackadaisical day in the desert than to watch a band that describes their music as "genre-bending make-out music"?
Paraphoniks
Electro-pop duo Paraphoniks have wrought an impressive career around synthesisers, and their latest album 'Silhouettes' only took it a step further. Breakbeats, saturated atmospheres with techno, funk and IDM influences.
No Metal In This Battle
"Imagine Mogwai with African rhythms"
FOPCHU
Frivolous and comical, this 3-piece electronic band from Delhi specialises in "DipHop, Squiddle Rock and Gufunktry Chants". We don't know what they are either, but we do know they'll have you dancing (or shaking your head at the very least) with their contagious energy.
Dee En
India's answer to Tame Impala, this synth-based psychedelic pop band has had us in a tizzy since they released their debut EP 'Whoopsie Daisy'.
Monsoon Search Party
It's pretty hard to introduce someone to a band that doesn't quite exist just yet. But the Bangalore-based dream-pop band promises to be a unique, left-field experience – which shouldn't be too hard with their envious lineup: Jeevan Antony, Shoumik Biswas (aka Disco Puppet), Consolidate co-founder Aniruddh Menon, Black Letters' Sharath Naryana, and Shreyas Dipali (one half of Deidra).
Red Bull Music North Stage
Daphni
Daphni is the dance alter-ego for Dan Snaith, best known as Caribou. He was originally slated to play Magnetic Fields last year, but was unfortunately unable to make it. Well, congratulations to you lot, because you get to watch him electrify the RBM stage on Sunday night.
Oneman
DJing isn't just about matching beats or maintaining a rhythm, but about capturing moods and building upon them – something Oneman is particularly adept at. He has a notoriety for destroying parties and turning heads, so you'd better watch out.
Shanti Celeste
With a connoisseur's taste in house, disco, techno and electro, this Chilean-born producer, DJ, and vocalist has become a fine purveyor of swung and funky electronic rhythms. She'll not only make you dance, but will have you unified in motion into the wee hours of the night.
Pangaea
Kevin McAuley, who goes by the alias Pangaea, started DJing when he was 14. Strange and banging at the same time, he says he "makes electronic dance music that draws its energy from the bleeding edge between sounds".
Courtesy
Courtesy's mixes have taken her all over the map. She finally lands in Rajasthan in December, with her signature sets styled with fuzzy textures, rave-influenced breaks and smooth electro.
DEBONAIR
Be it a subterranean sex club or post-modern art space, you can count on Debonair to deliver an exquisite, unpredictable set that captivates the audience. There's a reason she's regarded one of the hardest digging selectors in the underground.
Unnayanaa
You know that oriental house track that Dixon and other Innervisions DJs have been playing over the past year? Thank Unnayanaa aka Prashanth Pallemoni, who collaborated with Manchester's Irfan Rainy and African-American Arabic vocalist Ibtisam to create 'Taht Min Aini'. Similarly, his sets are tinged with influences from South Asia and Africa.
Kini Rao
You can always count on Kini to push boundaries, whether she's bringing in a global palette to the dancefloor or effortlessly manoeuvring across the entire spectrum of electronic music.
Spacejams
You know that point during a music festival, when you decide to take a breather between your favourite acts, only to find yourself drawn to intriguing, eclectic music playing elsewhere? Follow the music and you'll probably find Spacejams aka Yohann Jamsandekar playing one of his dynamic sets, which go anywhere from early acid house, disco, new wave to tech, bass, indie and dance.
Renault Desert Oasis
Bicep (DJ)
Contrary to popular belief, we think it's the last impression and not the first that really stays with you. Which is why we have London-based duo Bicep, who've become two of the most trusted curators of electronic music in the past decade, closing the festival on Sunday night. You can count on them to leave you elated and satiated, before you venture back into the real world.
Nabihah Iqbal (DJ)
Nabihah was a practicing human rights lawyer with a black belt in Karate and a degree in ethnomusicology, when she started playing music in clubs in South Africa. Now she's channelled all that energy and versatility into her music, whether it's DJ sets or her original compositions.
Boxout Soundsystem
Boxout Soundsystem are taking no prisoners. Comprising boxout.fm co-founder DJ MoCity and Dualist Inquiry, with resident DJs MadStarBase, Abhi Meer and Manaalina, Boxout Soundsystem will show off their extra-rich palette, from dubby electronics and experimental hip-hop to blistering electro and everything in between.
Kristy Harper
Kristy Harper has a knack for seamlessly weaving through the realms of house, techno and disco, while evoking childhood memories and tropical elements from her travels around the world. If this set doesn't wake you up, we don't know what will.
Delhi Sultanate (BFR Soundsystem)
BFR Soundsystem has held a near-tyrannical rule over Sunday afternoons at Magnetic Fields. We've decided there's just no better way to beat a hangover and get into the festive spirit, than with their dynamic range of reggae, dub, dancehall and rub-a-dub. Oh, and did we mention the BFR Sound System has some new additions? Guess you'll find out.
Begum X
No BFR Soundsystem is complete without the begum, who adapts her strong vocals and fierce stage presence to free-style and improvise to rub-a-dub, reggae and ska.
Pooja B
Co-founder of 'The EQ Way', a collective for women and female-identifying persons in India's electronic music scene, and curator of a feminist radio show on Berlin's Flux.fm, Pooja B is a badass all the way. It reflects in her predominantly techno sets too, which are filled with deep, hard hitting basslines with an industrial touch.
BUDxYARD
Denis Sulta
There's a reason Magnetic Fields attendees are so excited about Denis Sulta's inclusion in the lineup – his opulent and punchy releases speak for themselves, as does his diverse approach to dance music.
Henry Wu
Elements of jazz, broken beats and garage are integral to everything Henry Wu does, be it as part of Kamaal Williams, Yussef Kamaal or under his own name. Unmistakably modern and unwaveringly creative, he'll surely surprise you.
DJ Seinfeld
We know what you're thinking – does DJ Seinfeld get his name from the infamous comedy show? We're pretty certain once he starts playing his wonky left-field house, sweeping emotive cuts, lo-fi buzz, and generates pandemonium, you won't really remember or care.
Carista
This hidden gem from the Netherlands has an infectious positive energy. Typical to the Dutch Surinamese, her sets can't be contained within a box. What does stand out is the electronic rhythms, soulful grooves and her versatile selection. If you need more convincing, just watch her Boiler Room set.
Nino Brown
Nino Brown's inclusive parties Yes Yes Y'all (YYY) are all the rage in Canada. You only have to attend her set to find out why.
Zokhuma
People were surprised when Arman Menzies ditched heavy metal and infiltrated the Indian electronic scene as Zokhuma with experimental electronica, atmospheric beats and chopped up soundscapes. Now, it all makes sense.
JioSaavn Sundowner
Lifafa
When Suryakant Sawhney isn't crooning in his rich, nostalgic baritone to gypsy waltzes and whatever undefinable genre Peter Cat Recording Co. plays, he makes lo-fi and glitchy, vintage Bollywood-inspired disco beats as Lifafa. Do you really want to miss his baritone bringing in the sunset in the desert? Yeah, we didn't think so either.
Sid Vashi (solo)
A Bildungsroman set in the far-flung future in the outer solar system, about a young nondescript man overwhelmed by existential fear, the finality of capitalism and wistful memories. This isn't an existential sci-fi novel or a Tarkovsky film, but Sid Vashi's concept album 'Azuma Kazuma', which tells this story over 7 tracks through future bass, jazz, indie ballads and electronica. We have no idea what to expect from his set at Magnetic Fields, and we love that.
MALFNKTION
Take old Bollywood music and Indian folk rhythms, run them in a blender with hip-hop, bass and electronica, and you'll be dancing along to a classic MALFNKTION track.
Aniruddh Menon
Aniruddh has a penchant for weaving soundscapes constructed with found sound, hip-hop inspired lo-fi beats and obscure chopped samples. If we had to soundtrack a sunset in a 17th century palace in Rajasthan, he'd probably be a good bet.
Pardafash
Pardafash's distinct, synthesised vocals are a notable feature in many Indian electronic releases and have a way of sprucing up tracks and making them stand out. Her solo live act, in her own words, "is her interpretation of protest music through a combination of songs that are stories and spoken word monologues."
Golden Diskó Ship
Theresa Stroetges aka Golden Diskó Ship, may be performing solo, but she's an orchestra all on her own. An architect of imaginative soundscapes, the multi-instrumentalist exploits machines, field recordings and instruments to create eclectic collages of experimental electro-pop.
The Jameson Underground
DJRUM
One of the most exciting artists on the lineup, DJRUMS's eclectic productions are informed by his training in jazz, his study of ethnomusicology and his immersion into UK's bass-heavy scene. He'll be right at home in the dungeon, where the acoustics and ominous vibe will do due justice to his sample-inflected blend of noise, broken, textured beats, and genre-defying sound.
Babloo Babylon
You may finally have the chance to unmask this elusive, anonymous producer from Jhumri Telaiya, when he fittingly escapes to the dungeons of Alsisar Mahal to deliver his flavourful, Bollywood sample-laden productions.
dreamstates
Dharam Saraviya was a punk rocker until the desire for music knowledge drove him to the console. It wouldn't be fair to club his sets into a genre like house or techno, because they come with an innate curiosity for all genres, be it garage, disco, afro, lo-fi breakbeats or acid.
Kev Fresh
Whether it's a dance party or a lazy day in the sand, Kev Fresh will ensure you're boogying to a funky, bass and beat heavy, hip-hop focused DJ set.
SUCHI
A mixed bag of cultures, SUCHI explores global electronic music in her varied sets. She is known to flit between dancefloor bangers and obscure releases – the only thing that remains constant is a steady groove.
Daisho
Daisho has a strong connection with African music, and has collaborated with several African musicians. Consequently, jazz, samba, funk and disco often make their way to Daisho's DJ sets, which are primarily known for being atypical.
Resident Advisor Showcase
Leon Vynehall
We're all well aware of Leon Vynehall expertise at conducting the dance floor – it was apparent through his breakthrough EP 'Music For The Uninvited' which was inspired by funk, soul and hip-hop, and through his popular mixes. He betrays a deeper maturity and wonderful eclecticism with 'Nothing Is Still' which proves his prowess beyond the dance floor. If watching him play B2B with Moxie all night long doesn't pique your interest, nothing will.
Moxie
Moxie's DJ sets are just as charming as she is. She brings a distinct flair to her sets, which ebb and flow between obscure gems and mainstream hits, funky dance numbers and grimy electro sounds.
Combining her talent with Leon Vynehall's eclecticism is something the world has never witnessed before, and we honestly can't wait.
Exit Records Showcase
dBridge
You know you can count on dBridge for intricate drums, dark basslines and rugged melodies. He is, after all, a veteran when it comes to underground drum 'n' bass. And let's not forget, he's also the founder of Exit Records which by default has elevated him to a mentor or guru-like status for the young and budding generation of producers.
SP:MC
SP:MC is not only dBridge's MC of choice, but one of the most popular and respected MCs on the electronic music circuit. It probably has something to do with his versatility and just the pure talent he has, which also shines in his own productions. Here's a glimpse.
EZ Riser
As the head honcho of KRUNK and BASS CAMP Festival, Sohail Arora barely requires an introduction. All you need to know about him is: bass. He's addicted to sub frequencies, so make sure you've got your dancing shoeson your feet.
The Peacock Club
The Last Night On Earth With Peter Cat Recording Co. A Theatrical Showcase
Peter Cat Recording Co. are almost inarguably India's favourite band. Gypsy waltzes, jazz, Bollywood and disco tinged with healthy doses of psychedelia and crude energy – everything about this band is outstandingly special. But their theatrical showcase takes all of this to the next level. Not only will you get to watch a premiere of their new album for the first time ever in the lounge of a spacecraft midflight, but you'll also get the unique opportunity to watch them perform improvised versions of songs by Begum and Lifafa. "You are required to leave behind everything," says the band. Honestly, we're already ready and waiting.
The Piano Man Jazz Club Pop Up
New Delhi's favourite jazz venue The Piano Man Jazz Club is back at Magnetic Fields this year, but only for one night. Keep your Friday night slots open for the pop-up which will feature instrumental jazz rock band Submarine in Space. We'll let their live session video below describe their sound for you.
For the rest of the night, you can count on improvised jams and free flowing jazz from the Piano man himself Arjun Sagar Gupta who will be accompanied by Rythem Bansal, Sonic Shori and Aditya Dutta.
#PureLove With Kitty Su
Before we introduce the artists, we have to say one thing. This is going to be extraordinary night, unlike anything you've experienced before at Magnetic Fields. Section 377 is gone and done with, and we're going to be celebrating equality, love, freedom and diversity on our last night at the festival with Drag Queens Zeesh Ali, Maya the Drag Queen and Betta Naan Stop. Remember to leave all your inhibitions aside to join us in this celebration.
Midland
Subtle and raucous at the same time, Midland flirts with his audience through his DJ sets and releases. It could be techno, it could be house or disco, or even modern pop songs and phantasmagorical tracks. Whatever it is, Midland will deliver a night to remember.
Hamza
A strong tribal element runs through all of Hamza's productions and DJ sets. World music influences are apparent in his otherwise deep house and tech-house based beats, which is perfect for a night that celebrates diversity.
The Puqaar Stage
At the heart of the festival, tucked in the middle of the tent village, is the vibrant folk music showcase, which is a permanent fixture at the festival every year. This edition will be highlighted by Nathulal Ji Solanki, a maestro supremo of the Nagara or kettledrum – watch him in action in the video below – as well as singers and musicians Damara Ram and Hema Ram on the veena. You can also look forward to a collective that will play an array of folk instruments like kamaicha, dholak, khartal and sarangi, along with Sufi vocals in Sindhi style, and Dayaa Ram Bhaand's performance of Maand style folk-classical music.
+
+
Words: Satvika Kundu
Image: Carys Maggie Lavin
Tags
Join Our Mailing List