Boiler Room x Wild City To Host Kohra, ramsha, Spryk: APEX & More For 'Streaming From Isolation' Series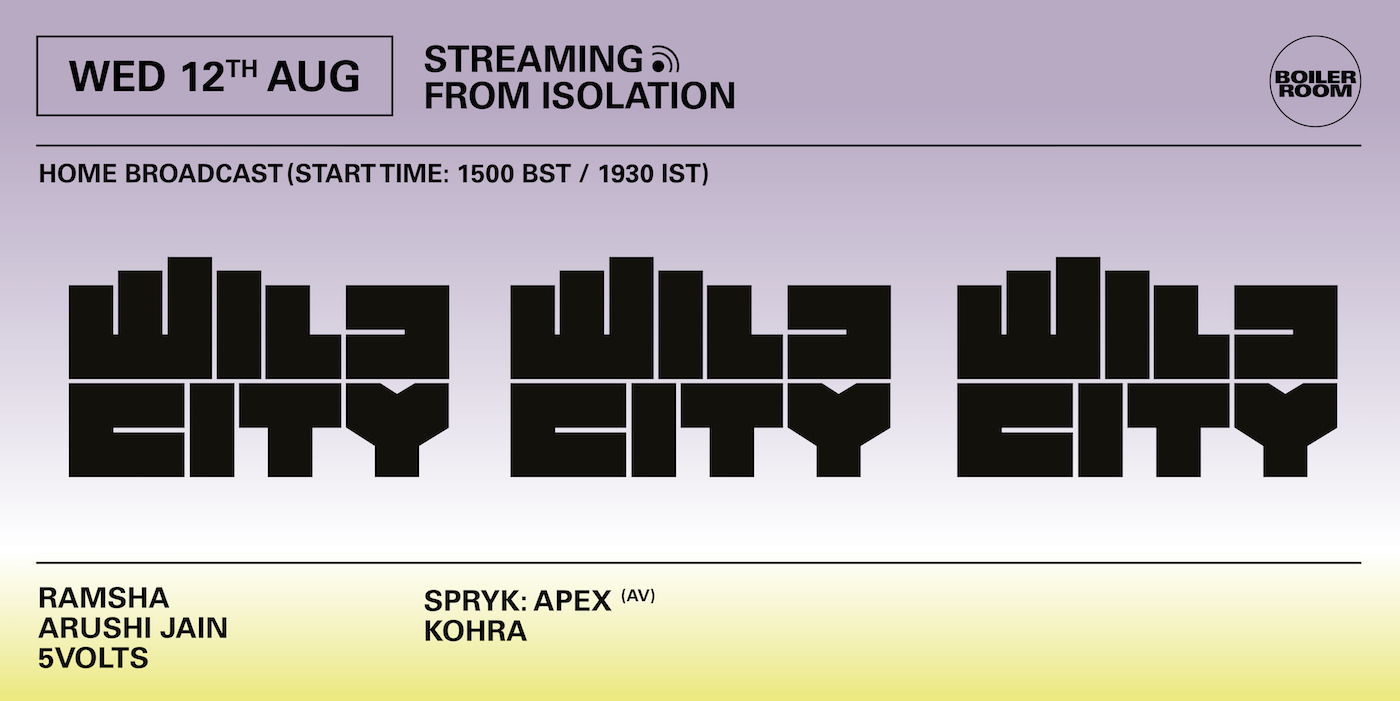 11 August 2020
Since the Covid-19 pandemic hit alongside all associated lockdowns and shutdown of nightlife as we know it, Boiler Room has continued to offer (in-home) live streams via its 'Streaming From Isolation' series.
The broadcasting platform has joined forces with Ballantine's to distribute grants to music collectives around the world to support them during these tough times. Alongside receiving the grant, selected community-driven collectives have curated a line up as part of the 'Streaming From Isolation' series, which has so far showcased the likes of Brazil's Mamba Negra, Berlin's Room 4 Resistance and NYC's Discwoman.
For the last outing of the community stream series, Boiler Room and Ballantine's are collaborating with Wild City who will be showcasing music from India and South-East Asia via a special stream of live electronic performances and A/V sets.
As part of the stream, we will be hosting Qilla Records founder and prominent DJ and producer Madhav Shorey aka Kohra, who is fresh off the release of his debut album 'akhõ'. Electronic multi-disciplinary artist Tejas Nair aka Spryk will be presenting his immersive A/V show APEX, with live visuals from Cursorama (Studio Ocupus), for the first time since its debut as a special commission for Magnetic Fields Festival 2019. The lineup also includes Kolkata-based ambient musician, modular-enthusiast and label-head Varun Desai aka 5volts, who will join sound artist and synthesist Arushi Jain, and Karachi's ambient and experimental act ramsha.
Boiler Room will also be donating all the contributions collected during the 'Streaming From Isolation' series to Black Lives Matter-affiliated causes, with the donations from tomorrow's stream going directly to NAACP Legal Defense.
The live stream will take place on August 12 at 7:30PM IST / 3PM BST. To tune in and for more information, head here. See below for the running order of the performances:
ramsha
Arushi Jain
5volts
Spryk: APEX (AV)
Kohra
Tags
Join Our Mailing List