The Alipore Post To Host Online Festival With Music, Art, Poetry & More This Weekend
19 March 2020
Just a few hours ago, we shared Cherie Hu's "Virtual Music Events Directory", which offered a comprehensive guide for the music industry for hosting virtual, online music events. With the spread of coronavirus across the world, the internet seems to offer the only safe haven to people and seems the obvious answer to social distancing and isolation.
Online poetry and art portal The Alipore Post is now set to host India's first day-long online festival in the time of coronavirus, on Saturday, March 21, via Instagram Live. The festival aims to create an online space for artists, poets, musicians, chefs, photographers and other creatives to engage with the creative community in times of isolation.
"With the COVID-19 scare keeping most of the world at home and social distancing amplifying the feeling of isolation, this online festival that coincides (intentionally) with World Poetry Day, hopes to inspire people from the safety of one's home," said founder Rohini Kejriwal. "The hope is to keep the spirit of curiosity and community alive in these trying times."
Consequently, on Saturday, 32 creative individuals from across different parts of India and the world will log in from The Alipore Post Instagram account at a specific time slot, and share their stories and skills with the viewers. Anybody interested in watching and learning can just go to the Instagram page and stream the live video throughout the day.
Some of the music highlights of the festival include live performances by singer-songwriters Ditty, Shantanu Pandit, Lawntuba, Jeevan Antony, Rounak Maiti and Sidd Coutto, as well as a zine making workshop by Zinedabaad, and podcasting workshop by Suno India. Other interesting performances include: readings by Tishani Doshi, Megha Rao and Nandini Varma, spoken word performances curated by Kommune, Dastangoi by Kafeel Jafri, cooking and brewing demos by Neysa Mendes, Gautham Krishnankutty and Hartej Sawhney, talks on self-care, climate change and legal advice for creatives by Sheena Dabholkar, Samreen Chhabra and Manojna Yeluri respectively, and participation by international artists like Negal van Wieck, Ian Berry, Tish Valenzuela and Aqib Anwar.
The Alipore Post Online festival takes place from 9am – 11pm on Saturday, March 21, via their Instagram account. Head to the blog's Facebook and Instagram for further information and updates, and see the full lineup below: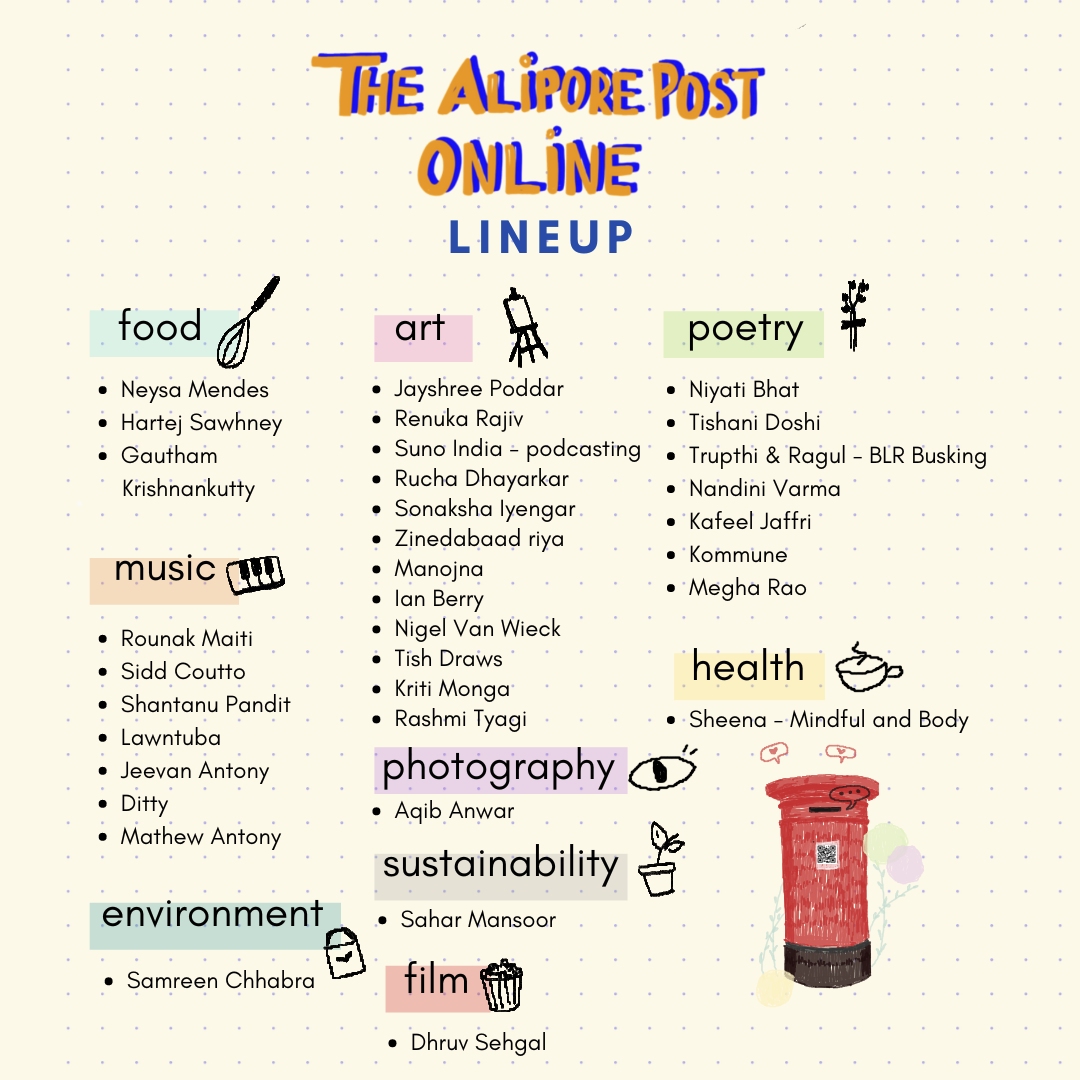 Image: Najiba; Thumbnail + Banner Image: Copycat Design
Tags
Join Our Mailing List