First Listen: 'Slough' By Pulpy Shilpy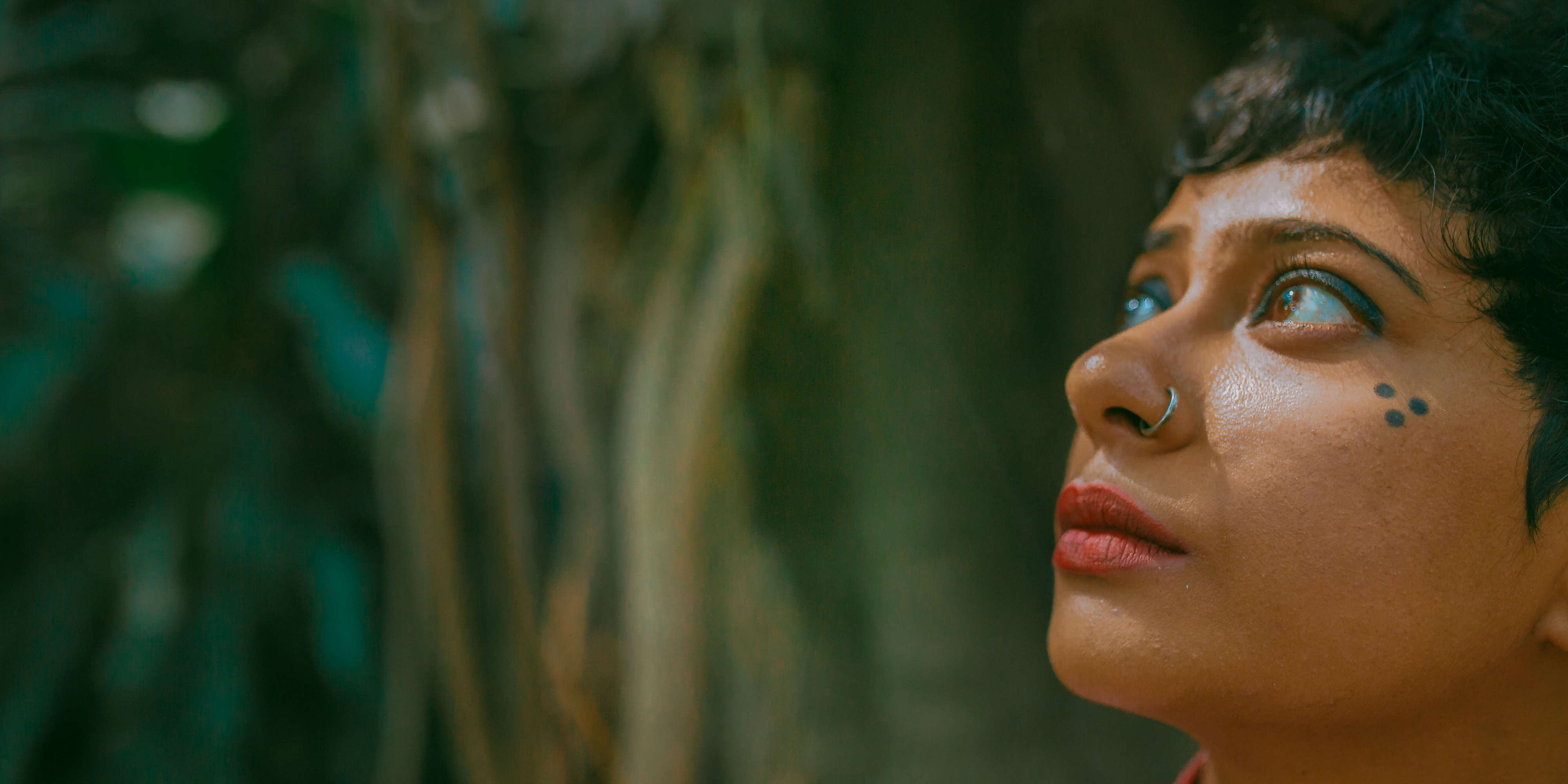 14 March 2019
While listening to Pulpy Shilpy's debut electronic EP 'Slough' which officially releases tomorrow (March 15), my eyes couldn't help but linger on one of the SoundCloud tags – "cyborg sex funk". I chuckled, because that's exactly the kind of thing I can picture Gowri Jayakumar aka Pulpy Shilpy saying about her music, and because, comical as it is, it's a pretty apt description of the music.
Leaving jokes and humanoid copulation aside, 'Slough' is the first manifestation of the Pune-based singer-songwriter and producer's solo electronic avatar Pulpy Shilpy – you might already know her from her previous role as the frontwoman of "freak funk" quartet Run Pussy Run. The title of the EP, which means "to shed or remove" is in itself a manifesto, as like a snake, over the process of the record, Gowri sheds her old skin for new.
With roots in soul, jazz and wordplay, Gowri has established herself as a versatile, malleable artist in the past, and these qualities surreptitiously contribute to the dynamic nature of the release, which is an amalgamation of glitch, hip-hop, synthwave, nu-disco, breakbeat and electronic. That's a whole mouthful of genres that I seem to be throwing at you, but with fair cause – you'll understand when you hear the EP.
'Slough' is, in Pulpy Shilpy's words, "Fractal fantasies, rainy road trips and mid-life epiphanies brought to life with the sounds of glitch, nu-disco and hip hop". It's a concept album that narrates a young girl's journey from voyeuristic erotic fantasies to an explosive ecdysis (shedding of old skin); on further speculation, it could also be deduced as being partly autobiographical. The latter, of course, is pure conjecture stemming primarily from the title of one of the tracks, 'Parrachapora'. The word in itself doesn't mean anything, but break it down and you have 'Parra', which means tourist or non-resident, and 'Chapora', which presumably refers to Chapora Fort in Goa. According to Pulpy Shilpy, the track portrays a protagonist on vacation from her "concrete, self-indulgent bedroom world", amidst monsoons, greenery and romance – which is precisely what Pulpy Shilpy has been doing for the past few months. It can't be a coincidence, especially since in the following (and concluding) track 'LILBIT', the protagonist finally sheds her old skin, and embraces a new one – just like Gowri is right now.
The release is a wonderful sonic experiment that provokes a mind-bending, cathartic journey woven by glitchy sounds, 8-bit effects, and provocative wordplay and storytelling. The erotic fantasy of 'Voyeur' transpires into actionable desire on the disco-inspired 'Love Machine', where Pulpy Shilpy relies on 80s-inspired synths to sonically render excitable, playful pleas to a lover. Jarred melodies and broken beats give way to an organic, lush sound on 'Parrachapora', relieving the tension and offering breathing space from the discordance that dominates the release. The simmering build up finally boils down in 'LILBIT', which was co-produced by Ryan Kardam, and all the anxieties, love and desire of the EP come to a climax – the transformation is complete.
Now, 40 label rejections and several months of conflict later, 'Slough' is finally ready for release tomorrow. Until then, you can stream 'Slough' exclusively via Wild City, using the link below. Pulpy Shilpy is already planning to release 2 more EPs later this year, and is working on a collective/label called Orbs Cure Labs, which will be pushing fearless experimentation, exploration and expression in the South Asian urban sonic realm, with a commitment to empowering left-field, gender-positive, genre-bending projects, artists and cultural spaces.
Listen to 'Slough' below:
Follow Pulpy Shilpy on Facebook and SoundCloud for further updates. You can also pre-order the EP here.
Artwork: Hiren Kangad
Words: Satvika Kundu
Tags
Join Our Mailing List