Wild City #123: Gilles Peterson (Part 1)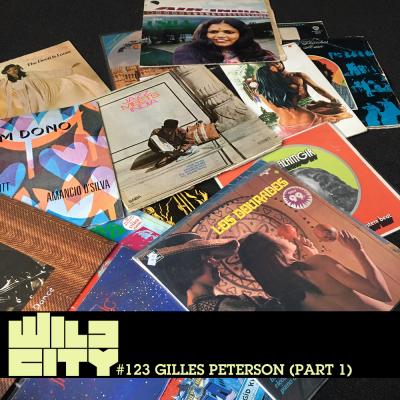 24 January 2017
DJ, broadcaster, producer and owner of Brownswood Recordings, Gilles Peterson rarely needs an introduction. His weekly Saturday afternoon radio show on BBC 6 Music brings in two million listeners globally. He's had the likes of Kendrick Lamar, Flying Lotus and Jamie xx as guests and contributes to radio stations from Austria to Australia, Ukraine to Japan.
Drawing from the depths of his collection, Wild City #123 is a beautifully strung collection of tracks. A piano laces the first twenty minutes while a subtle tabla builds in the background until it's the core item holding the mix together as tracks weave in and out seamlessly.
Plucking obscure raagas, he blends them together perfectly with a raucous, funky, Afro-jazz track from Lasse Fernlof & His Orchestra titled 'The Chameleon'. Around the 20-minute mark, Peterson cuts everything to allow 'Raaga Bhoopali' by Pandit Prannath lull you into a sense of total relaxation. The track neatly divides the two halves of the mix as the second half leaves the sub-continent for Africa and beyond while allowing the sitar and tabla to maintain control and be the focus of the mix.
A masterpiece, it cuts through his vast collection of records with selections from India, Ghana and beyond, effortlessly put together, exclusively for Wild City.
Listen to the mix below and watch out for Part 2 later in the week. Gilles Peterson will be playing at the first edition of GOAT Festival this weekend, more info on that can be found here.
Direct Download: Wild City #123 - Gilles Peterson (Part 1)
Tracklisting:
Stanley Myers ­ - Shazam!
Dewan Motihar ­ - Yaad
Sarathy Korwar ­ - Bhajan
Amancio D'Silva ­ - A Street In Bombay
Lasse Fernlof & His Orchestra ­- The Chameleon
Pandit Prannath ­ - Raaga Bhoopali
Guy Warren of Ghana - Africa Speaks, India Answers
Baligh Hamdi & Magid Khan ­ - Gazairiia
Tamm Ha Tamm ­ - Route Des Indes
Blue Marvin Orchestra ­ - Kamasutra
Alka Yagnik & Ila Arun & Laxmikant Pyarelal ­ - Choli Ke Peeche
Gig details:
January 27-29: Ashvem Beach, Goa, GOAT Festival
January 29: Summer House Cafe, Mumbai
Gilles Peterson Worldwide
SoundCloud
Facebook
Twitter
*Feel free to share and blog this mix, but please reference this page*
Tags
Join Our Mailing List