Wild City #124: Gilles Peterson (Part 2)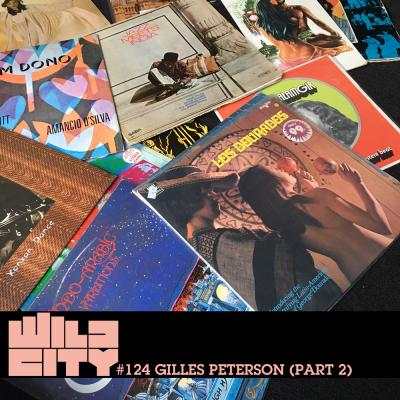 18 January 2017
Following Part 1, which we released earlier this week, we're thrilled to put out the 2nd part of Gilles Petersons's Wild City mix, and just like the first one, it exceeds expectations. On this forty-minute gem, he, again, draws from his array of records to flit effortlessly from tracks such as Joe Harriot and Amancio D'Silva' 'Hum', through to Dono Los Dourados' 'Jaipur'.
Moving away from the relaxed sub-continental sensibilities of the first mix, this one dives deep into disco. It's a much more upbeat collection of tunes, epitomised by the anthemic, 'Fever' by Usha Uthup. Keeping you hooked throughout the track purely through her voice, 'Fever' allows the mix to neatly flow from its western-influenced first half to the second half which is composed of predominantly Indian disco tunes.
Floating in disco tunes like 'Jeena Bhi Kya Hai' by Bappi Lahiri - a tune so famous, it's still sung by grandmothers everywhere - it builds and then scales back perfectly. The outro track by Fakir Alamgir is the best way to end part 2 of this very special two-part mix from Gilles Peterson.
**Gilles Peterson will be playing at the first edition of GOAT Festival this weekend, more info on that can be found here**
Direct Download: Wild City #124 - Gilles Peterson (Part 2)
Tracklisting:
Sun Ra ­- India
Paul Horn ­ - Prologue/Inside
Pandit Prannath ­ - Raaga Bhoopali
Joe Harriott & Amancio D'Silva ­ - Hum
Dono Los Dourados ­- Jaipur
R D Burman ­- Shalimar Title Theme
Usha ­- Fever
Asha Puthli ­ - Space Walk
Bappi Lahiri ­ - Jeena Bhi Kya Hai Jeena Part 1
Ananda Shankar ­ - Dancing Drums
Fakir Alamgir ­ - Chintaram Daroga Babu
Gilles Peterson Worldwide
SoundCloud
Facebook
Twitter
*Feel free to share and blog this mix, but please reference this page*
Tags
Join Our Mailing List