Wild City #102: Midival Punditz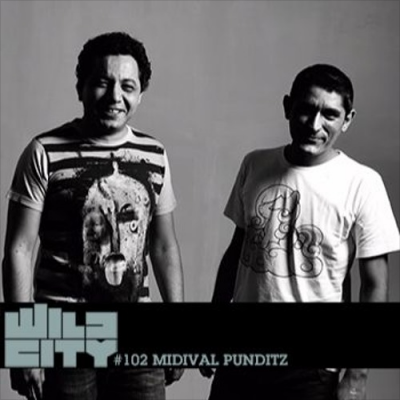 20 January 2016
Pioneers of the Indian electronic scene, The Midival Punditz offer up a retrospective of their sound for Wild City Mix #102.
The past decade or so has seen an undeniably meteoric rise in the popularity of electronic music in India. In simpler times, before festivals like VH1 Supersonic and Sunburn took off (circa 1997, in the age of Anu Malik and the Colonial Cousins) Gaurav Raina and Tapan Raj - known together as Midival Punditz, sowed the first seeds of a genre that was going to blow up in a way no one could imagine back then.
The duo realised early on that Western dance music didn't connect with them in the same way that indigenous sounds did, and even now, The Punditz' sound is instantly recognisable for its unique amalgamation of Indian classical/folk music and popular electronic genres. After making a mark on the map with their collaborative gigs with Tabla Beat Science (Zakir Hussain and Bill Laswell), The Midival Punditz honed in on their vision with their event series Cyber Mehfil – a modern update on an ancient north Indian tradition of artistic gatherings. Since then, The Punditz have worked their way into the booming Bollywood space, releasing 3 albums so far and performing at a number of events in India and internationally.
For Wild City Mix #102, the duo offers up a retrospective of The Midival Punditz' sound since they began, to their freshest releases now.
"Here's wishing everyone a fantastic 2016. We wanted to celebrate it with a mix of some of our favourite tracks from our past and present. Dedicated to our friends who have helped keep the dance floor alive, over the many years that we have been around." - Midival Punditz
Listen and download:
Direct Download: Wild City #102 Midival Punditz
Tracklisting:
Ravi Shankar - Mangalam (Cannabinoid Bootleg)
Midival Punditz - Nadia (Grain Remix)
Midival Punditz - Bhangra Fever
Midival Punditz - Tonic (Nucleya Remix)
Midival Punditz - Tonic (Karsh Kale Remix)
Midival Punditz - Har Ek Bat (Cannabinoid Remix)
Groovio & Karsh Kale - Ranjabi
Shri - Mela
Midival Punditz - Piya (Deaf Bass Twins Remix)
Midival Punditz - Baanwarey (Jayant's Remix)
Midival Punditz - Night (Bandish Projekt Club Mix)
Raanjhan (Jalebee Bass for Breakfast Mix)
Midival Punditz - Ali (Jayant's 4X4X4 Remix)
Juno Reactor - Navras (Jayant's Remix)
Midival Punditz - Raanjhan (Son Kite Remix)
Midival Punditz - 136 (Jayant's Breaks Mix)
Midival Punditz - Don't Let Go
*Feel free to share and blog this mix, but please reference this page*
Tags
Join Our Mailing List