Wild City #097: The Sine Painter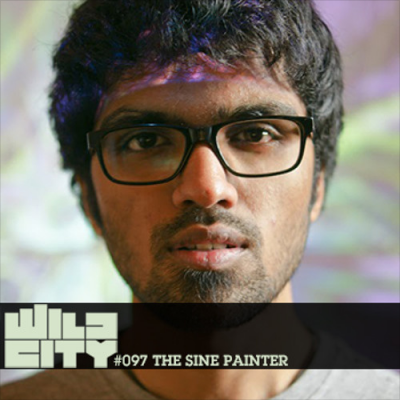 27 August 2015
Wild City Mix #097 comes from an enormously talented young producer and recent Red Bull Music Academy selectee – The Sine Painter.
Jayanth Ramachandra has been on our radar since November 2014, when he innocuously contacted us on SoundCloud with two original productions. We saw promise in the relatively unknown young Bangalore based producer back then, and decided to feature his work under our 'Dropbox Talents' section.
We weren't the only one's who saw something special. In the last few months, Jayanth R has created a space for himself in our forward thinking music community, making more music and performing in his hometown and recently in Delhi.
The Sine Painter's added another feather to his cap after the Red Bull Music Academy announced that he will the only Indian selected to be a part of their Class of 2015, set to take place in Paris in November. The achievement is especially admirable for someone with limited experience, and we hope that his example will push other young bedroom producers to not think twice and apply for the academy next year.
We got in touch with the Sine Painter for Mix #097 and it goes without saying that he did not disappoint, stitching together a very contemporary electronic set that featured some of todays most forward thinking producers.
Jayanth begins with his own mellow original production 'Night Drive' but quickens pace with Irish duo Bicep's excellent (often described as "chirpy") breakbeat number 'Just'. There's a healthy European (specifically German) tone to the whole thing, with appearances by Berlin's Dave DK, and the consistently superior Hunee. Jayanth also bravely (and seamlessly) includes the 1979 track 'Hot Stuff' by Detroit funk and R&B act Raydio. The mix ends on an optimistic note with Lockha's fresh new tune "Lawrence's Weird Joint", which came out via Donkey Pitch earlier this month.
Mix #097 is a breezy Sunday dance mix that you should listen to on a lively day surrounded with your favourite people.
"This mix is a collection of tracks that I have recently really enjoyed listening to. There isn't much of an underlying theme apart from them all being (sort of) dance music. The tracks cover a wide range of moods, genres, regions and time periods. A few of them I like to play out when I DJ and a few of them I like listening to while sitting at home. Hopefully the mix also helps highlight some sounds which are usually overlooked when dance music is thought of." - The Sine Painter
Listen and download:
Direct Download: Wild City #97 - The Sine Painter
Tracklisting:

The Sine Painter - Night Drive
Bicep - Just
Dave DK - We Mix At Six
Sau Poler - Juun
Hunee - Rare Happiness
J.E.E.P. - Rockefeller's Punch
Toshihiko Mori - Cold Sweat
Pollyester - Concierge D'amour (Prins Thomas Diskomiks)
Raydio - Hot Stuff
Magic Touch feat. Nicholas Dawson - Nik's Grooove
Frankey & Sandrino - Acamar
Lockah - Lawrence's Weird Joint

Facebook
SoundCloud
*Feel free to share and blog this mix, but please reference this page*
Tags
Join Our Mailing List