Wild City #095: Aqua Dominatrix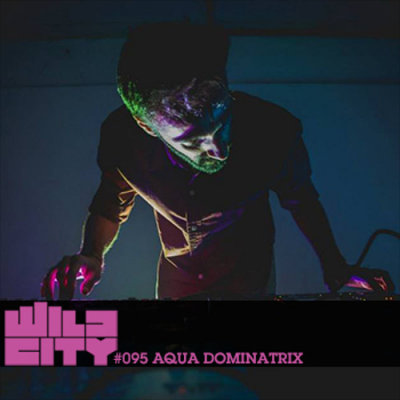 30 June 2015
Analog junkie and Mumbai resident Aqua Dominatrix stitches together a delirious collection of synth-pop for mix #95.
The musician, real name Akshay Rajpurohit, is also a guitarist for metal bands Scribe and Pangea (making his pretty, dreamy mix all the more surprising). He's a relatively new solo producer, playing as 'Aqua Dominatrix' for only a year and releasing his full-bodied debut album 'Sadomist' earlier this year.
It's barely crossed the 6-month mark but 'Sadomist' has already collected more than 11000 downloads and over 10,000 streams on bandcamp - no easy feat for any alternative producer in India. But as good as 'Sadomist' was, nothing quite compares to Aqua Dominatrix's live shows. In the few short months that he's been playing live, Akshay has opened for quite a number of notable homegrown and international musicians including Para for Cuva, the Glitchmob and Pretty Lights.
With an album due to come out later this year and a slew of shows planned for the coming months, we thought now was the right time to ask for an exclusive mix for Wild City.
Our last couple of mixes have each been better than the last and Aqua Dominatrix keeps that trend going with a euphoric selection for the summer that features some of the brightest names in synthpop.
AD starts things on a pretty epic note with Johnny Belinda by Californian beat maker Active Child. That drama soaked synthpop sound is maintained from start to finish with appearances by School of Seven Bells (which injects a wonderful shoegaze quality to the mix), ace Brooklyn based producer j.viewz, Future Islands and Essex legends Depeche Mode. The hour long mix ends with the ever-catchy 'Tropical Chancer' by La Roux.
Listen to the summery tunes of Wild City Mix #095 on your next beachside drive in the sun.
"It's raining like crazy in Bombay and I just threw together some stuff that I listen to, when it does! Lush synths and dreamy vocals are on the house. Grab some tea and push play." - Aqua Dominatrix
Listen and download:
Direct Download: Wild City #95 - Aqua Dominatrix
Tracklisting:

Active Child - Johnny Belinda
School Of Seven Bells - Show Me Love
Lorn - Soft Room
Future Islands - Give Us The Wind
j.viewz - Salty Air
Depeche Mode - Shake The Disease
j.viewz - Meantime
Chairlift - I Belong In Your Arms
Blonde Redhead - Heroine
Daisuke Tanabe - Artificial Sweetner
Télépopmusik - Dance Me
Class Actress - Limousine
Blonde Redhead - SW
Electric Youth - Tomorrow
Frankie Rose - Know Me
La Roux - Tropical Chancer

Facebook
SoundCloud
Bandcamp
Image Credit: Sachin Soni
*Feel free to share and blog this mix, but please reference this page*
Tags
Join Our Mailing List