Wild City #089: Midland Sparks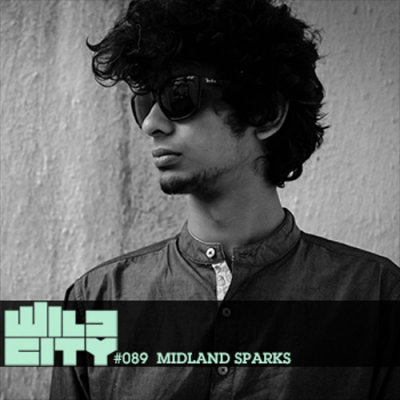 20 February 2015
Maitreya Rajurkar a.k.a Midland Sparks is the face of and one half of Pune based DJ duo; Tripshot Crew. An independent project started with the aim of exploring untraditional, modern day bass music that has influenced him so greatly and shaped the release of his excellent debut EP 'Rundrum' last year.
Keeping this in mind, it's no surpirse that Rajurkar explores a wide range of genres within this project - all that fall under the vast umbrella of latter day bass. His impeccable mix proves this, by showcasing everything from hip-hop and trap to drum n' bass and footwork - curated and arranged for discerning listeners with a meticulousness that true devotees of modern electronica will immediately recognise.
The mix begins on a high note with a Nicolas Jaar retake on Shlohmo's 'Rained The Whole Time', keeping energy levels right up there with that sublime combination of hip-hop instrumentation and bass in acts like DZA and the incredible Romare, which make appearances in its first half.
The latter half of the exclusive mix gets heavy on wubby dubstep, dark dancefloor and pulsing bass drums (particularly in Moresounds 'Blood'). He represents homegrown talent with SickFlips' 'Chamshen' and of course, generously injects the dance friendly sounds of Midland Sparks into the mix. His collaborative track with Blent (check out his mix for us here) 'Hinder' is particularly impressive and blends in seamlessly with the esteemed lot it's surrounded by.
"The Midland Sparks sound tries to encompass a panoramic view of modern day futuristic music. In keeping with that, I have curated this enthralling hour long mix-tape which blends originals and fresh selections belonging to the plethora of new school bass" - Midland Sparks
Listen and download below:
Direct Download: Wild City #89 - Midland Sparks
Tracklisting:
Shlohmo - Rained The Whole TIme (Nicolas Jaar Remix)
Flako - Honey Drips
DZA - Finger Snaps (Shigeto Remix)
Thriftworks - Terminally Chill
SickFlip - Chamshen
Midland Sparks - Kecak Calling
Homesick - VIP SLeep (Lovin U)
Stray - Prof Popper (Double Drop)
Romare - Your Love (Give Me Fever)
Danny Scrilla - Obeah
Addison Groove - Blast (feat. DJ Die)
Machinedrum - Gunshotta (Om Unit Remix)
EAN - Scope
Moresounds - Riddim Again
Coleco - Focus 10 (Double Drop)
Midland Sparks & Blent - Hinder
Mark Kloud & Iyer - Desolate Area
Calculon & Austin Speed - Get Murky (Deft Remix)
Moresounds - Blood
Midland Sparks - Dogma
Eprom - Screwface
Midland Sparks - Kingdoom
*Feel free to share and blog this mix, but please reference this page*
Tags
Join Our Mailing List