Wild City #067: Top Billin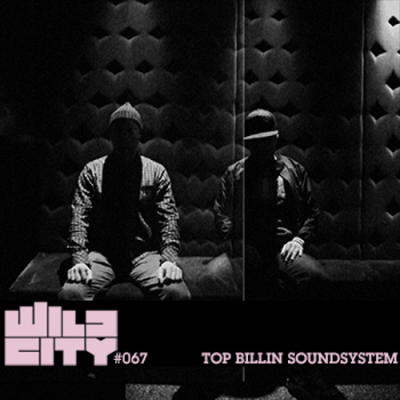 18 November 2013
It was in the year 2006 that Top Billin Soundsystem first made themselves a household name in Helsinki with bootleg remixes, mixtapes and an ever-consistent monthly clubnight.
That was just the beginning.
The duo's first ever 12" EP, then ended up becoming the number one selling item at Turntablelab, favoured by club DJ's and party music lovers around the world. Fast forward to 2013 and that classic EP has been followed by more top selling releases as well as the evolution of Top Billin into a record label boasting a back-catalogue of artists ranging from America to Chile, Russia, Japan and beyond.
Besides running the record label and crafting forward thinking club tunes, Top Billin has become a well oiled party machine, rocking shows around the globe from Paris to Berlin, Moscow and New York, with the biggest names in the business and countless other club favourites. They even supported M.I.A. on one of her sought after tours.
With roots deep in house, hip-hop, dancehall, funk and boogie, Top Billin like to keep their music up-to-date and cutting-edge, both in the shows they play and the records they put out.
With fans that include names such as Diplo, Laidback Luke, Drop The Lime, Steve Aoki, Sinden, Brodinski, DJ Godfather, DJ Funk, Dada Life and even DJ Tiesto, they're an independent dance music label, we suggest you keep an eye on. You may have even heard remixes and releases for labels like Mad Decent, Dim Mak, Unruly, Trouble & Bass, Kitsune, and a whole load more.
We're not name dropping here. Just laying down the facts.
As was totally expected, the mix is an absolute dancefloor destroyer. No holds barred and dropping 31 tracks in just over an hour. Featuring tracks from the likes of Jackson 5 right through to Diana Ross, DJ Yoda, Tessela, Salva and much more it teases, flips direction, rips holes and induces nostalgia - giving you just enough time to breath in between.
Try it out for yourself by having a listen or downloading below:
Direct Download: Wild City #067 - Top Billin Soundsystem
Tracklisting:
Intro
Jackson 5 - I Wanna Be Where You Are
Jackson 5 - I Wanna Be Where You Are (Gutta Bounce Mix)
Lil Boosie - Zoom (Gutta Bounce Mix)
Diana Ross - Missing You (Nola Bounce Mix)
Walk A Lot Girls - Dog Pound
Messy Mya - New Orleans Houston Atlanta
Top Billin & Emynd f. Big Ramp - Toot It (Nola Bounce Mix)
Tagrm - In Dabs We Trust
DJ Yoda f. Nick Thayer & Gotti Boi Chris - Toot It Up
Jay Fay & Ivan Rankic - Dibby Dibby Break
OktoRed - Twerk, Like
RSXG Productions - Swag Fi Dem (Rebel Sonix vs Geek Boy Remix)
Sandwich Island Bass feat. Little Freddy - Herbalists Vocal Up
Konshens - Show Yourself (Chong X edit)
I-Octane - Love Di Vibes (So Shifty Remix)
JT Money - Rap Ass Nigga (Top Billin Partyedit)
Sharam Jey & Kolombo - Nonstop!
Marlon Hoffstadt & Dansson - Shake That
Groovebox - Brooklyn
Umek & Groovebox - Cause N Effect
Armand Van Helden - Funk Phenomena (Tafo remix)
Friend Within - The Renegade
Destructo f. Oliver - LA Funky (Top Billin Partymix)
Salva - Get A Life
Tessela - Hackney Parrot
DJ AK-4luv & DJ Tee Whizz & DJ Reek Rawz - AAMG Anthem
Mark Knight - Your Love (Chicken Lips)
Kepikei - Blk Uncrn
The Diving Machine - Activate
Mad Villains and Chris Parkin - Tell Me Again
Wayward - Marvin (Carpainter Remix)
*Feel free to share and blog this mix, but please reference this page*
Tags
Join Our Mailing List