Wild City 061: Kush Arora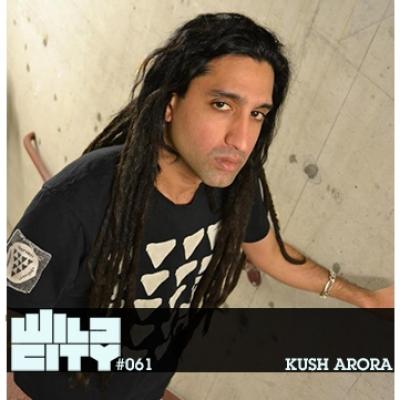 19 August 2013
We've been holding on to this one for a while, yet to be honest, we're kind of glad that we have. With a month off in the summer, we're happy to spring back to life with a mix from the supremely talented Kush Arora in the shape of Wild City #061.
A San Francisco based producer, DJ and purveyor of cultural bass music, Arora has extensive music knowledge. Right through from metal, punk, goth, bhangra and industrial to what he's now more known for; tropical and global bass music. We're talking all shades of dub, garage, dancehall, funky and Indo-Caribbean influences, which form his unique and self-titled "dread bass" sound that has found him compared to producers such as The Bug, Stereotyp and even Adrian Sherwood.
A member of Surya Dub, a San Francisco based clubnight, awarded Best Club Night by SF Weekly for two consecutive years (2007- 2008), Kush consistently finds himself on the road representing the Surya Dub Crew and opening for the likes of Flying Lotus, The Bug, Bassnectar and Thievery Corporation.
His tracks have also been remixed by the likes of Eskmo and Rogue State as well as catching the attention of Pitchfork Mag, who referred to him as a "laptop musician extraordinaire". Need we say more?
Wild City #061 steams through a solid 30 tracks in under 60 minutes. I think it's fair to say that we knew we were on to something when we saw the tracklist.
Excitingly he's crafted a mix that not only focuses on some of his own work, but also contains unreleased dubs. Listening to the mix, there's a remarkable consistency to Arora's production, an off-kilter rhythmic sensibility that ties the various tracks together. At the same time, there's diversity to it all. He's even been kind enough to make a two part mix, "for the club" and as he puts it "fuck time and slow wine". He's proved here that he's more than capable of assembling a brooding cut as much as he is a hands-in-the-air anthem or even songs to have raunchy, turnt up sex to. In short, the guy is talented.
But we'll leave that for you to figure out. Enjoy!
"Thought I'd round up some of the great new sounds I've been feeling, and after looking at the site, maybe some things that maybe haven't been featured to give you something fresh. The first half hits it "From The Club""; From Azonto and Kuduro to Angola, Ghana and Nigeria, all the way to Bay Area house music and some of my favorite tunes from London, plus a few bits from my catalogue with Zuzuka Poderosa (Brazil) and Silver Bullit (London, Ghana). This should have you doing the fucking 6:30.
The Second half continues the sexual journey with a special remix I did of Gyptian's "Slow Wine" that will be dropping later this year on VP records. It explores the Zouk Bass and Tarraxinha phenomenon from Angola and surrounding areas, plus a few dancehall joints I seem to keep coming back to."" - Kush Arora
Direct Download: Wild City #061 - Kush Arora
Tracklisting:
"From The Club"
Lx Monkey Beatz and DJ Nigga Fox - Kwanza
App - All I Can Think About ( Marc Houle Remix)
Hagan- Untitled (Off Afrodub EP)
Bambounou- Aladji Remix
Figura - Ze Bula (Chief Boima Remix)
Full Crate Feat. Papa Ghana - L' Afrique
Zuzuka Poderosa & Kush Arora - Pisicodelia (Off Carioca Bass EP)
Power Music Beatz - Habitos Selvagens
Corporal F - Jungle
Matrixxman Feat. Mykki Blanco - God Created The Beat (Apocalypse Now)
Mumdance - Dragon Egg
Almostt - Modern Samurai (V.I.P.)
Buraka Som Sistema - Tira O Pe ( Roby Howle Remix)
Spooky - Coolie Joyride
The Rub - Dutty Gal Feat. Natalie Storm
Silver Bullit Feat. Afrikan Boy & Spoek Mathambo - Show Me What You Made Of (Kush Arora Remix)
"Fuck Time & Slow Wine"
Gyptian - Wine Slow (Kush Arora China White Remix)
DMX - What They Want (Nindja Remix)
DJ Paparazzi Feat. Colina - Ven Aqui Con Migo (Tarraxinha 2011)
DJ Kuimba - Tarraxo Na Pareda Feat. DJ Yudifox
DJ Paparazzi - Mi Ma Bo
Nindja - Eu Quero
DJ Nervoso & Onorato - Untitled
DJ Bison - Tarracho Indiano
Jemynie - No Friend
So Shifty - Darkas Riddim
Voicemail - Clap It Up
Poolside Riddim
DJ Paparazzi - Val Feat. DJ Baco
*Feel free to share and blog this mix, but please reference this page*
Tags
Join Our Mailing List