Wild City 059: Castles In The Sky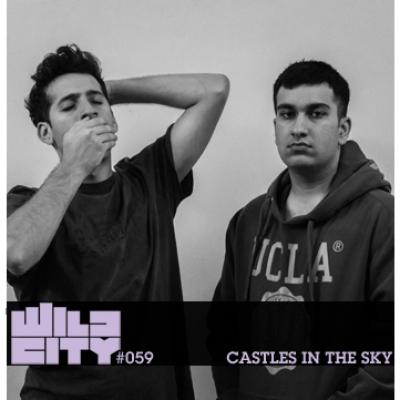 11 June 2013
"Castles In The Sky is a two piece electronic pie with some guitar fillings and a thin synth crust with effect toppings."
Made up of Pune based college kids Shubham Mehra and Angad Bharaj, they're an electronic duo we have high hopes for in the future. Yet to find their "sound", they continue to experiment with both electronic and guitar elements, and aren't doing too badly at it either.
Their debut EP, 'Fugu Fish' was released via BandCamp at the start of the year. It found the duo find a kaleidoscopic beauty that will one day be their hallmark. Space, atmosphere and anticipation all build and through excellent use of restraint, blossom into something completely unexpected. The influence of producers such as Koreless, Four Tet, Caribou and Mount Kimbie are apparent at the very first listen, yet never do those influences feel intrusive.
Now don't get us wrong, we're not saying it's perfect. This album certainly is full of accomplishment and some truly stand out tracks, yet the mixing isn't fantastic and lack of proper mastering is exposed within seconds. But we see the light, and it's bright.
Much in the same vein this mix is a selection of outstanding tracks, from some of our favourite artists the world over, both new and old. Although the transitions aren't perfect, it makes for a great and varied listen, providing eyes into the depths of the crates of Castles In The Sky.
"This mix is like having peanut butter in your instant noodles. At first, it may seem that these things don't go together, but then you can't get your mind over it and want to tell your friends about it, but your friends think you're retarded and then that's how it goes." - Castles In The Sky
Enjoy!
Direct Download: Wild City #059 - Castles In The Sky
Tracklisting:
TEXT022 - Kieran Hebden
Jazz (interlude) - Gil Scott-Heron & Jamie XX
Mysts - Pale
The look - Jaques Greene (Koreless Remix)
Abrajam - Devonwho
Sulk - Trust
Boiling - Disclosure Feat. Sinead Harnett
Everything You Want - Toyboy & Robin
Fantasy - Breakbot
Holiday - Metronomy
Toppin Up - Cloaka & Boxwork
Ye Ye - Daphni
Into The Night - Justin Jay (Jack Fell Down's Garage Remix)
Purple Drank - Axel Bowman
Night Falls - Bookashade
Unhinged - Droog & Inxec
Angel Echoes - Four Tet (Caribou Remix)
*Feel free to share and blog this mix, but please reference this page*
Tags
Join Our Mailing List