Wild City 044 - Alien Panda Jury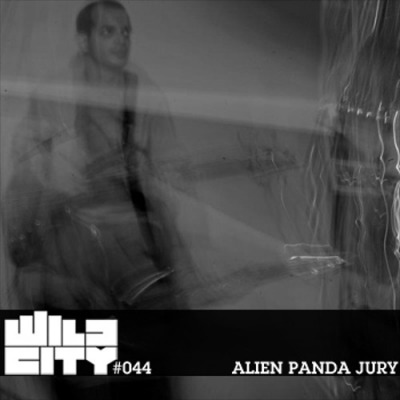 11 December 2012
We just can't stop ourselves. We're slipping deeper and deeper into the Pakistani underground and are only emerging with raw, sharp and just brilliant electronica. Alongside our compadres Border Movement, we've talked enough about the growing scene across the border, with the likes of Forever South. One of the artists on their roster is Daniel Arthur Panjwaneey a.k.a Alien Panda Jury (more on him here).
A musician who's been at the forefront of Karachi's booming underground music scene for over 12 years (primarily as a bassist for indie outfit //orangenoise), Alien Panda Jury is an experimental electronic solo project from the otherwise seasoned bassist.
"Being a musician and songwriter there's times where you feel an urge to get your individuality out onto something. To me throwing on a housey beat with ambient pads, eastern classical vocals and percussions sampled and manipulated with a grinding bassline mashed up with occasional over-saturated acoustic guitars... is normal. It's also just so much fun to be able to throw everything in and go nuts to a point where it all makes sense in a way." - Alien Panda Jury
Influenced by classic psychedelia, industrial, electronic and eastern/regional sounds, his music is an infectious mix of glorious melodies and a unique beat-programming style. It only really took us one listen here at Wild City before we knew that we had to source a mix.
And boy, did he deliver.
Running through 17 carefully selected tracks over 1 hour it successfully exhibits his varied (yet very UK) taste in music. Opening with 2562's raw 'Flavour Park Jam' it gently moves into more trip-hoppy territory before settling with the likes of Warp's Bibio and Ninjatune's Yppah before picking up again. As an added bonus it runs through 6 of his own productions, alongside some from fellow Karachi based producers Dynoman (Wild City mix), Toll Cane and 6LA8. He even sneaks a bit of Clark and Burial in there. Can we blame him?
Check it out for yourself:
http://soundcloud.com/thewildcity/wild-city-044-alien-panda-juryDirect Download: Wild City #044 - Alien Panda Jury
Tracklisting:
2562 - Flavour Park Jam
Dreadnaught - Coincidences and Illusions
Alien Panda Jury - 4 Yellow Dots
Dynoman - Imaginary Parrots Cheebay
Alien Panda Jury & EMPROR LEPHANT - Atmo
Taylor McFerrin feat. Ryat - Place In My Heart
Bibio - Bewley In Grey
Yppah - It's Not The Same
Alien Panda Jury - The Slowfall
Alien Panda Jury - Warmth
Toll Crane - Hash n Bangers
Clark - The Pining Pt.I
Eskmo vs Bjork - Rhythm Joga
Burial - Archangel
Bonobo feat. Andreya Triana - Eyesdown (Machinedrum remix)
Treehouse - Sometimes No One Cares
6LA8 & Alien Panda Jury - We're Floating.. Not Swimming
*Feel free to share and blog this mix, but please reference this page*
Tags
Join Our Mailing List