Wild City 012: Starfoxxx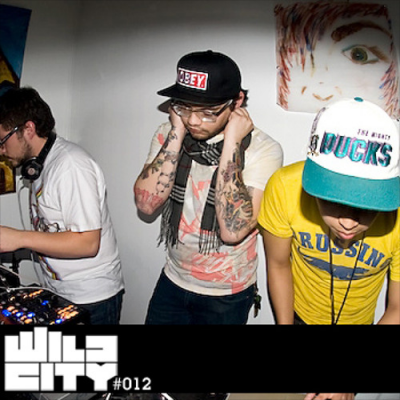 19 December 2011
Earlier this year we interviewed Ghettophiles, one of the leading players for the juke/footwork scene's movement and home to some of the most recognised names in juke, footwork, ghetto tech, dub, moombahton and Chicago house. One of these names is Starfoxxx a.k.a Erik, Dave and Fabe, the production trio based out in Chicago. Together they bring a real grassroots sound to moombahton while at the same time producing ghetto bounce and juke. The fusion of their combined experience in the studio allows them to construct dark, sinister sounds mixed with bouncy "booty bass" alongside a global twist.
"Me, coming from a Mexican background, I just love the fact that salsa, cumbia, merengue, and all these Latin influences are starting to show up in this new wave of music. To be honest when I was younger I didn't think cumbia and merengue were cool at all, but the way it's been handled now by all these producers is amazing. I love the flavour and it's nice to get a change in the speed of music, something that feels a bit more chill but doesn't ease up on the heavy bass." - Erick, Starfoxxx
We haven't yet had anything remotely juke/moombahton as part of the Wild City mix series. What better way to kick it off!
Listen and download below:
http://soundcloud.com/thewildcity/wild-city-012-starfoxxxDirect Download: Wild City #012 - Starfoxxx
Tracklisting:
Melvin - Oxygen Drunk
Jody Breeze - The Way I Move
DJ Manny - Return Da Favor
DJ Phil - Hard Turn
Traxman - Turn Around
DJ Taktix - Hornz
Keiska - Celdi Riddim
Hesk - Palm of My Hand
Heavy Dee - Goes Around
DJ Manny - Yeah
DJ Flawlez - Candyman
DJ Rashad & King AG - Make It Happen
Boylan - Hold On
Boylan - Noiz Factory
Ill Cosby - Brush Metal
DJ Earl - Make U Mine
J-Dub & Turbo - Lose Control
DJ Rashad - Petrone In My Cup
Starfoxxx - Get Em High
DJ Manny - Kush On Deck
DJ Phil & DJ Earl - Good
DJ Taye - Just Chillin'
Clivilles & Cole - Deeper Love (DJ Quality Remix)
Slick Shoota - Pow Riddim
DJ Roc - I Can't Control
Philthkids - Looking 4 Another Love
Hypa - These Eyes
You can download their Dead Summer EP here for free and also head to their soundcloud for more dope goodness like their remix of Major Lazer's Pon De Floor below:
http://soundcloud.com/starfoxxxchicago/major-lazer-pon-de-floor-starfoxxx-juke-remix
*Feel free to share and blog this mix, but please reference this page*
Tags
Join Our Mailing List