Wild City 008: Brooklyn Shanti - The Gift Of Surrender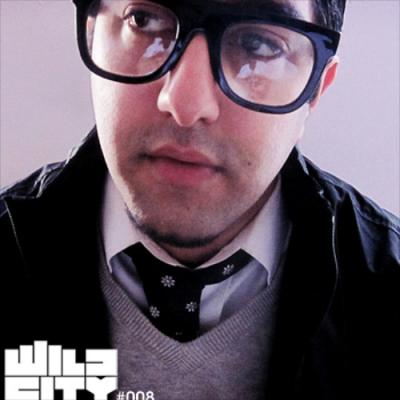 24 October 2011
Brooklyn Shanti otherwise known as Shanti or the1shanti is an MC, producer, composer and DJ based in New York City. Bengali in origin, decidedly hip-hop in orientation, Shanti is currently a man possessed with the idea of bringing true hip-hop to India, ""the most populous democracy in the world."
Shanti's story began at the young age of 12, where he set off on his journey by supporting hip-hop pioneers such as Doug E. Fresh and Ultramagnetics MCs. Since then he's collaborated with musical heavyweights such as A. R. Rahman, Sonik Gurus, the Foreign Beggars, Italy's Feel Good Productions, ElekTro4, Billy Martin (Medeski, Martin and Wood), and Niraj Chag to name a few.
In 2006, Afrika Bambaataa, the "grandfather" of hip-hop, aware of Shanti's efforts to spread a positive message in South Asia, even dubbed the artist the Indian Bambaataa.
Currently working on his third full length LP due for release next year, Shanti is collaborating with a wide range of legendary musicians ranging from Afrika Bambaataa to KutMasta Kurt and Karsh Kale.
This guy has been on our radar for a long time now and when you hear his music you'll understand why...
Below you can check out a stellar 40 min DJ set of tweaked hip-hop music by Brooklyn Shanti called The Gift Of Surrender. Amongst many, it includes jams from Arrested Development, The Roots, Jay-Z and Tribe Called Quest alongside a bunch of self produced and unreleased Shanti productions to boot. All you hip-hop lovers, get diggin!
http://soundcloud.com/thewildcity/wild-city-008-brooklyn-shanti
Direct Download: Wild City #008 - Brooklyn Shanti: The Gift Of Surrender
About the mix:
""Last year, I jumped out of a plane at 13,000 feet and it was the third time in my life when I had experienced a moment where the need to establish a set amount of peace with myself was required in the face of my possible death. I needed to be good within my soul that this life might be coming to an immediate end...
Since then, I have continued to live life in a moment of utter and complete surrender. I present The Gift Of Surrender in two distinct acts. During Act 1, I have carefully hand crafted continuous mash-ups of selections which have shaped the musical being I am today. For Act 2, I decided to introduce selections of my own productions, mostly unreleased, helping to weave a narrative which articulates my love/hate relationship with the metropolis that is New York City."" - Brooklyn Shanti
Tracklisting:
ACT 1 | INSPIRATION:
Intro - Brother J of X Clan
People Everyday - Arrested Development
What You Want - The Roots feat. Jaguar Wright
Bonita Applebum - A Tribe Called Quest
If I Ruled the World - Nas feat. Lauryn Hill
Black Nostaljack - Camp Lo
De Ja Vu - Beyonce feat. Jay Z
Ms. Fat Booty - Mos Def
Six Underground - Sneaker Pimps
Ego Trippin - De La Soul
Doo Wop (That Thing) - Lauryn Hill
This Love - Maroon 5
The High Road - Fort Minor feat. John Legend
Sixth Sense - Common
ACT 2 | APPLICATION:
Just Fine - Prince Jamir feat. Brooklyn Shanti
Manhattan (Interlude) - Woody Allen & Jay Gatzby
Hold You - Sara Bareillis feat. Brooklyn Shanti
Poker Face - Christopher Walken
Princess - Tape Deck Prophets (Sierra Carrère & Brooklyn Shanti)
All I Need - Brooklyn Shanti
Headphones - Brooklyn Shanti
Why Can't Love (acoustic) - Bonita Applebum (Shefali K & Brooklyn Shanti)
You can hear his latest single Rani Rani below as well as grab a copy of his free beautiful EP here
http://soundcloud.com/brooklynshanti/brooklyn-shanti-rani-rani
*Feel free to share and blog this mix, but please reference this page*
Tags
Join Our Mailing List