Wild City #213: Okedolo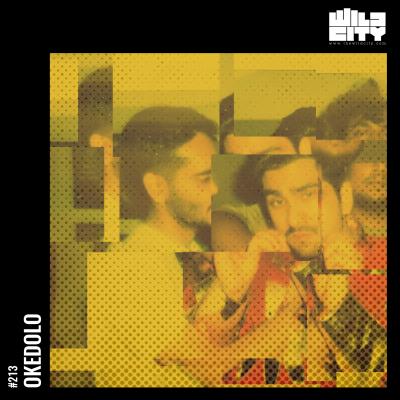 9 August 2022
Earlier this year, the Twitter electronic music world chortled around a "Two Guy Theory", which is centred around the observation: "From Bicep to Overmono to Two Shell, the trend of two fellas coming up with elaborate excuses to hang out a lot has been picking up recently. Guys can't just be mates anymore, there has to be a catchy and fresh take on underground dance music involved."
Towards the Indian sub-continent, two of the latest purveyors of that theory are Ishaan Gandhi aka Okedo and Rohan Sinha aka Dolorblind. The two music acts, who are likely familiar to anyone with an ear tuned to the electronica talent of New Delhi, have recently joined forces to create an amalgamation of their monikers with Okedolo.
The story goes that the pair had initially met in childhood through their parents' attempts to get their introverted kids to make friends within the neighbourhood. After growing apart and becoming recognised members of the Indian independent music scene as visual artists, instrumentalists, record engineers and musicians in their own right, Ishaan and Rohan reunited nearly two decades later at a gig. The pair found themselves sitting next to each other, unbeknownst that they were once childhood friends, and grumbling about the wider industry before discovering their shared past.
Building upon their rediscovered camaraderie and encouraged by the anti-isolation instincts many of us experienced after the COVID-19 pandemic's lockdowns, the two musicians started collaborating to play around with music they wouldn't otherwise do. "When we first started making music, we realised our approach to music making was on opposite ends of the spectrum, yet we found ourselves really liking each other's music and taste in music. We knew we had to dig deeper", says Ishaan, to which Rohan adds: "Our one and only goal was to make music that's enjoyable to make. We are not confined to any genres but we do absorb the influences of our current surroundings."
While the act is yet to disclose much about the resultant work to the wider public, early previews indicate bringing together Okedo's penchant for layered percussive production and Dolorblind's affinity for booming basslines and textured synthetic ambiences in entirely new contexts. Reflecting upon the sounds that informed it, Okedolo have curated the latest Wild City Mix.
Even though the selection touches upon various sub-genres of dance music, it doesn't present itself as a dance mix. Hudson Mohawke's zany arpeggios creep up behind Hikaru Utadu's uptempo drama while a standout number by Burt Cope punctuates selections of drum 'n' bass and techno, completely disregarding any technical common ground to tap into a shared emotional plain and maintain a common thread of downplayed jubilance.
"We have put together a short mix to give you an insight into the music that influenced us as we worked on this EP last year. The mix also includes a track by Delhi-based producer Sijya. Does this mean she also features on the EP?... Maybe." – Okedolo
Listen to the mix below and head to Okedo and Dolorblind's artist profiles for more.
Words: Amaan Khan
Tracklisting
Les Sins - Talk About
Hikaru Utada - Somewhere Near Marseilles
Hudson Mohawke - All Your Love
Unknown - Cats in the back
Skin On Skin - Way Ur Touchin Me
Burt Cope - Time (Ft. Potent & Paranoid)
piri & Tommy Villiers - Soft Spot
Koreless - Sun
The Green Door All-Stars - Tuteme Meets Tafi Atome At 58 Ft Mococo
Sijya - I have to make my bed (boxout FM recordings)
Tags
Join Our Mailing List