Wild City #206: Dynamite Disco Club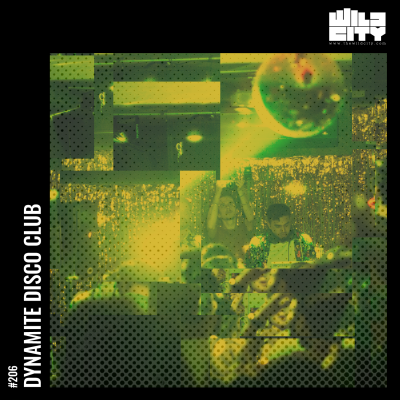 27 July 2021
Starting as a radio show and a continual chain of song edits by DJ-producer Stalvart John, Dynamite Disco Club has since evolved into event curators championing artists which, as their name suggests, specialise in a motley of disco styles with heavy inclusion of house.
The collective has an unfailing ability to create a musical oasis at festivals and club nights with curation that focuses solely on providing pure dancefloor fun. A Dynamite Disco Club event sticks closely to the ethos of a dance party in its truest and original sense, throwing in selections of some of the best edits of time and geography traversing unmissable undercuts interluded by the surprise of better-known hits while exhibiting a timeless sense that is free from the concerns of ongoing trends or mixing vanity.
Expanding even further, the multi-hyphenate brand has just started a label arm – carrying over its ethos to provide a platform for original music, the first of which arrives in the form of 'Disco Lives' by Italian act Babert.
Dynamite Disco Club spearheader Stalvart John has created a mix for Wild City, highlighting the influences that dictate the curation of the label and some of its unreleased material. Uncharacteristically and yet delightfully, the mix meanders through a confluence of acid and leftfield for a short while before the relentless thump of the four on the floor kick drums kick in to usher a parade of funky guitars, dramatic string lines and frenzied percussions – some of the defining elements of disco and the edges where it flows into house.
"This mix speaks for the sounds that we as Dynamite Disco Club have been wanting to release and promote in the country for a long time. It obviously features the first release on the label from Italian DJ/Producer, Babert, titled 'Disco Lives', some upcoming tracks which will all be announced over the course of this year. And I couldn't help but add tracks of artists that I have been listening to along with a bunch of Dynamite Disco Club party favourites" – Stalvart John, Dynamite Disco Club
Listen to the mix below:
Direct Download Wild City #206: Dynamite Disco Club // Head here for Mixcloud
Tracklisting
Perpetual (Movement) – Jun Fukamachi [SME]
Taxi Man – Yurie Kokubu [SME]
Midas Touch – Supermini & Frankie Romano (Birdee Extended Mix) [Tinted Records]
I Can Feel – Serge Funk (Original Mix) [Groove Culture]
All I Want – Boys Noize ft. Jake Shears (Purple Disco Machine Extended Remix) [Defected Records]
Ben Kadi – Bassekou Kouyate, Hamza Rahimtula (Banjara Edit) [Wind Horse Records]
I.D - I.D (Original Mix) [Dynamite Disco Club]
I.D - I.D (Original mix) [Dynamite Disco Club]
The Feeling – Riva Starr ft. Gavin Holligan (Extended Mix) [Snatch!]
We Are One – Super Disco Club (Birdee Remix) [Vicious]
Stupidisco – Junior Jack (David Penn Extended Remix) [Tinted Records]
PianoBee – Luca Garaboni, The Cube Guys (Club Mix) [Cube Recordings]
Playbox – Purple Disco Machine (Extended Mix) [Sweat It Out]
Disco Lives – Babert (Original Mix) [Dynamite Disco Club]
Listen Love – The Sunburst Band (Dave Lee Jazz Funk Renaissance Mix) [Z Records]
Joy – The Showfa (Future Disco's More Joy Edit) [Future Disco]
‎Dream – Katsuhisa Hattori [Toho Records]
Tags
Join Our Mailing List