Wild City #170: Drum Attic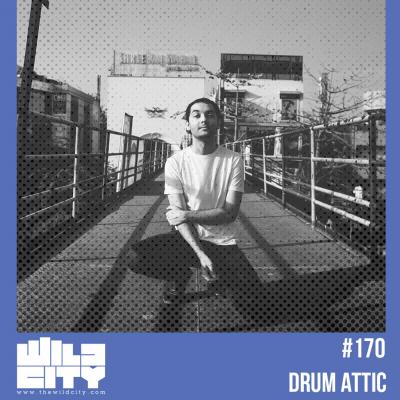 3 April 2019
Drum Attic aka Siddharth Mehra's music and his career as a New Delhi-based DJ and producer share a strong common feature - consistency. Present in the capital's nightlife for nearly a decade, first as one half of the electronic duo Motion Noir and later through his own moniker Drum Attic, as well as the studio manager at boxout.fm where he also presents the monthly show 'DulyUnruly', Mehra has upheld an unfaltering love for hard techno in all his strides.
It's not uncommon to see artists adapt different monikers or shapeshift through their careers as they tip-toe across genres. Drum Attic, however, has stuck to his guns and maintained a constant and ever-improving output of mixes and remixes that may channel influences from dub and acid, but are almost always firmly rooted in pounding 4/4 techno.
The same quality comes into play in his latest mix for Wild City, which comes as an anthology of techno's underdogs with tracks from the likes of Hemka, DJ Overdose, Lag, Morphology, Sebastian Kramer and Drhamer. Easily suited to an intense club night, the mix sounds extensively rhythmic and hard-hitting, as can be expected from a moniker like 'Drum Attic'. Meandering through a variety of moods, Mehra's unabashed love for dissonance and his propensity for hard-hitting, heavy soundscapes shine on the mix, making for a rigorous listen.
"Enter stellar, all encompassing soundscapes. Manoeuvring lawlessly, this mix features a seemingly endless store of headstrong rhythm. Wielding an assortment of dubby, acidic and even industrial sounds, expect a few gloomy melodies interspersed with rude outbursts of bold and brazen techno." - Drum Attic
Drum Attic will be playing at Boxout Weekender 2019 which takes place between April 5-7 across 2 venues in New Delhi. For full lineup and tickets to the festival, head here.
Listen to Drum Attic's mix below:
Direct Download Wild City #170: Drum Attic
Tracklist:
Hemka - Lamb In Lotus
SP-X - Dystopian Lotus
Zeta Reticula - Galactic Halo
DJ Overdose - Wires Smoking
Lag - Rutra
Denssal - Tesseract
Truncate - Multiply
Kuf & DOLD - Mint
I Hate Models - Spreading Plague (Perc Remix)
H880 - Acte II
Eg0n - Frqmd.1
Morphology - Detached
Jensen Interceptor & Assembler Code - Hyper Reality (Sync 24 Remix)
Ceephax - The Green Night
Abayomi - Centaurus
Alberich - Werkstatt
Peryl - I Am
JK Flesh - Caveman
Sebastian Kramer - Stella
Troy - Flux
Lewis Fautzi - Opposition
Patrick Siech - Astral Node
Laurel Halo - Sweetie
Drhamer - Sudden Threat
F.R.A.N - Algorhythm
Efdemin - New Atlantis
Tags
Join Our Mailing List