A Comprehensive Guide To The Music At Magnetic Fields 2017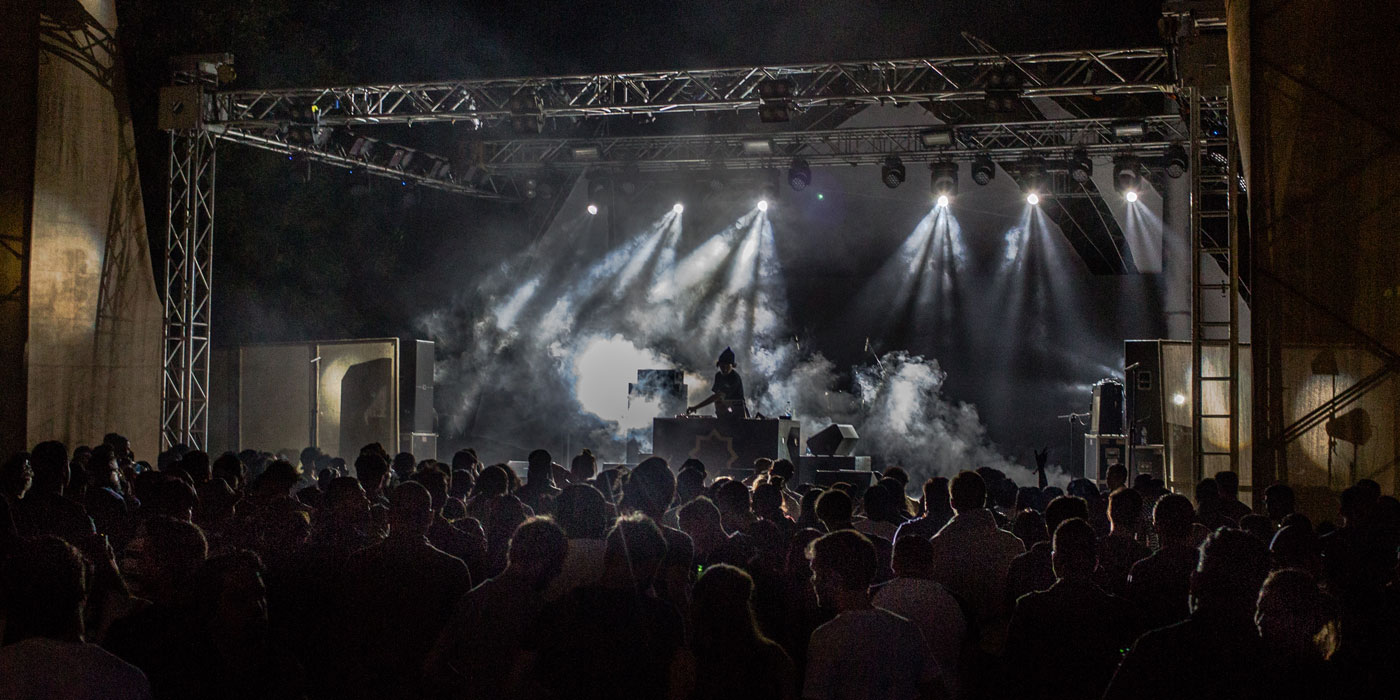 4 December 2017
The countdown is well and truly on.
Magnetic Fields Festival, one of the highly-anticipated weekends in the year, is fast approaching. With less than a fortnight to go, we need to acquaint ourselves with how much there is to soak in at Alsisar - art, food, activities, installations and, of course, a host of international and domestic music acts.
With such a vast number of musicians playing this year, it made sense to try put everything in one place. This is your handy reckoner, and here's a pro tip - make sure to scroll down to the *different* sections for after parties.
For those unfamiliar with some of the musicians, there will be handy, streamable links.
Bira 91 South Stage:
Four Tet
Do you really need an introduction to Four Tet? A titan of the industry, the London producer has been iconic since his arrival in the scene in 1998. His latest album, 'New Energy;, was his first full-length release since 2013's 'Beautiful Rewind'.
Aerate Sound
After releasing one of the best albums to come out of India this year, 'Only For External', Aerate Sound played an incredible show at Boiler Room in Bangalore, opened for Lady Leshurr last month, and will open the festival off with their unique A/V set.
Sun Glitters
If you loved the soundtrack to Drive, Luxembourg artist Sun Glitters will fulfil your desires for 80s synth and heavy bass.
Say Yes Dog
Still riding on the wave of their 2013 EP, Say Yes Dog have outlasted what many critics didn't imagine possible. Find out why.
Ska Vengers
Insatiable energy, danceable tunes with a good dose of politics thrown in, and the tightest of sets after their epic UK/Europe tour over the summer, The Ska Vengers will be starting the night off right.
Ape Echoes
Like an alley-oop to a perfect dunk, new kids on the block, Ape Echoes will be opening for Teebs by playing their distinctive blend of electronica to bring you out of the lull of an afternoon nap.
Teebs
A Brainfeeder-signee. A contemporary genius when it comes to the beat-tape. A masterful painter. He's been quiet these last few years but that hasn't stopped the anticipated hype of his performance building.
Sid Vashi
His debut album, 'Azuma Kazuma' is still a point of contention whether it was an 8/10 or a 9/10. Catch him playing at Bira 91 South stage, where you can decide for yourself.
Komorebi
Soliloquy' showcased Komorebi's growth as an artist, and her ability to stand alone as a producer shone through on the debut album.
Kumail
On the sly, he promised us a set that the organisers of the festival aren't even anticipating. A completely live set, Kumail's work so far has been gut-wrenchingly beautiful.
Different Trains 1947
Presented by The Barbican, Metal, Warp Records, Boiler Room, What About Art? and Wild City, it features artists Actress, Sandunes, Jack Barnett (These New Puritans), Jivraj Singh and Priya Purushothaman putting on an audio-visual composition that will bring together the historical and contemporary cultures of UK and India. Do not miss this.
Khruangbin
Thai-funk Texan band Khruangbin make the best kind of music. A blend of funk and soul, it's pretty indescribable and this may be one of the rarest opportunities to catch a band of their sound and stature live.
Machinedrum
A live A/V performance from LA-based producer Machinedrum will take place on the Bira 91 South Stage. Expect the producer's distinctive take on electronic - combining coasts, elements and beats - to blow you away. Most people are hedging their bet on this being one of the best performances of the festival.
Red Bull Music Academy North Stage
Daphni
Daphni is the dance alter-ego for Dan Snaith, better known as Caribou.His tracks are featured regularly in other DJs sets, his recent album 'Joli Mai' was critically and commercially lauded and he has a PhD in Mathematics. He's sure to electrify the RBMA stage.
Willow
The Manchester-born, London-based DJ is on the rise and quickly. One of the best house producers in the world, she makes addictive bangers which is why her touring schedule has been non-stop, reflective of how in-demand she is at the moment.
Sassy J
The Swiss DJ and Bern-native is an accomplished and adaptable DJ. With musical prowess in her bloodline, she's turned to her skilled ability as a producer and DJ to play (and make) some of the rowdiest house, full throttle techno and dance-heavy disco available right now.
Jayda G
We've all seen the Dekmantel set. For most, it was their introduction to the Canadian-native. But the Berlin-based artist has been slowly chipping away at production and DJ'ing, showcasing her natural skills at both. Dance along with Jayda G when she plays her impeccable selection of tunes.
Sindhi Curry
A mainstay in the Indian music space for over a decade, this will be Sindhi Curry's first time at the festival. The versatile DJ has the ability to mix genres seamlessly across both vinyl and digital, keeping his sets a surprise until the last minute.
Special Request
Paul Woolford was around for the birth and rise of pirate radio as well as the golden age of rave culture in the UK. His moniker Special Request captures that mood and elevates it perfectly.
Ben UFO
One of the best selectors in the game, Ben UFO is truly a DJ's DJ. He's made a name for himself worldwide as a DJ purely without ever entering the world of production. His skills lie in his selection and his mixing and he's incomparable right now.
Stalvart John
It seems undeserved that it wasn't until this year that Stalvart John has truly cemented his place in India. He's been regularly making podcasts and releasing music for a number of years, always one-step ahead of the curve. With a strong 2017 under his belt, wrapping up the year at the festival is a great way for the artist to sign off.

Renault Desert Oasis:
Boxout SoundSystem
Comprising 5 key members of online community radio station boxout.fm, the Boxout Soundsystem will show off the station's wide-ranging musical tastes. From hip-hop to house, expect the soundsystem to welcome you in with ease.
Emote
Design mastermind and conscious selector, EMOTE aka Hriday Nagu makes his Magnetic Fields debut in the desert. Watch out.
She's Drunk
David Monnin's version of electronica is a unique approach to the dancefloor. Blending in different genres, the French producer and BMR resident's unconventional taste will be on display in the Bedouin Village.
Delhi Sultanate / BFR Soundsystem
The best way to start your Sunday afternoon will be to stretch your limbs to BFR Soundsystem (Delhi Sultanate and Begum X) and their bass-heavy vibes. There is no better way to cure a hangover.

Secret Parties:
Josey Rebelle
Anyone who caught her Boiler Room set in New Delhi knows that this London-native can throw a party. If you need convincing, know that there's a reason she's been selected for the secret after party...
Tarqeeb
Part of the Dasta collective, Tarqeeb is sure to throw down some of his signature groovy bass lines to ensure your night kicks on.

Saavn Sundowners:
Sandunes
Having been selected to play the first-ever Boiler Room in India, Sandunes went on to open for Bonobo in Manchester and was the first Indian producer to be featured on Resident Advisor's Sessions series. Do you need more reasons to see her perform a live set on a rooftop at a 17th-century palace?
Disco Puppet
With his singular take on auto-tune, Disco Puppet released an EP and an album this year to critical and commercial acclaim. As the sun sets, he'll be performing all original material live.
_RHL
Consolidate boss-man is already one of the most forward-thinking artists in the country - just look at how far the Bangalore-based label has come in less than 2 years. This is a rare, fully-live appearance from the label founder.
Your Chin
Your Chin is the solo project of Raxit Tewari, frontman of Mumbai-based indie-band Sky Rabbit. He's been building a buzz in the Indian music space since releasing his first self-titled EP in mid-2012.
RA Secret Parties
Arjun Vagale
Kicking off the Resident Advisor Secret Party will be none other than India's techno don Arjun Vagale. If you aren't familiar with his ability to mix late into the night with aplomb, look below.
Tijana T
Belgrade's foremost techno selector, Tijana T is a prominent figure in the European club circuit. Known for her energetic mixes coupled with her charismatic presence, Tijana T will bring the roof down like no one else.
Bira91 Freeflow Hip Hop Garden:
MadStarBase
The local Delhi boys have come a long way in two years - from festival attendees to playing at Bira91's FreeFlow Hip Hop Garden. With their own spin on classic Bollywood tracks, these boys sure know how to throw a bass-heavy party.
Raji Rags (Livin Proof)
After turning it up last year in incredible fashion, Raji Rags from the infamous London hip-hop crew, Livin' Proof is back.
Essarai
The 264 Cru member and versatile DJ, Essarai refuses to be pigeonholed into a genre or sound. This determination is probably why he was selected to play the first-ever Boiler Room in Dubai.
Monica Dogra
Setting off on a new path with her music, Monica Dogra's steps towards hip-hop and RnB are being cemented slowly. Playing at the Freeflow garden will only help.
DJ MoCity
The boxout.fm co-founder DJ MoCity is well known to most, with his name on the line-up for most major festivals in India as well as a support act for international tours that come through the country.
DJ Ishani
With a spin on classic hip-hop, you'll be singing and dancing along as DJ Ishani goes back in time to some classic selections alongside some new certified bangers. Her set at the Wild City BBQ is still discussed heavily for a reason.
The Peacock Club
The Peacock Club is where the strains of jazz greet you at night. Hosted by the Piano Man Jazz Club, which has been at the forefront of pushing live music, particularly jazz, in Delhi, standing still will not be an option when the Latination serve up their delicious mishmash of sounds.
The Hydra x Magnetic Fields Secret Party:
Deep Brown
A Deep Brown set is a mixed bag of sounds and emotions, evolving from deep and funky grooves, perfect for when the last few hours of the festival remain.
Dolan Bergin
Co-founder of The Hydra. Thrower of good parties. That's all you need to know.
We cannot reveal the entire lineup for the Hydra's party. Get yourself psyched, though, because it's a mouth-watering selection of names. The Hydra is also an incredible London-based party and if you've found yourself at one of their events before, you know how unforgettable they are.
+
+
+
Words: Dhruva Balram
Image credit (thumb+banner): Rebecca Conway
Tags
Join Our Mailing List