Straight From The Sahara: Tinariwen, A Nomadic, Tuareg Band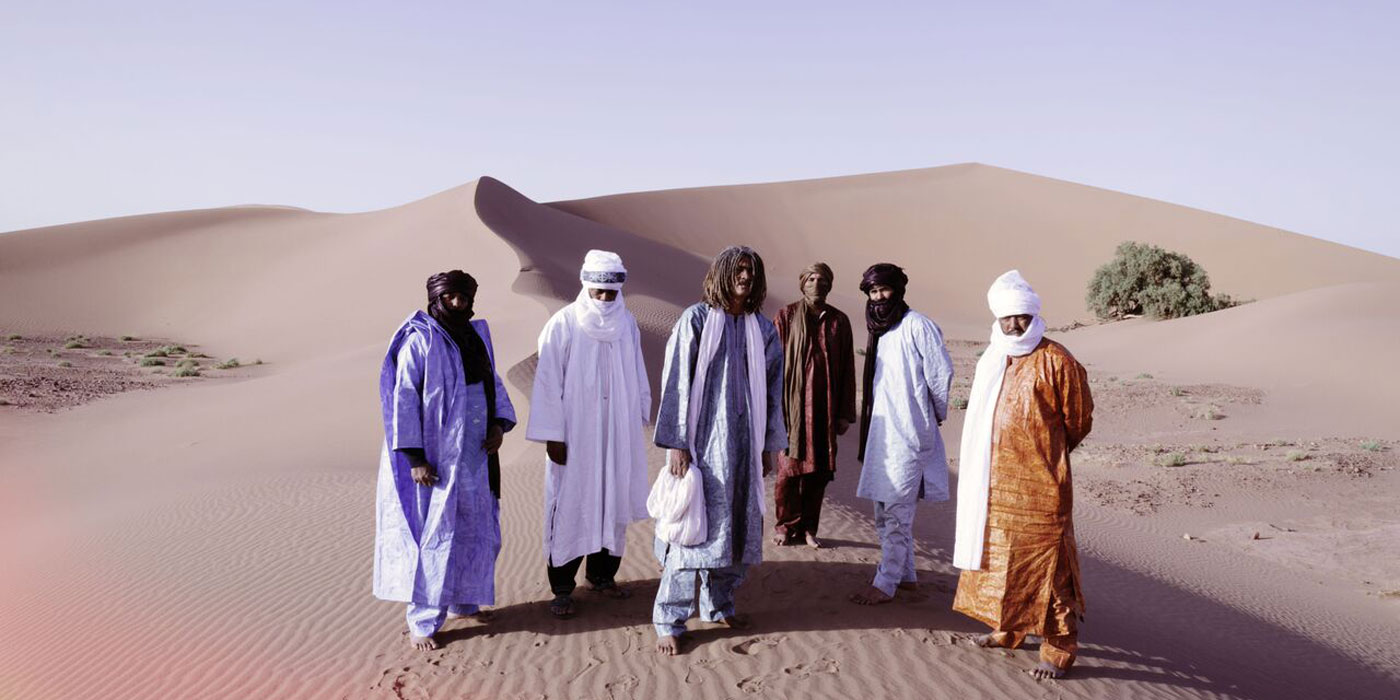 9 November 2017
"The Tuareg used to be people living free in the Sahara without borders," reflected Abdullah Ag Alhousseyni. He's the acoustic guitarist and second lead vocalist in Tinariwen, one of the world's best known African bands. They have been exporting their acclaimed brand of 'desert rock' to a worldwide audience for over a decade now. Their art and music is a reflection of what they see in their nomadic culture as well as a means to educate the world about their own struggles.
For 20 years, Tinariwen remained in obscurity. Just over a decade ago, they were thrust under the spotlight and strode onto the stage delighted and innocent. Their music, termed "desert rebel rock", expresses their homesickness and brooding; the rebellious anger they feel; the many feelings and anxieties about the suffering of their nomadic, stateless people. These messages come through in their distinctive style of Tuareg desert rock: whiplash guitar with rolling, almost stop-start structure, a loping grace taking it from one part to the next; skeletal handclaps and primal yells the fodder on which the gruff vocals thrive spouting mournful poetry where listeners can feel the very pain they sing with and through. Tinariwen's fan club includes celebrities such as Thom Yorke, Robert Plant and Carlos Santana. Having won a Grammy Award in 2012, Tinariwen's ascent onto the world stage has been a perpetual climb, but it comes with its problems.
In the far north-east of Mali are several nomad camps where the Tuareg live. All the current members of Tinariwen were born in this region between 30 to 50 years ago. But the path they've strayed as a people for centuries is no longer the same silent plains, the rolling sandy hills and waterless riverbeds of the southern Sahara.
After several countries in Africa gained independence from colonial overlords in the 50s and 60s, the nomadic Tuareg faced a new kind of issue. Having lorded over the southern Sahara for generations, roaming carefree between borders and lands, they were lost in the melee of countries creating divides between themselves. Their ancestral homelands were now split between a number of new, independent states - Mali, Niger, Algeria, Libya and Burkina Faso. The rulers of these new countries, flush with power, money and greed, had little time or sympathy for the nomadic ways of Tuareg.
"We used to be shepherds travelling with our animals. Because of the borders drawn after the decolonisation, our people suddenly were living in between several countries with no passports, no nationality. The Tuaregs just want to keep this freedom and love to have a land which is recognised by the international community," Ag Alhousseyni told us over email.
"This is not a Tuareg issue, this is how the world is working with borders," Ag Alhousseyni explained. "This is the problem of our society. This is a real catastrophe. We don't know anymore how to take care of our elders and of the people in needs for help. Our world is selfish and the business is ruling everything. In our culture, you always welcome a brother who needs a home or food. We don't understand this."
And because they're a nomadic group with no true roots anywhere, Tinariwen find travelling exhausting for a whole other reason: visas. Navigating passports, customs, immigration is a difficult task in and of itself, for a stateless people, there are several layers of difficulty added. Despite being a nomadic group, they still find travelling difficult but there's an upside to it, "We are lucky to be able to do what we do and to be the ambassadors of our culture, so we try to manage both."
In Mali, Tinariwen found that there is no economic reality for artists and musicians. Playing for small shepherd gatherings or weddings for a living, they would have day jobs. But now, having preserved and used music as the functional tool to express their feelings, they find themselves educating audiences. "Music is a way to express our feelings and because we are now known internationally, this is a way to spread the word about the problems of our people, the Tuaregs, about climate change, about the make of education and health in the north of Mali."
Tinariwen were in India on a 2-city tour thanks to Mixtape. Their next event is Disrupt Festival on 10 November. Get more details here.
Words: Dhruva Balram
Image credit (thumb + banner): Marie Planeille
Tags
Join Our Mailing List