Consolidate: An Intimate Encounter With The Bangalore-Based Collective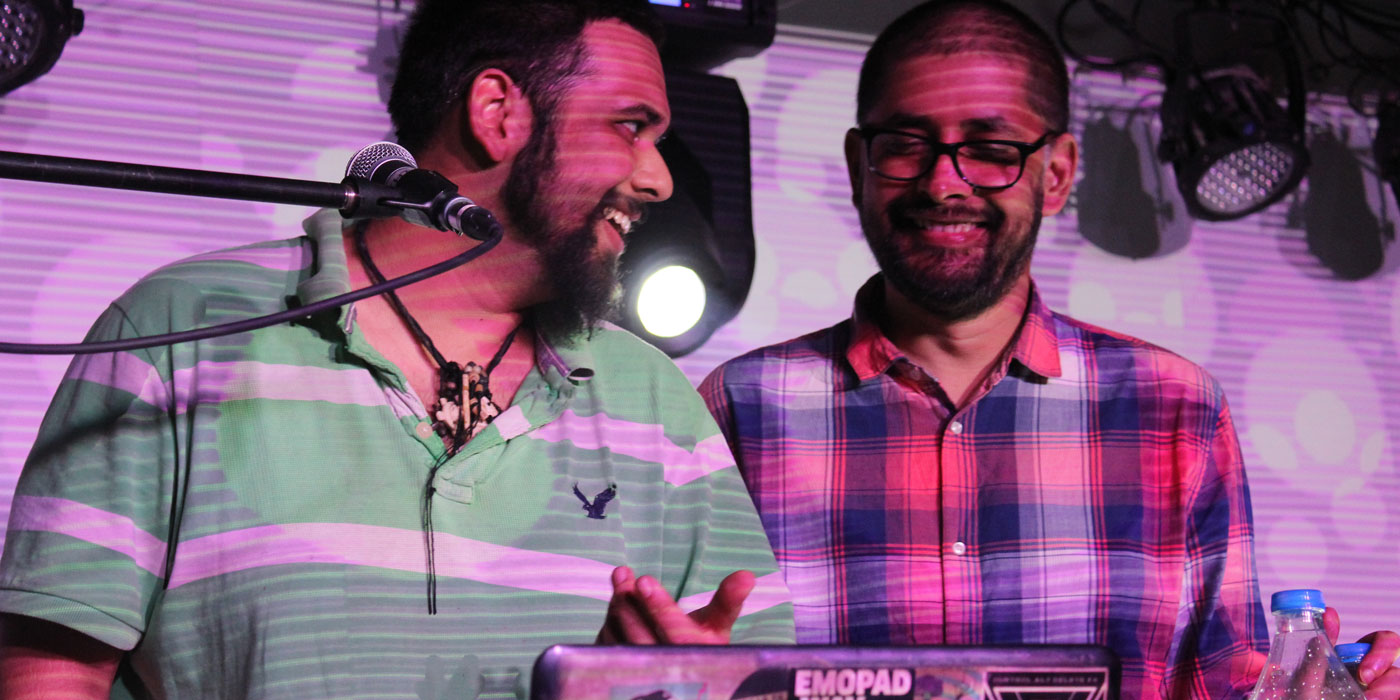 16 June 2017
Joe Panicker, one-half of Aerate Sound, isn't visibly stressed. It's only a few days until he plays with Naquash as Aerate Sound at Boiler Room in Bangalore, opening for Jlin, Sinjin Hawke and Zora Jones.
Naquash, the calmer, quieter, more mellow half of the duo, walks around taking photos while Panicker talks as quick as the beats he produces: rapid-fire. As the rest of the Consolidate crew make their way to the table, Joe's stress seems to alleviate, his mood lifts and shoulders loosen.
As they wait for Rahul Giri (_RHL), members of the crew take their seats. They start talking about inane things, ribbing on each other's foibles. Shoumik Biswas (aka Disco Puppet) walks around The Humming Tree, Consolidate's unofficial HQ, to put up flyers for their upcoming event. He talks to the servers and bartenders like they're family - in a way, they are. "Consolidate is basically order and chaos," Panicker mentions.
The posters Biswas is putting up are designed by Suren Makkar (aka BlindNight), Biswas' roommate and the one ordering beers and food off the menu. Panicker and Naquash make up the other seats on the table - two empty ones are left for Giri and Rishabh Iyer (Worms' Cottage), the youngest member of the collective. The other members either live in Delhi (Sandhya Visvanathan aka Pardafash) or Dubai (Aniruddh Menon) - they Skyped in with their thoughts the following week.
Consolidate are an 8-person-deep crew with various other members floating in and out. A captivating collective out of Bangalore, they've become synonymous with left-field, experimental electronica. Arguably the vanguard of electronica in India.
An independent collective-turned-record-label, Consolidate formed in 2013. After discovering Machli - a four-piece band whose members boasted both Aniruddh Menon and Pardafash - Giri knew that there was more music being made in Bangalore that he wanted to seek. Like most origin stories nowadays, he started a Facebook group of like-minded individuals producing electronic music. Giri also started a SoundCloud page allowing strangers to submit tracks directly to him. As time passed and more and more music arrived in his inbox, Consolidate evolved into a collective - but don't call them that.
Starting off with a collaborative single called 'Peach Tea Since July' in late 2015, Consolidate became, in their eyes, "official" with their debut compilation release, FRNDSxFMLY 2016 in January of 2016.
Since then, they've self-released multiple solo albums, EPs and mixes.
After arriving a few minutes late, Giri sat down and ordered himself a beer and a plate of fries, "I started this whole thing, a group, so we could put out shit."



He's become the ringleader, a title further stressed when an article referred to him as "The Godfather". In a half-jest, half-serious tone, the other members roundly mock him yet with an essence of respect and admiration. The camaraderie on display is unmatched.
When it comes to their material, the originality of Consolidate is singular in a country like India. Not being part of the "Bombay-Delhi" crowd, allows the label to have a certain aesthetic that is clearly their own, much like focused international labels such as Hyperdub or even Stones Throw.
"Even though it's a completely small scene [in Bangalore]," Panicker said. "It's completely independent of having any other judgement."

"[In other cities] A lot of people go to gigs to hear tracks and artists they've already heard so many times," BlindNight said. "People never go anywhere to find new music or care about new emerging Indian music."
Biswas explained further, "I don't even think the scene is about music anymore. It's about connectivity and being cool and pretty."
Giri interjects to say, "I'm envious of the metal scene, man."
Biswas laughs and agrees before continuing on about "the scene", "It's all commercialised. It's coolness for the sake of being cool. The music isn't even that great anymore."
And this common ideology - an indifference to the scene and its needs and requirements - is why their output is so bountiful.
"These guys are too fucking prolific at the moment," Giri exclaims joyously. "Everybody has two albums ready every month, so I'm kind of struggling." Though he may have his hands full, there's a certain happiness that emanates from him as he explains the depth of material each artist has - ready to be mastered or released.
Worms' Cottage even took his extra songs and created a side project, Chir Pine; Aerate Sound have another album ready to go, despite only recently releasing their debut LP 'Only For External'; Disco Puppet is sitting on an album; BlindNight has an EP ready; and so does Pardafash.
Aniruddh Menon is the only one who's taking a break this year after releasing his acclaimed debut project 'Lovesongs': "I have 200 tracks for every track that I've put out," he said. "So it takes me a while to get it all ready for release. Plus, I just need a break."
With so much work flowing between the artists and in such a large group, there's a lot of back-and-forth between them not just on each album, but each and every track. "It's nice to have everybody around to ask them what they think," BlindNight explained. He started producing electronic music less than a year ago but has slowly gained the confidence to release tracks sporadically after it's been through the factory of opinions the crew are more than willing to share with him.
"Everyone here is more of a composer and thinks like one," Panicker said. "When I hear their tracks, I hear a composer, not someone seeking a rockstar life."
The entire process of everyone's work is collaborative. If something is too long, a section of the song, tracks on an album, they discuss and dissect it. If the artist is adamant, it stays but it's always a constructive discussion. For Aniruddh Menon, this was truly the case: "Giri told me there was too much fat in the album. I initially had 13 tracks, he wanted to cut it down to 8. I told him I wanted another track as well. I then replaced one of the tracks he chose with something else."
"It's all about space and respect," Giri explained. "At the end of the day, it's about the individuality within the work as well."
"The best part is," Shoumik excitedly interrupts Giri to say, "When I listen to someone and it's completely different from what I think it is, I'm not like "Hey this is how I'd do it," it's more like "Fuck, I want to know what the fuck he's doing." "
It's clearly not an obvious, traditional collaboration - there are no credits in the album notes anywhere on the projects; no thank yous or gratuities handed out. "It's so easy to collaborate," Rishabh, the softest spoken and shyest of the bunch says. "I haven't had any of them on my work, but if I wanted to, I could just call them up and I know any one of them would be willing."
For Pardafash, it's the opposite. She occasionally requires the encouragement to make the music they know she's capable of, "If I want to release a 2-track EP, they'll tell me, "No, it has to be at least 4 tracks." It challenges me."

"We already arrived in 2016," Giri said. "We took off last year, but this is the year the focus is to put out music on a regular basis [and] make sure people listen to our shit."
Menon aims to "have an operation running in place so there's not too much stress running on anyone. Like, right now Giri is putting a lot into it - a lot more than anyone else is - I would like to get it to a place where all of us can focus on our own careers and our own gigs and through cuts of that, we can pay people to man the day to day operations."
Aniruddh went on to state how he and Pardafash have discussed wanting to learn to master so Giri doesn't have to do everything himself. There's a certain amount of guilt they feel with him taking on the operations at such an intense level.

Each artist may have their own identity and sound, but they all fall under the same umbrella at Consolidate; one that has united their experimental, roaming tastes - and encouraging it. The curation of the label, the dependency upon one another, the selflessness involved is what truly sets Consolidate apart.
"I love being part of a collective," Aniruddh wistfully says over Skype. "Here's, for lack of a better word, a focus group who you trust with your work. You value their opinions. I like making music with people. I'm not a person who likes being alone in the bedroom, sitting on beats."
You can listen to Consolidate's work on Bandcamp, SoundCloud and follow them on Facebook.
If you're in Bangalore, you can catch them live on 16 June at their monthly FMLYxFRNDS event at The Humming Tree.
Words: Dhruva Balram
Image credits: Consolidate
Tags
Join Our Mailing List