Politics and Music: A Look Into BFR Sound System's Documentary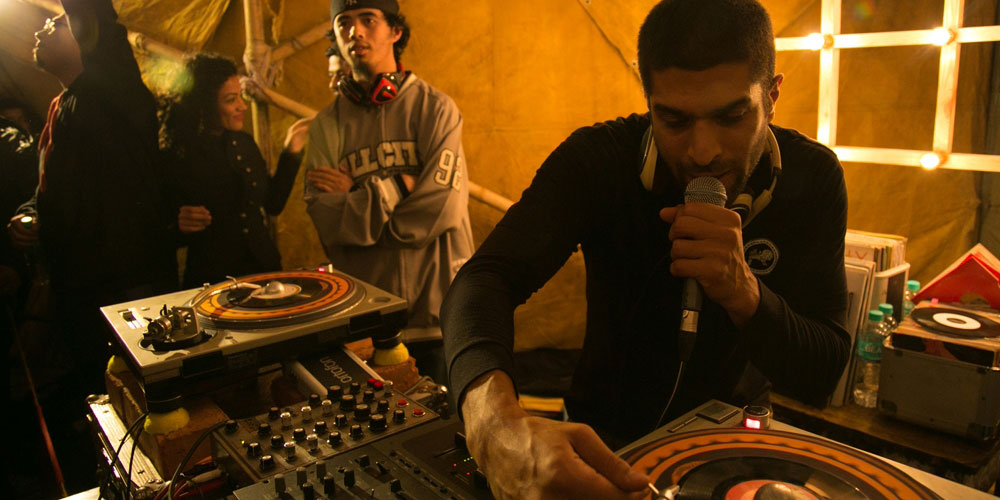 29 May 2017
Convinced of the role music can play in political activism, Taru Dalmia had long dreamed of building a sound system - representing the very origins of reggae music, a genre he has been involved in for over a decade.
That dream became reality when Begum X (aka Samara Chopra) and Delhi Sultanate (Taru Dalmia) ran a successful campaign on Indiegogo to raise funds for the Bass Foundation Roots sound system - one of only 3 existing custom-built, Jamaican-style systems in the entire country.
After raising money and investing some of their own, Taru and Samara eventually built the system and slowly shifted focus on taking the system on the road and to audiences all over India.
"Music is a quintessential human cultural activity," Taru told us. "All cultures on the planet have music and the earliest cultural artefacts that have been found are musical instruments. It's part of our DNA, so the fact that music has the ability to bring people together is a given, the question is what context we create around this and what meaning and story we manage to establish in the process."
With Taru's intention so evident, Vikram Singh, a Delhi-based filmmaker quickly became enamoured by the project - and decided to document the early days of the system. "For me, nothing else was as important as the film," he said. "It made things simpler. I turned down a lot of freelance work in order to be present for as many shows as possible."
Taru and Samara set off in early 2016 to support protests across the country. From Delhi to Pune and the North East, they were uncertain of how local protesters and activists would receive them - especially as Vikram was with them filming most of the time.
Vikram was keen to present a diverse range of viewpoints and political positions in the film as he felt the contrast was necessary in order "to understand the reasons and motivation for each side's actions."
Despite all of this and the general distrust with journalists and cameras, he found that people were in fact quite responsive. It was, however, crucial for Vikram to ensure that interviewees were "comfortable enough to express themselves freely, to make them understand that there would be no distortion or manipulation of their words."
Throughout the tour, politics and music found themselves intertwined and for Vikram, he hopes that "people see it and feel inspired to push forward with something that really means something to them." He cites Taru's vision of the sound system coming to life in Pune when he first saw people respond to it enthusiastically.
"This is exactly what Taru dreamed about, even more than what he dreamed about."
The film has come out at a time when the state of affairs in both India and around the world is on a knife's edge. Most are unsure of where to turn and how to deal with these issues; Taru chose to respond in the most positive way possible by creating a sound system, a dream that he's had forever, that provides a festive and heartwarming reaction to the crackdowns imposed by governments on free speech.
Despite the politicised intent of the tour, Taru received a great response to the sound system wherever it went, from Magnetic Fields Festival in Alsisar to school children from villages in Nongstoin, Meghalaya. Alongside Taru for most of it, Vikram found that he had few regrets on what he had filmed.
"I think we managed to be present for the moments that we felt were crucial to telling this story."
Over the course of a year, Vikram found that he had to set priorities, "If there was something system related, it had to be filmed above anything else." And this dedication and focus by both the filmmaker and subject allowed the almost 30-minute documentary to be lauded amongst its audiences.
The film was commissioned/released via Al Jazeera last week and has already knocked up thousands of views. Considering how politically active Taru is, having the documentary released on a massive global platform definitely made Taru feel vulnerable. His mother and nieces make appearances, but he said, "the overwhelmingly positive messages of support from different parts of the world, including Jamaica, make me feel very reassured."
Getting anxious halfway through the process, Taru and Samara realised that their life would be objectified. Afraid of being misrepresented, they were delighted with the final outcome.
"This film is the result of the relationship of trust that Samara and I built with Vikram over the past year. I am grateful that the film does not sensationalise anything and does not distort what we try to do and also very importantly, presents this as a work in progress."
The duo still have a lot in the woodworks for BFR and the sound system: bi-monthly sessions at Blue Tokai in Delhi start again in October; another visit to the North East takes place in November with stops in Manipur, Assam, Meghalaya, Nagaland, and a block party and African food festival in Chhattarpur. But for now, they're taking a break for the summer while Taru and Samara tour the UK with their band, The Ska Vengers, playing at festivals like Glastonbury, Wilderness and Bestival. They will also spend time recording new dubplates with both Jamaican and Indian artists for the upcoming season.
One of those tunes is the track BFR created with VIVEK called 'Zindagi Dub'. Listen to it below and watch the documentary, 'India's Reggae Resistance' via Al Jazeera at the bottom of this piece.
Image credit (main): Tarun Bharitya
Image credit (thumb): BFR Sound System

Words: Dhruva Balram
Tags
Join Our Mailing List