The Evolution Of Dub Station At NH7 Weekender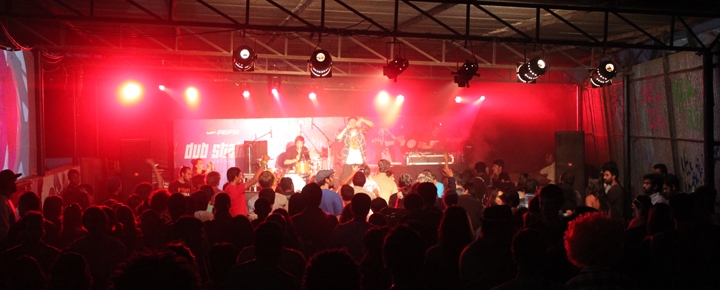 24 November 2011
The Bacardi NH7 Weekender hosted this past weekend at the Laxmi Lawns in Magarpatta City, Pune promised attendees one of the best festival experiences in India. With over 50 bands playing 7 stages and an anticipated crowd of 10,000 people per day, it was certainly going to be both an experience and a logistical nightmare. This is the story of how one of those stages came into being and how it evolved over the course of 3 days to be one of the most unique and inviting destinations for festival goers. What was a farm storage warehouse would become India's first Dub Station, obligatory aluminum roof and all.
"DJ Mocity and the Dubsquad arrive for day 1 of pre-production. Mass white washing ensued."
It was always obvious that the Pepsi Dub Station was going to be different. Conceptualised by Delhi's DJ MoCity, the vision was to offer a place where underground art, music, dance and culture could align into a heady multi-sensory experience for festival attendees. We wanted the bass to make the hair on the back of your neck stand on end while your pupils soaked in pieces from some of the best graffiti artists India and the world have to offer.
As part of the Dubsquad production team, I arrived at the venue 3 days before the festival was set to open its gates. I remember seeing the space for the first time and just being blown away by how much potential it had. We could do SO much with the space I remember thinking to myself. We however were constrained to a time limit. 3 days to turn this barren concrete and metal structure into something festival goers had never seen before. Somewhere people would walk into and say "wow".
"Artez joined us on day 3 and started busting out some capoeira in front of a ZINE piece."
Of course, we had some help. Graffiti writers Samita Chatterjee, ZINE and Roy Sanjib had flown down to Pune with us from Delhi and were greeted with 200 cans of spray paint from one of our sponsors Sabotaz. There were smiles all around, like kids in a candy store. We white washed the walls, allocated spaces and let them get the bombing underway. Over the next 2 days they were joined by writers Hanif (Delhi), Artez (Serbia), Bandits (Germany) and Zebster (Germany) to create some of the most eye popping graffiti anyone in India has ever seen.
"Artez outlining the mountain of Dub Station speakers while the band stage starts to take shape."
As the stage manager, speaking purely from an organisational standpoint, one of my favorite things about the Dub Station was the presence of two separate stages. The rear stage was to host performances by bands while the main stage would serve as a giant club space focusing on everything from reggae through to drum and bass. This main console was actually a massive hydraulic lift that was too heavy to move out of the venue so we just made it work for our needs. Luckily, it was already in the right place! Having these two stages meant we could keep the audience engaged watching one performance while we set up the next one on the alternate stage. We were therefore able to ensure that the music kept bumping and we had practically seamless transitions between performers. Over the weekend, the rear stage played host to a secret set by old-school rockers Zero as well as packed performances from iLLBiLLY HiTEC and The Ska Vengers.
"A full house for the soundclash on Sunday night. Everybody feeling irie."
When we opened our doors on the first day and people started streaming in, we knew we had created something special. The Dub Station had a vibe and people actually wanted to spend time there. The music was unlike anything else being offered at the festival and the art on the walls almost gave it the feel of a gallery space. I saw so many people walk in, look around, check out a performance and then return with a gang of their friends in tow. They wanted to share the vibe with their friends and we were more than glad to accommodate them!
For me, personally, the highlight of the entire weekend at the Dub Station was the soundclash between the Reggae Rajahs and BASSFoundation on Sunday evening. Every available space to graffiti had been used up, the visuals were projecting in full effect and the warehouse environment just fit the "clash" vibe perfectly. After a week of practically no sleep, seeing the entire place packed front to back was all the reward we needed. I nodded my head to the Rajahs and just thought to myself, "man, we did it!"
"Blessed Love (Germany), Long Fingah (Germany) and Humble The Poet (Canada) feeling the vibe after iLLBiLLY HiTEC rocked the band stage / BASSFoundation vs. Reggae Rajahs soundclash going down with Su-Real mediating the proceedings."
Having been to festivals all over the US, UK and France the Bacardi NH7 Weekender brought a real moment of clarity. I saw just how far the musical landscape in India has developed and how a festival of this scale can actually go off without a hitch, bringing people closer together and generating energy centered around a shared love of music. For a festival that is only in its second year, I tip my hat to the crew at OML for having the vision and letting us be a part of it.
Until next year NH7 - "Cheers!"
+
Words & Photo Credit: Tej Brar (stage manager and all round legend at Pepsi Dub Station, NH7 Weekender 2011)

Tags
Join Our Mailing List