New Delhi Venue Review: Shroom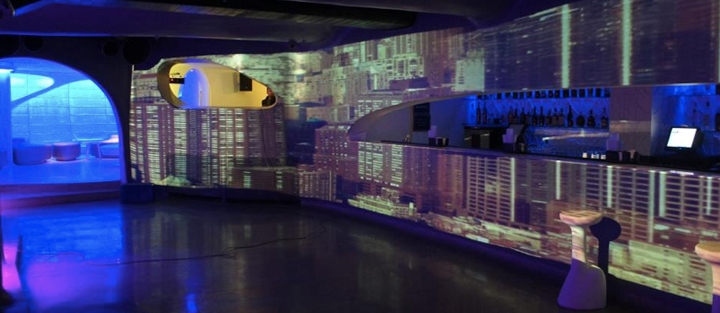 11 November 2011
Stepping out of the elevator I felt like I could be in my own sci-fi movie, transported to a future inspired by Kubric's Space Odyssey and hipster London venue Sketch. There is nothing else like this. Careful attention has been paid to every aspect of the venue, from the electric doors and crazy curves of the interior furnishing to the clever use of lighting and visual effects. The state of the art sound is also installed by internationally renowned Most Technical, the team behind the system at clubs such as London's Fabric and Matter as well as Delhi's very own Elevate (now re-named) and Kitty Su of many.
Smoke House Rooms, otherwise known as Shroom is a venue that truly transports you to another place and time. The DJ booth is absorbed by the ceiling and floor while being the backdrop for some awesome light and visual effects. It almost feels like you are inside a giant psychedelic mushroom (hence the name) assisted by the low ceilings, strong curves and acid lighting.
The interesting thing about this venue is that it is a space that can really transform and adapt itself. The clever use of lighting and effects means that it can have an identity that is constantly evolving. What I also really like about the space is that the club and dining are completely separate. There is no need to dance around people that are eating food!
Although not the biggest fan of the cocktails and the novelty of the alcoholic jelly platter quickly wore thin, I have it on authority from some of the best taste buds in town that the food is sensational.
Aside from the futuristic interior design, great sound and exquisite fine dining options, the reason Shroom is causing a stir of excitement is because of the people behind it. Many truly promising venues have opened up in Delhi but are let down by unimaginative and disappointing programming. With Gaurav Raina from Midival Pundtiz heading up the programming and artists like B.L.O.T having a hand in the visual set up we are optimistic and eagerly anticipate what is in store.
So far for certain we know that Basement Jaxx will be playing a very special DJ set at the brand new venue on Nov 16th. As well as supporting these British dance dons, the boys from B.L.O.T are also holding down a residency with fellow producer Nucleya for a midweek AV mash-up session once as month.
**To keep up to date with events at Shroom alongside other upcoming gigs and performances in India, check out our events page here**
Tags
Join Our Mailing List