Interview: B.R.E.E.D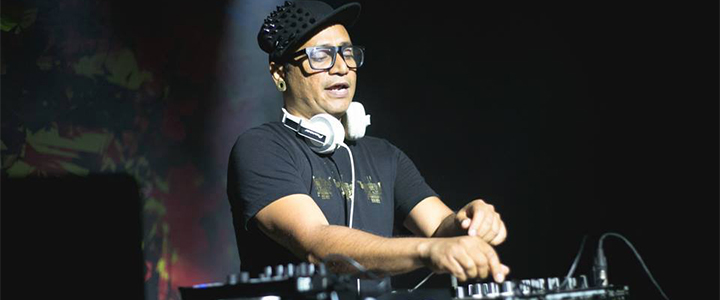 If you've kept even a slight interest in the Indian music scene over the last 15 years, there's no doubt you would have heard of B.R.E.E.D (a.k.a DJ Nasha).
Ahead of his Wild City Mix and following the release of his debut EP Incu-Bass released yesterday exclusively via Beatport, we caught up with this exciting producer to talk about his roots and continually evolving sounds...
For those who don't know, tell us a bit about yourself and both aliases B.R.E.E.D & Nasha.
Basically, I began my career with the name DJ Nasha, developing in the first clubs of Mumbai and Goa. After winning the World DMC Indian heats I made my way to the World DMC Championships in New York and London in 1999 and 2000 and this in addition to the success of "Flute Fantasy" in 2004 placed DJ Nasha in the spotlight. Through these defining points, I was able to land gigs, record and collaborate with some of the biggest names in music in India like Sivamani, Kailash Kher, Ustad Sultan Khan, Ranjit Barot and many more.
My success as DJ Nasha was essential for my career, but I eventually started feeling overly-drenched in the commercial market, which I wanted to look beyond and outside of.
My "breaking away" first took the forms of trance, breakbeat, tribal house, and techno. But as the EDM scene abroad expanded and changed, so did I and I was drawn more and more to these creative dance music scenes developing abroad.
After much contemplation I decided to keep the DJ Nasha identity strictly for the commercial Indian market, (i.e. Bollywood, Indian commercial music, etc.) and create an alternate identity which I could use for my interests in electronic and now, bass heavy music.
The name B.R.E.E.D was solidified in 2010 with a massive launch of this identity as my first release under this name hit the Top Ten spot on the Beatport DubStep Charts. Since then I've been working very hard on my B.R.E.E.D production and there's a huge line up of original tracks and remixes going to be released from August 2011 which I hope will break into the bass heavy future music scene abroad.
As for DJ Nasha, I continue to get gigs demanding this persona in India, which is a sign that my place as DJ Nasha in India will never die.
You've obviously had quite an epic year. From beatport chart success to playing at the commonwealth games through to the more recent Red Bull Thre3Style - You're obviously keeping busy...
The Common Wealth Games performance last year was a huge experience for DJ Nasha. After this, I was also lucky enough to spin alongside and spend time with the infamous UK Dubstep DJ and producer, Caspa in Mumbai. B.R.E.E.D also gained recognition in India as I participated in two Smirnoff Nightlife Exchange tours, which toured all over India, and the 2010 Sunburn Music Festival which was at its best so far. I really enjoyed playing the main stage alongside DJ Albin Meyers from Sweden.
All of the gigs and tours I have performed in the last year have been great in stabilising the differentiation between DJ Nasha and B.R.E.E.D.
My most recent events and tours have been successful in maintaining my presence as DJ Nasha in the commercial and Bollywood sector, while secluding B.R.E.E.D into its own creative space to develop the alternative electronic music scene in India, as well as promoting the name in the international community, which, is by the way, a very difficult task. Overall, the past two years have been nothing but positive. By expanding my network and meeting people from various musical backgrounds, I have used this collective expertise for my own professional knowledge, growth and artistic evolution and to accelerate and improve my music production. Despite this, there is still so much work to be done...
What are you currently most focused on?
I am currently focusing on B.R.E.E.D and am working very hard towards building the name and brand and getting established within the international community where the scene is really kicking off. I have also realised the MOST essential importance of idealising my production is to consistently get my tracks on international dubstep charts having them continuously stream and maintain a place in this market.
This is the most important task for B.R.E.E.D right now; to build recognition amongst the most successful artists in this genre so that collaborations, hook ups with labels and more and more festival shows become possible. This is my main motivation and ambition right now.
India's music scene is picking up at quite a fast pace, with people moving here from countries the world over to take part. How do you feel it's going?
The music scene here is picking up with people throughout India tapping into global music, expanding their interests and knowledge - there has been some change but the music industry is still focused on commercial and mainstream influences, mostly Bollywood, commercial pop and hip-hop.
Venues, brands and corporate sponsors are based around these genres and scenes, as the majority of India still wants to party to what they are accustomed to and this is where the most money is made.
Creative artists and musicians stemming away from mainstream music in India have a very hard time in holding events and tours as a result of the lack of venues, financial resources and support. In this regard, India has a long way to go in terms of music expansion, musical knowledge and diverse music appreciation as well as with the ability to promote and support these uncommon streams.
Many people feel that dubstep for example has proven its name in India, which can be true to a certain extent as interested Indian listeners have shown great enthusiasm towards the genre - however, if the same Indian dubstep artists are playing at the same "dubstep friendly" venues repeatedly both the artists and the audiences are going to get bored. Expansion, in terms of venues and events as well as attitudes, is a current must' in the music scene in India.
... Artists from abroad may be moving to India to see if they can get a piece of the potential growth of music in India but many have already gone back as after a few months of trying and realising the difficulties and limitations in Indian society regarding culture and politics, they were left with nothing to build upon. The people from around the world that are tapping into the music scene in India which will benefit the most are the production companies that are capitalising on bringing the commercial Indian market to the commercial international market.
Likewise, many Indian artists who are frustrated with the scene in India, are looking to move out of India, and engage in a music community that supports upcoming artists and creative avenues.
'Dubstep' is what all the kids seems to be raving on about these days. As "India's ambassador of dubstep" - says; MISTAJAM (BBC RADIO 1XTRA) Its popularity only seems to grow day by day. What's going on?
Dubsteps popularity in India has really grown but the reach is still not far enough and the numbers of people, both youth and adults, who are willing to support diverse genres are simply not large enough to make the scene become more prominent. If the people interested in dubstep and other related genres in India continue to grow and extend then eventually brands, event companies, and corporate sponsors will invest their time and finances into promoting events and artists in this particular music scene, which will obviously advance its presence within India.
Any big future plans we should know about?
I currently have six B.R.E.E.D releases coming out over the next few months. This includes a remix of "Khandit Nayaka" on Nucleya's original EP, four original tracks on my own EP, "Bang Bang", and a remix of US-based MC, Juakali's "Crossing." These releases will span the next three months and there'll be several tours promoting them within India.
Tell us about the mix that you've got planned for us..
This mix includes a mix of different genre-defying bass-heavy tracks with a variety of rhythmic styles, and focuses on a wide variety of artists that I particularly love to support and promote.
The Same 3 Questions:
3 most inspirational artists:
Bob Marley, Pink Floyd, Michael Jackson.
3 favourite albums of all time:
Pink Floyd - Dark Side Of The Moon
Moby - 18
Burial - Burial
Favourite 3 artists of the moment?
FeedMe, Skrillex, DeadMau5.
** Watch out for the forthcoming B.R.E.E.D Wild City mix - Live next week! **
To get you started here's the link to a free track giveaway from B.R.E.E.D. You can also purchase his brand new Incu-Bass EP over at Beatport here.
To find out more about B.R.E.E.D visit his website here
Other articles
Tags
Join Our Mailing List