From Sofia Ashraf & Ginni Mahi To Dee MC & Sheetal Sathe: How Women Explore Their Voice In Protest & Activist Music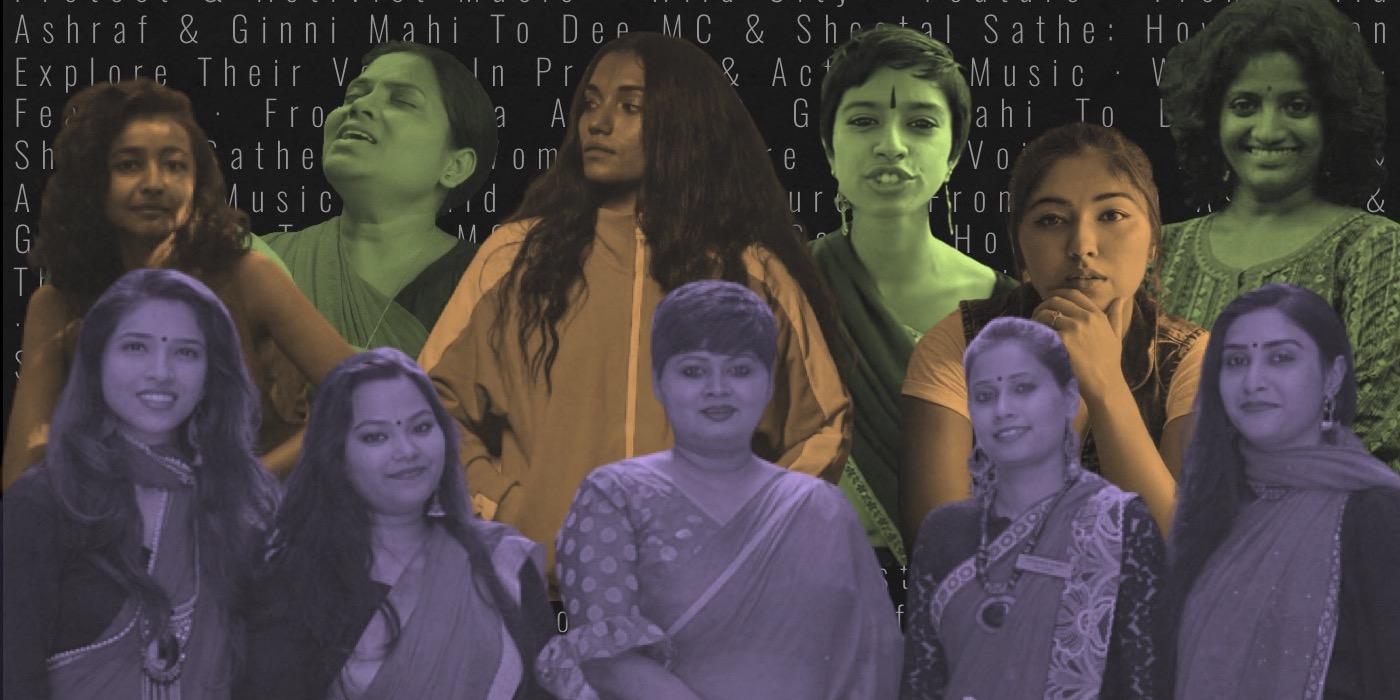 2 March 2022
Among many things, protest music has been heralded for the radical possibilities it presents for social transformation. However, with calls for inclusivity now rightfully entering every domain and with inherently intersectional concerns, female artists present several nuances to the themes they explore within this space.
From the anti-caste movement to gender justice and calling attention to climate action, here's a snapshot of women who illustrate the exciting realm of possibilities for activism through music:
Sofia Ashraf
Eco-feminism first gained prominence with the music that came out of India's landmark environmental movements like the Narmada Bachao Andolan. There are plenty of artists representing new-age forms of the philosophy. Case in point, Chennai's Sofia Ashraf.
The hip-hop artist and activist achieved viral fame when she performed the 2015 breakout hit, 'Kodaikanal Won't', squaring up against corporate giant Unilever with activists calling to compensate its former employees.
This wasn't her first protest rap outing though. In 2008, she performed 'Don't Work for DOW', encouraging college students to reject campus placements with the conglomerate responsible for the Bhopal Gas Tragedy.
In 2016, she reimagined the song's dramatised rap battle format, calling on the United States to hold Dow Chemicals responsible for its malpractices.
She also teamed up with T.M. Krishna for the Carnatic-rap track 'Kodaikanal Still Won't' in 2018, this time against the company's abysmal mercury contamination clean-up drive which would still leave toxic levels of the chemical in Kodaikanal's soil.
"Rap, in its essence, is rooted in revolution and strife. Rap can create waves of social change, if we only chose to ride it", she wrote for Firstpost.
Ditty
Like Sofia, singer-songwriter Aditi Veena aka Ditty also spotlighted the work of activist groups, like Bundelkhand's female conservation campaigners aka Jal Sahelis. The singer-songwriter extended these efforts to her cross-border trio Faraway Friends' multimedia album 'Rain Is Coming'. Released via music for social good label Viva Con Agua Music, the collection paired the urgency of India's water crisis with a celebration of what had been achieved thus far, weaving in ambient field recordings and oral narratives taken from community elders and water activists from across North India.
In fact, the trio met in Uttar Pradesh while working on a project for the Viva Con Agua non-profit, working to provide clean drinking water access to India and Africa.
With her intimate folk-pop catalogue inspired by nature and mission to live/gig responsibly, she approaches environmentalism not as an activist, but as a practitioner who sees it as a way of life.
In addition to what she calls 'earth songs', she translated her deep concern for the environment into tangible measures like a carbon-neutral tour in 2019, setting a first of its kind precedent for the music community.
On her breakout debut album, 'Poetry Ceylon' developed the songwriting style that would resonate deeply with fellow city-dwelling folk. By making one's connection with nature the focus of her lyrics, she struck a deep emotional chord, making issues like habitat loss and climate change feel as personal to listeners as they did to her.
"I didn't simply want to make songs that said: 'Don't cut trees.' I really wanted people to feel because I know a lot of people feel the same emotion as me. A lot of us are so overwhelmed. We don't even know the extent of corruption that exists and the consequences of it", she explained in an interview with The Vegan Review.
Dee MC
Mumbai-bred rapper Dee MC is proof that feminism and rap can be paired to inspiring effect. One of India's first female hip-hop artists to break through Bollywood and go global, Deepa Unnikrishnan aka Dee MC's nearly decade-long career is testament enough to her fiery spirit.
Deepa proved the personal was very much political for her with the 2019 debut 'DEE=MC2'. From tackling everyday microaggressions like colourism in songs like 'Rang', she also took shots at the larger culture of silencing that punishes female ambition in 'Vadhaiyaan'. She has paved the way for a newer crop of feminist female rappers like Krantinaari and Pratika.
These outings detailing her fight for female empowerment issues would set the stage for her 2020 single 'Jumla'. Calling a spade a spade, she threw jabs at the 'false prophets' peddling false campaign promises, moral policing, the shrinking space for dissent and more.
Unnikrishnan's raps on social issues like gender discrimination and menstrual taboos have also earned the attention of the corporate and development sector. This led to collaborations on 'Rise Up' for Mahindra's Nanhi Kali NGO and 'No More Limits' for Menstrual Hygiene Day 2018.
Meri Zindagi
Another group that scored invites to perform for UNICEF, BBC Media Action, and Mahila Samakhya is Meri Zindagi from Uttar Pradesh, a six-piece that identifies as India's first female rock band. Founder and radio jockey Jaya Tiwari always set out to raise awareness for gender justice and other social issues affecting women and girls.
"As a child, I heard that music bands were created as a revolutionary medium. We started writing songs about female foeticide, child marriage, girl child education, women's health and gradually ventured into other social subjects," Tiwari told the Indian Express.
Donning pink sarees with instruments in tow, the Lucknow-based band is instantly recognizable on stage. From village gatherings to performing at the Kumbh Mela in 2018, they have paved the way for normalising women as musicians. The group's intersectional concerns are reflected in their diverse line-up, with members as young as 17-year old drummer Anamika.
It has been a tough road–they started with jamming at public parks with kitchen utensils for instruments. But the group would eventually find viral success with 'Mai Ree', a moving track on child marriage penned from the perspective of a young girl.
Ten years, over 70 tracks and jingles, and nearly 200 live performances later, the band has tackled difficult topics like domestic violence, slut shaming and more. Their activism continues beyond music with online community radio station BBD 90.8 FM and proceeds donated to orphanages and non-profits around Uttar Pradesh.
Bindhumalini
From Lucknow, we head to Chennai, the birthplace of Bindhumalini Narayanaswamy. The vocalist-composer has been a force for inclusivity and empowerment as an independent musician and playback singer. Her work illustrates the possibilities for incorporating the spirit of activism—small acts to bring about social change—in one's everyday praxis.
It begins right from her first independent album 'Suno Bhai', made with frequent collaborator Vedanth Bharadwaj, relayed Sant Kabir's message of oneness and anti-discrimination through Carnatic-guitar fusion.
Bindhumalini's choice of silver-screen projects also contains complex socially-charged themes that push audiences to introspect. For instance, she scored the award-winning 2018 Kannada flick Nathicharami–a first of its kind release on female desire told through the perspective of a widow exploring her sexuality.
The performer has also earned acclaim through her sensorial 'Thresholds' musical storytelling act with fellow singer-composer MD Pallavi. It is a multilingual, intersectional narrative that traces the stories of iconic female figures from India and the world.
Through the project, she has revived the stories of female poets and activists now forgotten by history. "There is also a mention of Bangalore's Nagarathnamma and her activism, and Muddupalani's Radhika Santwanam, and how it became the first book to be banned in Independent India due to its so-called obscene content," she explained, while talking to Times of India.
Bindhumalini has also continuously aligned herself to political movements on the ground. In 2019, she performed the Kannada version of Faiz's 'Hum Dekhenge' at Bangalore's anti-CAA demonstrations.
Last year, the trilingual Carnatic-folk singer released the Tamil-Punjabi song 'Nee Anjathey (Fear Not), Hai Saada Haq (It's Our Right)'. Part of the #Madrasis4Punjabis initiative, the tune extended sympathy and support to protesting farmers camping out at the capital's borders.
Sheetal Sathe
Like Bindhumalini's independent releases, Sheetal Sathe's music is also steeped in the folk tradition built around storytelling and poetry. The Dalit rights activist and singer-poet has been a prominent figure in India's activist circles, since her involvement as the lead singer of the now-defunct Kabir Kala Manch (KKM) and subsequent appearance in Anand Patwardhan's seminal 2012 documentary 'Jai Bhim Comrade'.
Kabir Kala Manch was a performance collective formed by students after the 1992 Gujarat Riots. Together, they travelled around the state, from bastis to campuses, tackling social justice topics around causes like farmer suicides, corruption, economic exploitation and Dalit rights.
Despite facing a three-month jail stint following an arbitrary crackdown on KKM members for alleged Naxal links in 2013, Sathe continues to use music as a tool for social justice. Her performances have been disrupted by right-wing groups, but she has remained firm in her resolve to educate the masses and keep the spirit of protest alive with her music.
"I am trained as a singer and this is the only way I can register my protest. I tell everyone that we live in an unequal world. I dream of bringing about a cultural revolution through my music. If they don't allow me to sing on the campuses, I will sing on the roads, anywhere", she said while speaking to The Hindu.
She now heads the Sheetal Sathe Troupe, an independent group of musicians who perform around Mumbai. More recently, she performed with fellow Pune outfit Swadesi during the group's tour in Maharashtra.
She also held a live performance in association with Goethe-Insitut's M.A.P // A.M.P initiative celebrating the confluence of activism and music.
Ginni Mahi
While Sheetal's work is the deeply moving kind fit for introspection, Ginni Mahi's is emblematic of the other side–a brazen, saturated and bombastic declaration of Dalit assertion.
At the ripe old age of 17, Punjab's Ginni Mahi became a chamar pop sensation, disrupting the male-dominated genre with her spirited tracks. The now 23-year-old was heralded as the genre's 'new voice' with breakout hits like 'Fan Baba Sahib Di' and 'Danger Chamar'. Becoming the face of the movement around the world in itself was a testament to the kind of novelty Mahi brought to this musical tradition.
As with Sheetal, her most popular work is also rooted in devotional and folk music about Dalit identity–anchored by the works of BR Ambedkar as well as Sant Ravidas.
Despite touching on aspects of social issues that may not always be discussed by the mainstream, some of these women have tasted mainstream success, while others have yet to cross over into that realm.
But one thing's for sure: Each is tirelessly working to further their idea of an inclusive, equal, and just future.
.
.
Words by Nishtha Jaiswal
Tags
Join Our Mailing List