Voice Of The People: Protest Music In India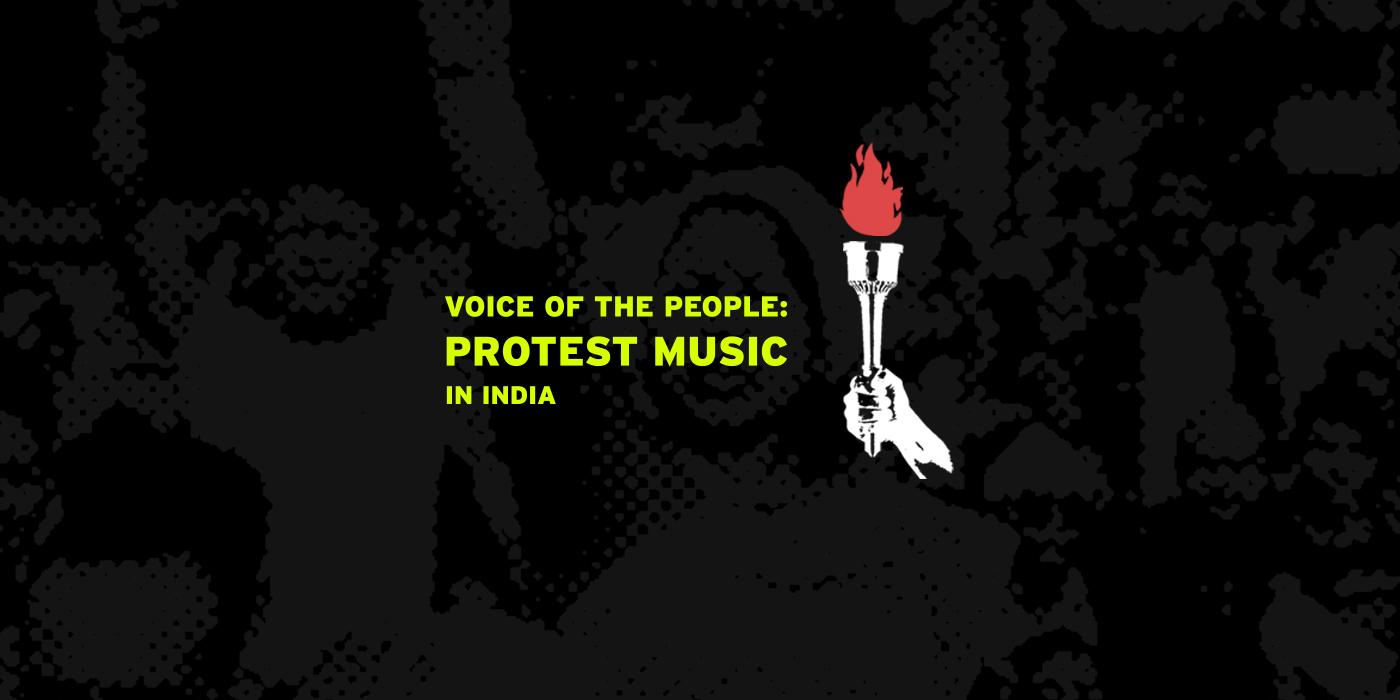 10 January 2020
Last night at Shaheen Bagh, a little after midnight, hundreds of people burst into cheer as the verses of Faiz Ahmed Faiz's 'Hum Dekhenge' soared into the night sky. I couldn't help but smile, just like the hundreds of protestors around me, as I watched the gentleman on stage pour his entire soul into bringing the verses to life. "Jab Zulm-O-Sitam Ke Koh-e-Garan, Rooyi Ki Tarah Ud Jayenge, Hum Dekhenge (When the mountains of oppression and cruelty, will float away like carded wool, we will see)," sang the vocalist, and I felt tears well up in my eyes.
Last night, at Shaheen Bagh, in spite of the biting cold in New Delhi in the middle of the night, enveloped in a blanket of fog, I experienced warmth like I never have before. It wasn't because of the sheer number of people present in my vicinity, nor from the warm stoves of the "Secular Chai" booth serving tea to the protestors, but from the chants and songs of protest, of solidarity, of unity, of freedom, and humanity, that echoed through the night; the warmth of the multi-coloured scarves and shawls of the resilient, brave women who'd been peacefully sitting at Shaheen Bagh in protest for 25 days; the warmth of the kindness and respectfulness of the people – from all strata and spheres of society – present around me; the warmth of the spirit of solidarity, and the electric atmosphere around me.
Last night, at Shaheen Bagh, I could feel, for the first time ever in a crowded space, anxiety draining out of my body, leaving space only for exhilaration, hope, and overwhelming respect for the people who had collected there to (peacefully) fight to preserve the secular fabric of India.
However, it was also the same moment that I realised that last night at Shaheen Bagh was a rare moment. A large portion of protests carried out over the past month across India against the Citizenship Amendment Act (CAA) and proposed nationwide National Register of Citizens (NRC) have unfortunately not been able to offer such a safe space to those protesting. The pivotal moment was on December 15, when demonstrations against CAA and NRC at Jamia Millia Islamia University and Aligarh Muslim University turned violent. In both places, police stormed the university campus, using batons, tear gas and even bullets to disperse the crowds. They brutally cracked down on the students, even entering libraries, resulting in several students being severely injured. Since then, at least 31 people have died in nationwide protests against the amended citizenship law and NRC, while hundreds have been injured. And according to The Hindu, nearly 50-percent of the protests recorded at least one violent incident or police action such as detention, lathi charge or both.
In a democracy, such crackdowns against dissenting or protesting are unacceptable and outrageous. And in India, whose independent existence was ushered in on the back of massive nationwide protests, it's simply unfathomable. India has a history replete with momentous protests (the most iconic global figure to emerge from India is, after all, Mahatma Gandhi, the "father of the nation" and India's undisputed king of protests). And for the first time in years, history is repeating itself – despite disruption, police interventions and violence, lakhs of Indians have come out on the streets all across India, not just in opposition of CAA and NRC, but to protest against rising fascism in the country driven by the ruling party's right-wing politics and Hindutva agenda, and to show solidarity with the students at JMI, AMU, and more recently, Delhi's Jawaharlal Nehru University where students and staff fell victim to a violent attack carried out by masked goons on January 5.
Simply put, the current situation is dire and the status quo betrays signs of a doomed future for the country. However, the protests over the past few days have been filled with unbearable hope: watching the people of the country come together in such large numbers, seeing people speak up who had until now held their silence, watching people leaving their comfort and abandoning their fears to show up at protests, finding laughter in the darkness, and singing songs among the violence.
Historically, for centuries, music has played a crucial role in protests. From the refrains of 'Yankee Doodle' to Duke Ellington's rhythms, from the verses of Joan Baez and the poetry of Bob Dylan, to the nazms of Faiz and the lyrical ballads of Pash; from blues to jazz to punk and hip-hop – music has provided an outlet for artists and the populace to express dissent, highlight injustices faced by marginalised groups, to take issue with those in power, and to help galvanise movements. Protest music helps give a voice to the voiceless, and in some ways supersedes other forms of protest by breaking the barriers of language and bringing people together – their voices repeating the refrain in unity, their hearts beating in tune with the rhythms.
And music has been ringing loud and clear over the past month in India.
Ever since the announcement of CAA and the proposed nationwide NRC, and since the crackdown in JMI, AMU and JNU, several musicians from all over the country have joined the cause with their own sonic protest. Instead of placards and candles, these protestors use beats and melodies; instead of chanting slogans and delivering rousing speeches, they stir souls with their tunes and spit fire with their verses. And, we were happy to find that, when we reached out some of the musicians to ask for further information about their tracks and to find out what drove them to writing and releasing them, almost all of them asked for more time to respond – they were out protesting.
There has been a whole lot of protest music released in India since December 15 – we hear there was even a protest cypher in Bangalore – however, we've highlighted some of our favourite tunes of rebellion below, along with inputs from the artists, to help you gain context.
'Scalp Dem' By Delhi Sultanate x Seedhe Maut (Prod. By Jawan)
With the recent upsurge of hip-hop in the country, and the genre's roots in protest, it's only natural that majority of the protest music released lies within the realms of hip-hop. On 'Scalp Dem', Delhi Sultanate and Seedhe Maut highlight the atrocities committed against Dalits and Muslims in the name of religion, the hate-mongering against and persecution of minorities and those who oppose the status quo, and the oppressive, totalitarian rule by the pro-Hindu, right-wing government.
"What we are facing is a politics of distraction and a politics of just relentless incidents. Every second day you hear of an incident where someone got shot, someone got arrested, and you know, just over the weekend goons went over to the university and attacked people, Often, we don't even have the time to process and mobilise around a single incident because you're just hit with the next thing," says Taru Dalmia aka Delhi Sultanate. "There are larger political events – you know, demonetisation, followed by GST, followed by the abrogation of Article 370 in Kashmir, followed by CAA – and in between there are countless incidents of daily violence. At the same time, pro-government mobs and police given a free hand to use excessive violence. This government is a master at constantly keeping us on our toes and constantly keeping us at trying to put out fires. And all of this has contributed to a feeling of powerlessness and an urge to do something."
"We're hoping to achieve and to demonstrate a little bit of fearlessness, because we've all become so afraid and that is part of how this regime functions," he continues. "These daily incidents generate fear and make people second-guess themselves and we start self-censoring. In short, we hope that people demonstrate fearlessness. We hope that this track inspires more people for small acts of resistance. Of course, there has to be mass action, but it's the small acts of resistance that energise each other and give us hope and make another person do something else... There is this kind of cheeky energy in speaking truth to power and trying to find ways to fight back. So, you know, it's about creating a network of solidarity, making all of us realise that we're not alone."
'Public Property' By Hoirong
Straying from the hip-hop-painted colours of majority of protest music emerging from India, Hoirong's track 'Public Property' channels abrasive punk and metal to lash out against the status quo, calling out the government's "deception" and religious biases as they serve up a public manifesto highlighting the sovereign, socialist, secular and democratic nature of the Constitution of India.
"If anything, this is an inspiration to reject," Hoirong's Kamal Singh tells us over mail. The band's intention with the track was to open people's eyes to what really is happening in the country and to encourage them to continue the fight. "This is no longer about anyone's (left, right, front or back) opinion. Too much has happened in the last few weeks for anymore conversations and debate or disagreement. This is now about what you believe in and stand for as a human being. I want to rededicate this song to everyone who has been beaten up, detained and imprisoned... to everyone protesting, in every corner of this country ... and mostly to everyone who lost their lives for being who they are or for what they believed in. Be safe."
You can also watch their music video here.
'Tukde Tukde Gang?' By Madara (Prod. By Seven & Seven)
Madara holds no punches as he redefines the "tukde tukde gang" (aka what the government and biased media call anyone who opposes the government or the status quo) on this track, his voice amplified by Seven & Seven's irresistibly catchy bass-heavy production. According to him, it's not the rebelling or protesting people, but the "sold-out journalists", "those silent on rape", the people "sowing divisions within the country" who are the real tukde tukde gang. He raps: "Yea, what will these bearers of fake degrees teach you / They'll get you to build a temple and have you fry pakoras (for a living) / This government is slimy, it's agenda incendiary / This is not a lotus in the filth dude, the lotus itself is the filth."
"I have been part of protests in the past, too, that happened around Nirbhaya, Anna Hazare etc and was always keen to understand and read about the politics in our country along with the social evils that prevail around us. After speaking to so many people, family and friends and research I found out that education is root cause of everything. I feel that the present government is not doing anything about it and is instead distracting and dividing us on topics that shouldn't even be their concern. It feels like an arbitrary rule," Madara tells us. "Being a hip-hop artist, I felt this was the right time for me to use my art to educate people and make them aware or conscious and be their voice while we are trying to fight that evil thought."
'Fight. React. Be a part!' By The Down Troddence Ft. Kel
"Yet another day / Yet another war / Kick another fascist to the wall," goes the rousing opening of The Down Troddence's power-packed metal anthem 'Fight. React. Be a part!', released in response to NRC and CAA. The harshness of the heavy metal and growling on the track is complemented perfectly by lyrics that aren't a word short of scathing. What's more, instead of simply focusing on critiquing the government, the track also calls out those that are apolitical or silent, even in the face of everything that's happening. As somebody wrote in the comments, "When injustice becomes law.. resistance becomes duty."
"The inner feeling to express our dissent has been an accumulated one since this government has come into power and repeatedly made decisions which affect the common folks ultimately. But what set us off was the incident in Jamia. After that we couldn't stay silent anymore... we decided to write a song as our mark of protest," says band member Nezer Ahemed. "We hope it spurs some kind of action and light some fire inside anyone who can connect with what the song is trying to say. We hope everyone who still believes in this democracy, sets out for the streets and protests this grotesque flexing of muscles from the government."
Speaking on CAA and NRC, he adds: "More than being anti-Muslim, this act is anti-poor. It's really alarming that instead of the actual 'chronology' that we should be worried about right now – which is climate change – we are coerced to protest again something that is fundamentally taking us back a century or so. We need to reject this sort of fascist authoritarian system and move on with bigger issues. People should change, government will automatically sanitise itself."
'ANDOLAN' By naqaab47 x Shoals
Ripe with street colloquialism and samples from Bollywood, 'ANDOLAN' is an anthemic commentary connecting India's rich history and the sentiments behind the sacrifices of the nation's formative revolutionaries to its present-day predicaments. naqaab47's straight shooting rap over Shoals' electronic collage sets out to not just condemn the actions of the current regime but rouse, encourage and inspire the people standing up to protect our constitutional values.
"We have never explicitly dealt with political issues in our work before. A song like 'ANDOLAN' has only become possible because the entire country has raised its voice. We too feel like we can't be silent anymore," says Shoals' Sidharth Gupta. "On 19th December, when all of India was protesting I too was going to march from Mandi house to the Parliament in Delhi. We had heard that they were detaining people at Lal Quilla. There were rumours that section 144 had been imposed there. At Mandi house there were only about a 100 people when I came, all drinking tea together. We had reached an hour earlier in anticipation. The police arbitrarily started detaining people there as well. My friend and I were captured and pushed around as the media surrounded us. We escaped detention but a lot of our friends didn't. This prompted me to call Adi [naqaab47] because I believed that he would be able to capture this emotion of betrayal and hope."
"As a person who has always been in love with history and the idea of India itself, the turn of events that took place during and after the attack on the Jamia campus were completely shocking and devastating for me. There's no turning back from what has happened," adds naqaab47. "India always had an anarchic bent towards law and order but the ongoing current of lawlessness and state sponsored violence is most definitely unprecedented. At the same time, the spirit with which ordinary citizens from all paths of life have come to the streets to get their voices heard gives me hope and inspiration that the story is not yet over… Deeply disgusted by the atmosphere of misinformation and distortion, my goal was to use the words and concepts being thrown around by the mainstream, and subvert them to present the alternative narrative."
'The Police' By Rahul Rajkhowa
Rahul Rajkhowa's 'The Police' may be the most personal track on this list thus far. Hailing from Assam, the young rapper's family and friends have first-hand experienced the violence that has ensued since CAA and NRC were rolled out – his family lives in Assam, whereas his elder sister is currently pursuing her PhD. from JNU and was present on campus during the attack on January 5. And as alumni from JNU himself, the violence that ensued there, as well as in Jamia, certainly hit a nerve.
"In both situations, the police played a major role. Makes you wonder if our protectors don't guard us, who will?" he tells me, inadvertently summing up his track 'The Police', on which he questions the loyalty and the purpose of both politicians and the police. However, he also offers a moment of hope, rapping: "I feel like the people they giving up, giving up / Cause they think there's no solution, no solution / But don't you be worried, the educated ones will bring in a revolution."
"This track goes out to 16 year old Sam Stafford who was an innocent bystander in Assam. He was shot in the mouth and killed. This goes out to my friend's mum who was shot in the stomach and lost her life. This goes out to the students in Jamia who were beaten for no reason in particular," he tells us. "In the name of progress 6 states experienced section 144 and internet shutdowns. Our peaceful northeast looked like a war zone. Basically our cities are burning, and we have no one to call for help."
He adds: "I just want to say – you may support the CAA or be against it. You may support the JNU fees hike or be against it. But you cannot be okay with this brutality. You cannot be okay with the violence in the country right now."
'Hara Hara' By Street Academics
Kerala's alternative hip-hop group Street Academics take a darker tone on their call to boycott CAA and NRC track 'Hara Hara', juxtaposing ominous string lines against imagery in lines that translate to "Gouged out eyeballs, can't see / Nails in eardrums, can't hear / Amputated legs, can't run / Tongue tied and words slayed, I can't sing / Can't bear the sin of silence no more." Starting out reflecting on the dreary state of the recent political climate, the group moves on to salute the protestors from JNU and Bheem before concluding with an 'enough is enough' attitude.
"We as a band are very proactive and serious about our political views and current socio-political situation of the country. We all come from different cultural backgrounds but are united by music. We do not wish to see our people be discriminated on the basis of religion. We want to encourage people to come out and react towards fascist ideologies which affect our secular nation," says Street Academic's Vivek Radhakrishnan. "We wish to impact at least one person with our song. We wanted to convey our message to the so-called neutral people, to make them realise the danger hidden behind the new citizenship amendment bills. We want to empower the student uprising and stand with them all through the struggle. We have seen enough of the 'acche din', it's time to realise and react. Music is our form of protest, we hope to connect with like-minded people and spread awareness through art. We strongly believe unity in diversity and would not mind coming out to the streets to maintain secularism and peace."
'Go Protest' By RollsRoy's
Finding a way to channel a feeling of helplessness and disappointment on hearing the violent retaliation given to the protests at Jamia Millia Islamia, hip-hop and multi-media artist Sumit Roy aka RollsRoy's recontextualised his track 'Poorna Swaraj' to make his contributions to the ongoing movement against CAA and divisive politics. Keeping the chorus from his original 2019 track which addressed the atmosphere of fear and self-censorship, Roy adds a verse asserting his right to protest and addressing the Prime Minister directly, reminding how opposing the regime isn't equal to opposing the nation and how people's conscience will eventually prevail.
"I was on my way back from the U2 concert, when I put the phone on charge, and got bombarded with Jamia updates. I felt really helpless and sad that I couldn't do anything about it… [This track] was a reaction to my helplessness, and definitely a conscious attempt to hope I could engage and start a dialogue about how important it is to represent at the protests. Be it with art, design and music," says Roy. "What's definitely humbling is to see people quote the lyrics in placards and posters. Just for the song. Our art and design aside. To see we could equip that messaging with our communication, is definitely a win.
He adds: "I would like to thank every creative out there speaking out loud. It's amazing and thanks to everyone for doing it. Just probably try to see that what we make is something that is easy to connect to, and to more people, than just letting it bounce in our own echo chambers. And thanks to everyone supporting the protests in any and every way one is trying. All the confusion the government has in its statements is a result of people out on the streets. We all are really powerful together."
'KRANTIKARI' By Park Circus
Kolkata-based group Park Circus add their own flavour of funk-based basslines and inviting rhythms to their tribute to the brave protestors with 'KRANTIKARI'. With a positive and proud flair, the rap ridicules the lies and language posed by the opposers of the protests and celebrates the spirit with which people have taken to the streets to protect the secular fabric of the nation.
"'Krantikari' was the result of a spontaneous gathering of Kolkata artists and creators - we formed a WhatsApp group called 'Protesta' and set ourselves the task of creating art and media to inspire and motivate the brave protesters fighting for our democracy on the streets. A lot of people are attending protests for the first time, learning what it means to be able to raise your voice for what you believe in. More will join in the near future, and songs are a great way to connect these disparate and unacquainted groups of individuals," the band tells me over e-mail. "The events of the last 6 years or so have been personally quite depressing for people like us, as we have seen families, friendships and the nation as a whole torn apart by politics and ideology. The very idea of India and Indian-ness was appropriated and distorted into something hateful. The story was the same worldwide, at one time it did feel like humanity was becoming obsolete."
"However, the recent wave of revolts against the autocratic functioning and divisive policies of the central government gives us renewed hope that the idea of India can be reclaimed, that we can come together for something greater than serving our narrow provincial and communal interests. Seeing the courage and spirit of resistance in the face of the extreme police brutality unleashed to try and curb the movement has only convinced us further that these hard times will serve to strengthen the spirit of pluralism, democracy and human empathy at the heart of true Indian nationalism. This song will not make that happen, the people will. We just wanted to give them the soundtrack they deserved."
At the same time, the band intends to shed light on protests outside the capital, pointing out: "The band is named after an area in Kolkata. In Park Circus right now, there is an indefinite gathering of local women braving the cold in solidarity with the women of Shaheen Bagh. They need our attention and support as well. They are our heroes and our inspiration."
'Kranti Havi' By Swadesi Ft. Delhi Sultanate
Mumbai's multilingual, socially conscious hip-hop crew Swadesi's 'Kranti Havi' is a call-to-action in tandem with the ongoing protests around the Citizenship Amendment Act and against the divisive and brutal retaliation offered by the government and its officials. With the help of MC and activist Taru Dalmia aka Delhi Sultanate, 'Kranti Havi', which translates to "we need a revolution", chronicles and commends the role of some of the key players in the ongoing protests like BHIM Army chief Chandrashekhar Azad and activist/politician Kanhaiya Kumar, along with the engaged youth at large, while also highlighting the cases of general apathy and bias projected by the current government.
The music video, which was partly shot at the recent protests at Mumbai's Azad Maidan, supplements the message of the song even further by juxtaposing the crew's angsty delivery of poignant Hindi and Marathi verses with the patient and hopeful faces of the general public currently demanding change through the protests.
.
We will regularly be updating this page to bring you the latest information and updates, so remember to bookmark the link. If you want us to feature your protest song, you can email the relevant information to music@thewildcity.com
.
.
.
Words: Satvika Kundu, Amaan Khan
Tags
Join Our Mailing List