Wild City Singled Out: May 2019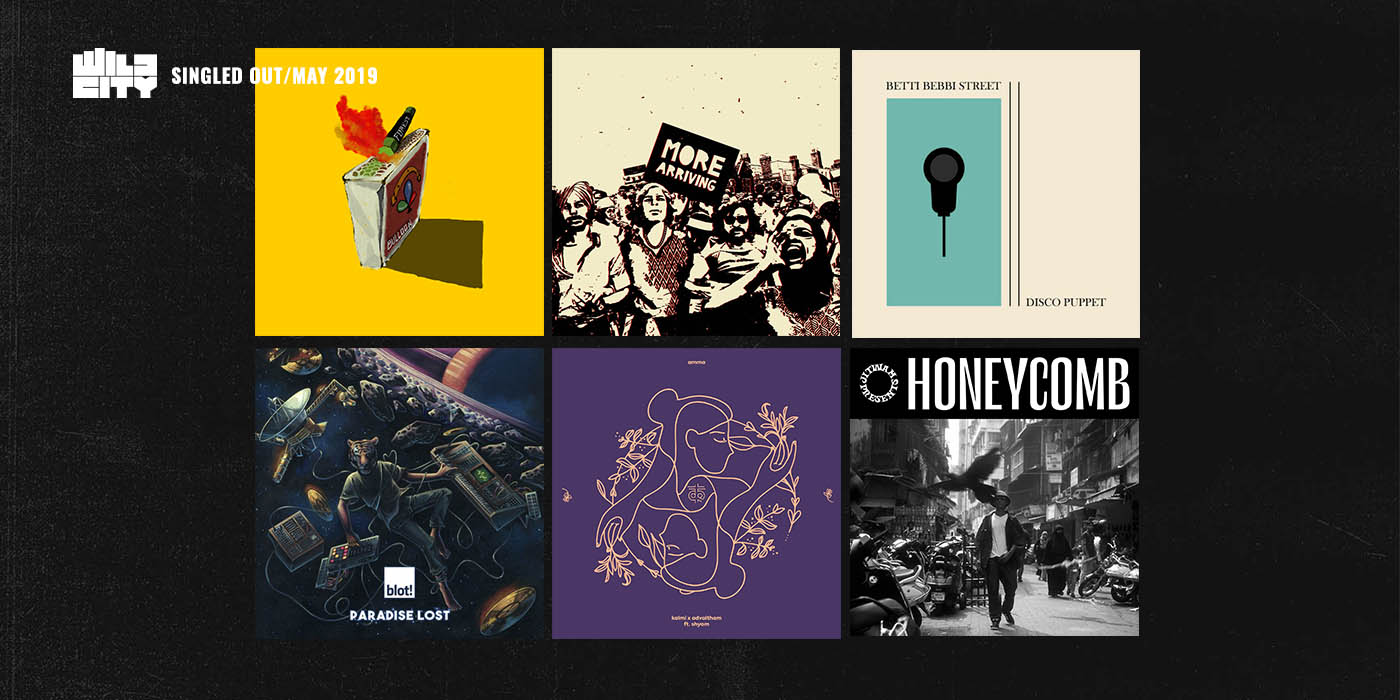 28 June 2019
Wild City handpicks the most interesting one-off singles released by artists in South Asia in our monthly feature - Singled Out. If you'd like us to listen to your music, send the relevant info to music@thewildcity.com or contact us privately on SoundCloud.
'Mumbay' By Sarathy Korwar Ft. MC Mawali
Sarathy Korwar's staccato jazz rhythms and layered percussion fuse so flawlessly with MC Mawali's fiery, gritty rap on this single (taken from Korwar's upcoming album 'More Arriving'), making this our first choice for this month's Singled Out. It helps that the title takes a dig at both pre and post colonial India and its colonisers, offering a thoroughly enjoyable narrative about navigating the streets of 'Mumbay'.
'Temptations' By jitwam
jitwam's second album 'Honeycomb', made in collaboration with Natureboy Flako, is as diverse as his upbringing – he was born in Assam, following which he moved to Australia, lived in monasteries in Thailand, orphanages in South Africa, and finally (at least for now) settled in Brooklyn. The second track from the album, 'Temptations' is a buttery and funky single that aptly showcases jitwam's varied influences from psychedelic indie rock, funk, hip-hop and underground house, and will hopefully convince you to check out the rest of the album.
'Crack' By Karv
This particular single made for one of the most memorable finishes to an album released this year – 'Half:2' by Karv (aka Ankit Chugh). The ambient, experimental album blooms to a close with 'Crack', ingeniously (and unexpectedly) shifting the landscape from abstract electronica to mellow, soulful jazz.
'So Long' By Kumail
Picking our favourite single from the 'Around The World: India by Mixtape' compilation on Nowadays Records turned out to be a harder decision than deciding who to vote for. There were other tracks (special mention to Malfnktion, Madboy and Disco Puppet) that almost bagged the throne, but Kumail's single is so smooth, and so broodingly chill, that it covertly snuck its way to the top. However, we're open to opinion, so make sure to check out the rest of the album.
'Mukbang' By Ezzyland
Imbibing neo soul and elements of jazz, Chennai-based producer Ezzyland's debut Ableton-produced track is as funky as it is fresh.
'Broken Mirrors' By Eashwar Subramanian
The concoction of tanpura and tabla on 'Broken Mirrors' added just the right amount of texture to Eashwar Subramanian's 'Polar Drift' album, bringing an extra flair of energy to his immersive, ambient soundscapes.
'Paradise Lost' By BLOT!
One doesn't need to be an active member of the music community to be aware of scene veteran Gaurav Malaker aka BLOT!. Taking the title from his live show, and rife with the emotive strain of melodic techno he's known for, this track is a fitting summary of where he's at as a producer right now.
'Try Me' By Neon Yousuf
If an arcade machine popped drugs, went out dancing, and had a seizure, the result would be something close to this single. Playfully produced by Pakistani producer Talal Qureshi, under his side-project Neon Yousuf, this track is more interesting and intriguing than it is noteworthy.
'Come Over' By Disco Puppet
'Betti Bebbi Street' was a refreshing EP from Disco Puppet, and saw the producer, songwriter and vocalist embrace his raw, organic side. The lulling sounds of the ukulele are particularly pleasing on this lo-fi ambient single.
'Forestfire' By BULLU
Shashwat Bulusu manages to bring a quirky, easygoing energy to each track he writes. On 'Forestfire' he delivers some of his finest songwriting, embellishing the earnest nature of the single with a playful flair that makes you want to waltz by yourself in your apartment.
'Casual.' By SUCHI
As a DJ, SUCHI is known to oscillate between dancefloor pleasers and obscure releases. Her production on 'Casual.' combines both sides of the spectrum to deliver a pleasing club-friendly tune.
'Amma' By Kalmi & Advaitham Ft. Shyam
Opportunely released on Mother's Day (12 May), 'Amma' is an emotional, soul-stirring ode to mothers everywhere. The soft, lullaby-like nature of the single is only enhanced by the dramatic refrains and the blissful use of strings.
'Mountain' By Kvstvm Mvsicivn
The title of this track is a rather apt signifier of its sound. Organic, folksy percussion and textures meet hip-hop on this track to recreate the refreshing, relaxing atmosphere of the hills (a very welcome respite from the scorching heat and its painful reminders of global warming).
'Shem' By Ñion
Released by Shillong-based Khasi new wave duo Ñion – comprising filmmaker-composer-vocalist Wanphrang Diengdoh and guitarist Hammarsing Kharhmar – this folk-imbibing track was launched into the limelight as the original soundtrack for Diengdoh's film 'Lorni – The Flaneur' in May. A symbiotic marriage of traditional folk percussion with modern guitar riffs, this track is a fine metaphor for the clash of local, tribal culture with urban development.
.
.
Starting this month, we'll also be compiling our monthly selections into a playlist on SoundCloud. Check it out:
Words: Satvika Kundu
Tags
Join Our Mailing List