Cypherholic Once Again Prepares To Rock Delhi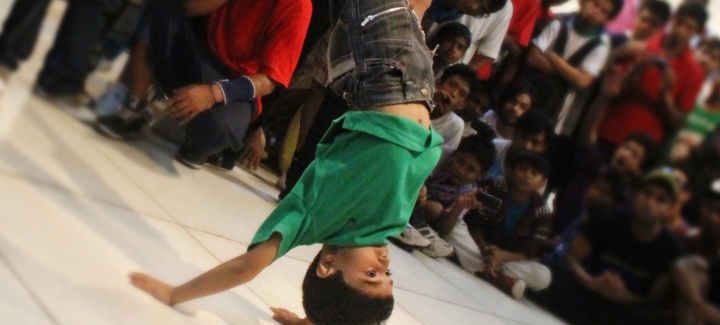 1 November 2011
Cypherholic, India's premier Bboy event was founded in 2010 with the idea to host a free jam for India's rapidly growing breaking community. Open to all ages, Cypherholic has now grown to become a regular event in cities across India allowing participants to experience the original flavour of competitive breakdancing. This time however, Cypherholic Delhi is supported by the 'Indo-German Hip Hop & Urban Art Project', a project within the framework of 'Germany & India 2011-2012: Infinite Opportunities' alongside being a network project between Hip Hop Stützpunkt (Berlin) and Tiny Drops (Delhi) of many.
The last jam held at Goethe-Institut /Max Mueller Bhavan in New Delhi saw over 300 dancers getting together and challenging their own creative potentials. This Saturday will once again see Max Mueller open its creative doors to the coming together of B-Boying, turntablism and live graffiti from some of the leading players in the German graff scene.
Cypherholic again diversifies to show you the creative world of the hip-hop Culture!
Judges on the day:
ROC FRESH CREW (Mumbai)
SLUM GODS(Worldwide)
On the turntables:
DJ URI (Mumbai / London, UK)
ZEB.ROC.SKI (Mainz, Germany)
Exihibit:
TINY DROPS (India)
OTR Graffiti Sketch Corner:
W/ SEAGAL GOLD and COSMIC FROG (Berlin, Germany)
Graffiti Live Painting:
W/ LOOMIT (Munich), TASSO (Meerane City), WOK (Dresden), ZINE (Delhi)
Graffiti Book Release:
W/ ZEBSTER (Budenheim)
+
Image credit: Bhimanshu Dua Photography
Tags
Join Our Mailing List