Watch: Magnetic Fields Releases Portraits & Documentary From 'Fieldlines'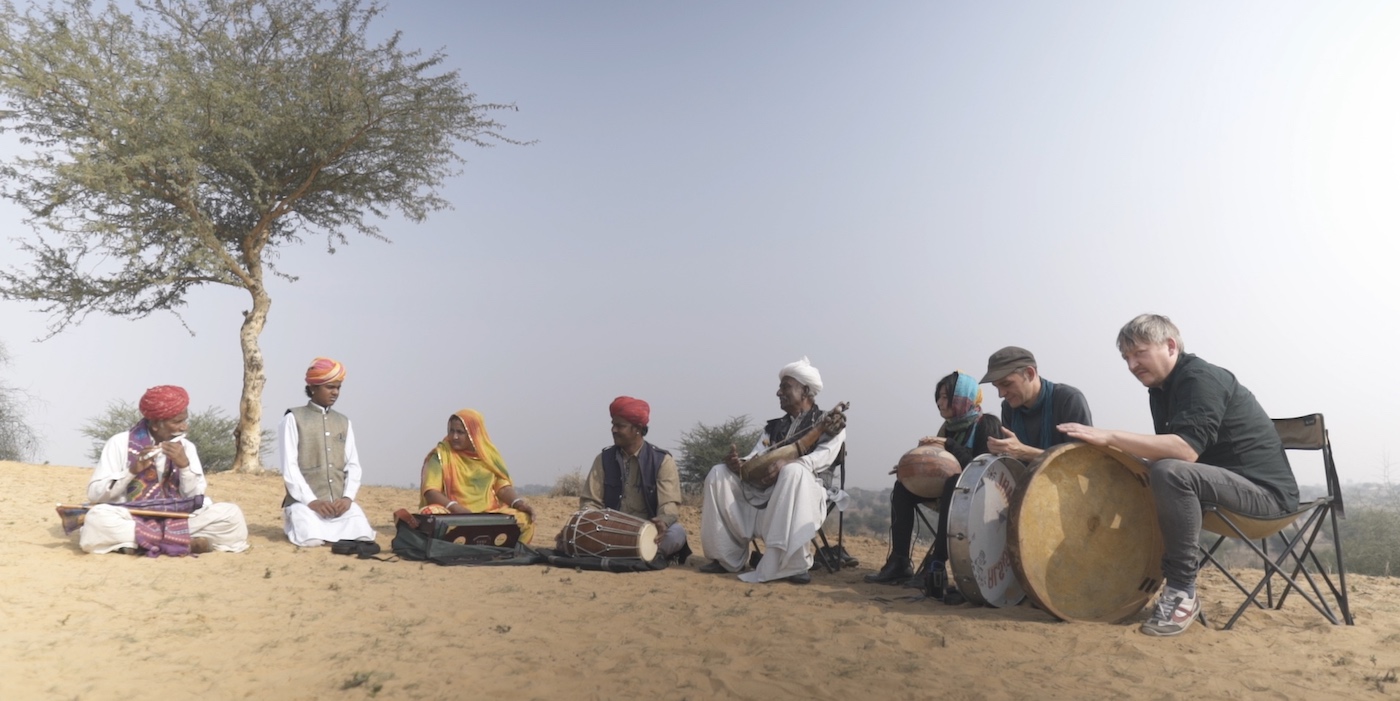 13 November 2020
In its 2019 edition, Magnetic Fields Festival hosted its first-ever in-house residency with 'Fieldlines'. Supported via a grant from Goethe-Institut's International Coproduction Fund and collaboration with label NOLAND, the 10-day immersive programme aimed to bring traditional artforms closer to local and international audiences, highlight different playing styles and open avenues for them, by bringing together local folk artists and contemporary musicians from India and beyond.
In the week running up to the festival, the artists created a studio setup at the festival site Alsisar Palace's picturesque Badal Mahal, where they worked together alongside a cultural mediator and a filmmaker. The collective presented the product of their collaboration at open-studio jam sessions on the first two evenings of the festival and through a performance at Magnetic Fields 2019's BUDx South Stage on the final day.
Aiming to provide an equal footing to both folk and contemporary craftsmanship, the residency put heavy emphasis on the social interaction between the collective, who lived in the palace together, explored the local heritage together and learned about each other's traditions.
The whole interaction and the challenges and achievements of the collaboration have been documented in an 18-minute long documentary by film collective Elefant alongside mini-portraits on the artistes, which Magnetic Fields Festival released last week. Head below to check out the portraits on the artists and to learn more about them. Watch the 'Fieldlines' documentary here:
Participating Artists
Gebrüder Teichmann – Head of the label NOLAND and co-producers of the residency, Berlin-based Gebrüder Teichmann are not only established producers and performers but also cultural activists who have hosted similar residencies as 'Soundcamps' in places like Pakistan, Sri Lanka and Mexico where they worked with local contemporary artists. The brother duo of Andi and Hannes Teichmann was involved in the planning of the residency and with sincere admiration, found themselves readjusting their approach to allow for the unique dynamic of 'Fieldlines' to carve its own niche.
Bidisha Das – Kolkata-born sound artist Bidisha Das represented the extreme opposite of traditional art forms with her DIY-approach to music-making. At 'Fieldlines', Bidisha traversed the musical distance to meet the traditional artforms using her singular self-assembled music instruments which included sound sources fashioned out of old computer fans, circuits that have been modified and transformed into a sequencer, a modified dautara and an oscillator fashioned out of an old box that she picked up from a market in Kolkata.
Sumitra Devi – A folk-singer from Jaitaran, in the Pali district of Rajasthan, the beginnings of Sumitra Devi's musical journey are rooted in hardships. She learned her craft from her father, who also handmade her harmonium, and sang at religious gatherings. Ever since, Sumitra has grown to be an established artist who has collaborated with Bollywood composers and international artists like Mumford & Sons and Laura Marling. With 'Fieldlines', she found her musical growth take another step forward as she decorated the textural and percussive sounds around her with her powerhouse vocal melodies.
Firoz Khan – Alongside the inter-cultural collaboration, 'Fieldlines' also served to highlight an inter-generational dynamic. Firoz Khan represented the new and upcoming crop of Manganiyar musicians, that is more in-tune with the cultures and trends around the world. Equipped with his Khartal (castanet-like wooden percussive instruments) and the musicianship he learned from his forefathers, Firoz Khan added a unique youthful flair to the mix, eagerly matching the rhythms of electronic drum machines at each step.
Ustad Hakim Khan – From the other extreme of the inter-generational mix, Ustad Hakim Khan served as an alderman of Manganiyar traditions, able to recount travelling across the desert on horsebacks to perform for his patrons with his more than 300-year old Kamaicha. Showcasing an acute humbleness, Hakim Khan embraced the unfamiliar timbres and musical approach of the contemporary artists without any hint of hesitation, adding counterpoint and other times unison to Sumitra Devi's melodic flights.
Kutla Khan – Ustad Hakim's son Kutla Khan started learning dholak at the age of 6 and three decades later, is an adept multi-instrumentalist who has collaborated with musicians from around the world. With vast experience of translating his inherited craftsmanship to different contexts, Kutla Khan became a focal point for reinterpreting the experimental sounds of contemporary musicians for the folk artists, alongside being a translator for his father's hyper-local dialect.
Ulrich 'Uli' Teichmann – A multi-instrumentalist with a focus on woodwind, Ulrich Teichmann accompanied his sons (Andi and Hannes) to the residency to explore the Indian culture he had remotely studied alongside traditions from around the world before incorporating them in his own practice of free and experimental jazz. Uli quickly became drawn to the energy of the residency and became part of the ensemble, serving a crucial role of breaking down the left-field harmony and melodies and synthesizing them into chunks that the folk musicians more readily connected with.
Image by Elefant
Tags
Join Our Mailing List