Wild City #126: Jivraj Singh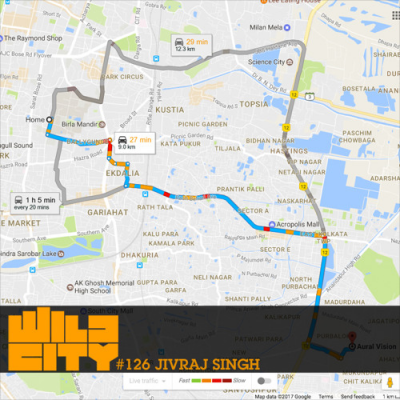 23 February 2017
Jivraj Singh has been a staple member of the Indian music scene for a while. Having dabbled in a variety of projects, first with Skinny Alley, then its alter-ego PINKNOISE, Jivraj also joined forces with Sandunes on the renowned Perfectiming project and then had a fierce collab with Amyt Datta, it's with Parekh & Singh that Jivraj is gaining the recognition he deserves - let's not forget that he was also selected to be a Red Bull Music Academy participant in 2011.
Peacefrog Record's re-release of the duo's album, 'Ocean', is slowly taking the world by storm. The dream pop duo's video for 'I Love You Baby, I Love You Doll' was internationally acclaimed for its aesthetically pleasing look and catchy melody. Off the back of this video - the duo also recently performed live on BBC Radio 6 - the first Indian act ever to do so.
It was, of course, time for a Wild City mix.
As expected and in true artistic taste, the musician decided to blend together an assortment of songs he's been listening to on his night drives around Kolkata. He masterfully fuses 'Mad' by Solange, allowing Lil Wayne's feature on it to take prominence, into the disco anthem 'IGY' by Donald Fagen. He slows things down with 'Ache' by FKA Twigs and then '4x4' by Jennah Barry before raising the tempo with 'When It Rain' by Danny Brown before finishing the mix off with the eternal crowd-pleaser 'Antidote' by Travis Scott.
As you listen to the 27-minute mix, you can imagine the very route he's taking as it slows down and speeds up dependent on the street. It starts off contemplative with serpentwithfeet and Aphex Twin tracks, adjusting your mindset to the drive and car. And on tracks like 'Ache', you can imagine him cautiously approaching the train tracks he passes through before pausing, looking left and right before crossing.
Despite its length, it's one of our favourite mixes - mainly because of the variety of tunes he's managed to cram in such a short span of time.
"I make the 27 minute night drive to my friend and sound engineer Ankit Gandhi Lall's house about once a week. These are some of the songs I've been listening to on my recent drives. The track listing mirrors the urban terrain I'd be driving through. I prefer not to take main roads when possible, especially if there is a detour through a level crossing." - Jivraj Singh
Follow Parekh & Singh here for more music and tour dates. Listen below to Jivraj's mix and download it for your very own night drive.Direct Download: Wild City #126 - Jivraj Singh
Tracklisting:
Blisters - Serpentwithfeet ... 0:07 / begin drive.
Produk 29 - Aphex Twin ... 3:37 / skilful driving on a main road.
Sticky Drama (A.G. Cook Remix) - Oneohtrix Point Never ... 6:47 / up onto a long flyover, drive past bright neon signs.
Mad ft. Lil Wayne - Solange ... 8:31 / coast down off the flyover into a roundabout.
IGY - Donald Fagen ... 11:18 / exit roundabout, ignore nav, take detour.
Ache - FKA Twigs ... 15:52 / cautiously approach, pause, and cross train tracks.
4x4 - Jennah Barry ... 19:01 / slow navigation through urban village lanes.
When It Rain - Danny Brown ... 21:18 / sudden exit back onto fast bypass.
Antidote - Travis Scott ... 22:37 / final stretch, destination on the left.
*Feel free to share and blog this mix, but please reference this page*
Tags
Join Our Mailing List