Wild City #118: Ikonika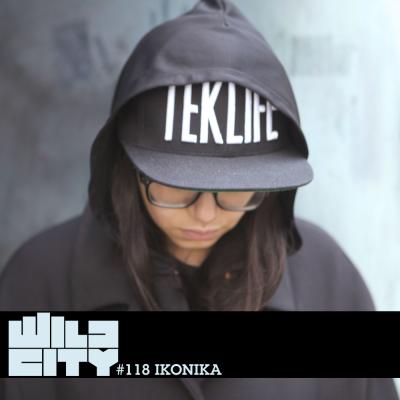 16 November 2016
Hyperdub whiz Ikonika goes all in for mix #118 for Wild City in anticipation of her Asia tour.
Sara Abdel-Hamid has been at the forefront of contemporary music worldwide ever since the release of her 2008 debut 12"", 'Please/Simulacrum' via Kode9's revered label Hyperdub. Like a lot of young producers making music in the mid and late 2000s, she was influenced by the dubstep and grime movements that were steadily taking over the UK at the time. It was the FWD and DMZ nights she attended that really shaped her earlier music.
If you've been keeping up you'll know that Ikonika's sound has mutated and evolved over the years to include various forms of house, garage, UK funky, hip-hop and more. Those bright, metallic synths, 8-bit influences and fat, bubbling basslines that we love Ikonika for never really went away though, and we're glad for it. We're happy to have gotten her on board for her Asia tour this week, presented in collaboration with Detour Asia.
Ikonika steps it up a few levels, energy wise, for mix #118. You know this is going to be a banger from the get-go, and if this is what's in store this week for her India tour, we can't wait. Kicking things off with Geko and Ard Ardz's 'Khalas', Ikonika seamlessly blends a vigorous selection of tunes that spans everything from Jam City to Lil' Kim and Britney. There's also a fair amount of Ikonika's own production peppered in there, so it's a proper treat.
Don't even try getting out of this one - you're already in too deep.
"Recorded live at Radar Radio 3/11/16. As always in 1 take because perfection is for cyborgs and you are not a cyborg yet. A mix of old and new influences, mostly R&B, hip-hop, bashment and UK vibes." - Ikonika
Direct Download: Wild City #118 - Ikonika
Tracklisting:
Geko Feat. Ard Ardz - Khalas
De Grandi - Global (Beat Mix)
Ikonika - Love Games (Album Mix)
Elephant Man - Genna
Daddy Yankee - Impacto Remix (Instrumental)
Lil Kim - I'm Dat Bitch
The Game - Put You On The Game (Instrumental)
Vybz Kartel - Fever
DJCC - CC101
Moelogo Feat. Giggs - The Baddest
Dance Kill Move - Zoukette
Helix and DJ Roy - Can U Feel It
Alkaline - Wul De Pussy Dem
Jam City - City Hummingbird
Spice - So Mi Like It
Mind Enterprises - Chapita (Ikonika Remix)
Britney Spears - Boys (Instrumental)
The - Dream - Ditch That...
Ikonika - Not Actual Gameplay (Album Mix)
Jubilee Feat. Hoodcelebrityy - Wine Up
TSVI - Moonlight (Kaka Drum Edit)
Ikonika - Manual Decapitation
*Feel free to share and blog this mix, but please reference this page*
Tags
Join Our Mailing List