Wild City #117: Hybrid Protokol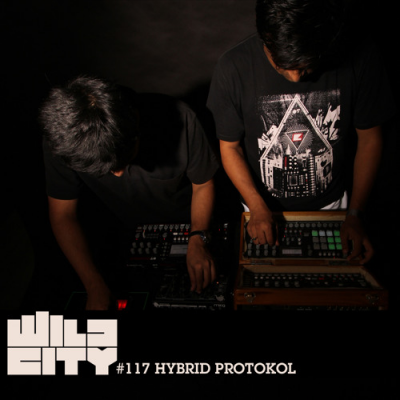 10 November 2016
Hybrid Protokol pay their respect to analogue and old-skool breakbeat Wild City's mix #117.
Kolkata duo Soumajit Ghosh and Aneesh Basu began their electronic project Hybrid Protokol about a year ago, and quickly began to make a dent in the scene with their analogue heavy approach to sound and unique live performances, that focus on synthesisers and hardware (you should seriously check out some of their live videos here).
With a common passion for old-skool electronica (think The Chemical Brothers, Prodigy et al.), big beat, synthesisers and music technology, Soumajit and Aneesh created Hybrid Protokol to rework and bring that 'big room' sound to audiences in their home town. They also recently released their debut, 6-track LP 'Deep Beyond Belief'.
The early electronic throwbacks, warm analogue synths and big room four-on-the-floor patterns are exactly what you'll hear in the Kolkata duo's exclusive mix for Wild City. The whole thing is 30 minutes long includes older beats along with some fresher material. It's a smooth selection that starts out dancefloor-friendly but relatively relaxed before picking up pace and varying movement. Hybrid Protokol's sound is an energetic amalgam of everything from break beat, techno, acid and house to psychadelia, with Soumajit's Indian classical training also making surprise appearances…
This is a late night banger to keep the party running on late.
Here's a recent jam by Hybrid Protokol containing stuff from our old collection as well as a few new tunes thrown into the mix. The same has been performed and recorded 100% live using an array of analog synthesizers and a few midi controllers. The music has elements of breaks and acid along with a few 'four on the floor' patterns."" - Hybrid Protokol
Direct Download: Wild City #117 - Hybrid Protokol
*Feel free to share and blog this mix, but please reference this page*
Tags
Join Our Mailing List