Wild City #092: Iyer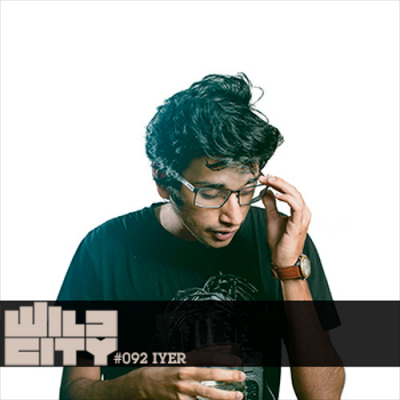 22 April 2015
Indian born, Canada based Iyer turns in a rattling selection of footwork for Wild City Mix #092.
It isn't a surprise that Iyer, with his background in classical Carnatic music, has explored a vast range of genres in his years making music. Though his main area of expertise remains drum n' bass, the producer has also played with elements in UK garage, dubstep, house, and more recently, footwork.
His technical finesse, bold production and ambitious mixes of different styles of music from across the world have helped him cement a place in Singapore's music community. Iyer's is currently involved in pushing forward thinking sounds off his digital label Phyla, while pursuing a Bachelors degree in Applied Sciences in Ontario, Canada.
Iyer's exclusive mix for Wild City begins with the oddest two minutes we've heard on any of our mixes so far – a giggling intro of Yogi B and Natchatra's rendition of 'Go Shorty'. The producer keeps the hip hop vibe going with Sid Vashi's first-rate Danny Glover cover followed by some laid back beats from Akeem before making the audacious transition to the beat heavy 160 bpm footwork that dominates the rest of his mix. Mix #092 also features some exceptional new work from Iyer and Oceantied a.k.a. Ketan Bahirat (who "might just be India's answer to the global 160 BPM movement" according to Rahul Giri.).
This is high octane stuff.
"It turns out this mix happens to be very, very world wide. It features music from Malaysia, Singapore, India, the US, Japan, Switzerland, Canada, and Poland. The universal footwork sound is ever evolving and the love is mutual. I did this in one take. Enjoy the mix." - Iyer
Direct Download: Wild City #92 - Iyer
Tracklisting:
Yogi B & Natchatra - Go Shorty (Intro)
Sid Vashi - Daniel Glover (Young Thug Cover)
Gema - Inbetween
Akeem - Wooligans
Mark Kloud - Daggers
VMPYRMYTH & Kain - Sly Bitch
Hank - I'm Not New
Whitney Houston - MDB (Sideswipe Edit)
Satanicpornocultshop - Love Is Over
SIMPIG - Titan
Nikes - Don't Worry, Be Happy
Ungerade - Could U Fly
Oceantied - High
HomeSick - Pure Gold
Iyer - Sunlight
Jake Komara - Return Of The Mac
Symbiotic Sounds - Mam Tak Samo
DJ Spaldin - Pump Dat
Cakedog - They Was Sleepin
Sridhar/Thayli - Bring Me Rain (_RHL remix)
MXNDKRFT & Lydia - Durian
??? - ???
*Feel free to share and blog this mix, but please reference this page*
Tags
Join Our Mailing List