Wild City #088: B.Visible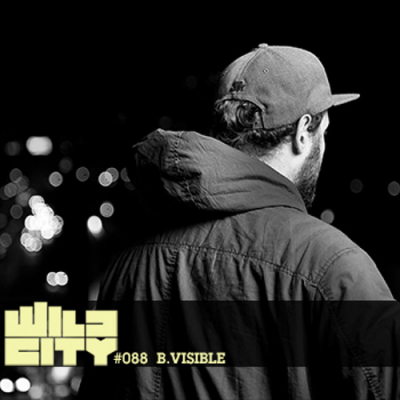 22 January 2015
Our latest Wild City mix comes from talented Austrian producer and DJ - B.Visible. If the name sounds familiar, it's because the beatsmith was also present at Magnetic Fields Festival last year. Those who were present would remember him for his robust, melodic and beat punctuated set that had heads dancing, full throttle, at the most unearthly hours of the morning.
B.Visible found his calling in 2004, after getting his hands on a pair of turntables. He soon fell in love with the art of DJ'ing and naturally made it into the world of production not long after, influenced heavily at the time by Golden Era sounds.
The producer debuted under French label Cosmonostro with his two part EP series 'Chaos and Order'. The first of the series - 'Chaos', was released last year and saw B.Visible play with lush synthwork, choppy vocal samples and immersive drum patterns. The second part 'Order', which came out barely a month ago, certainly packs a punch and delivers some incredible dancefloor music, slightly higher on the bpm range than its predecessor. You can stream and download 'Order' here.
B.Visible's Wild City mix sees the producer focus on a hip-hop heavy range of sounds interspersed with some of his own beats off the new EP. Fellow Cosmonostro member Vect kicks things off with some great strings on Mr. Iceberg, followed by the fractured keys of Persian Emperor. The mix ends with a fantastic rendition of Toronto band BADBADNOTGOOD's incredible track Kaleidoscope.
"The mix was recorded on a rainy Sunday evening and I tried to capture my mood with this mellow selection of tunes. Beside that I also played some beats from my new EP 'Order"" which was released recently - hope you enjoy." - B.Visible
Listen and download below:
Direct Download: Wild City #88 - B.Visible
Tracklisting:
Vect - Mr. Iceberg
Persian Empire - Jugo
Gabriel Garzón-Montano - Pour Maman (Archie Pelago Remix)
Giraffage - Anxiety
Jose Larralde - Quimey Neuquen (Chancha Via Circuito Remix)
Coco Bryce - The Love Below
Khary Durgans - The Dock ft. Smithsoneon (Prod. by Big Wild)
B.Visible - Disney
B.Visible - Scanner
Okmalumkoolkat - Holy Oxygen
BADBADNOTGOOD – Kaleidoscope
*Feel free to share and blog this mix, but please reference this page*
Tags
Join Our Mailing List